Opening the huge market for e-sports
Along with the development of the game market and digital entertainment platform, eSports has potential for development in a diverse and highly globalized ecosystem.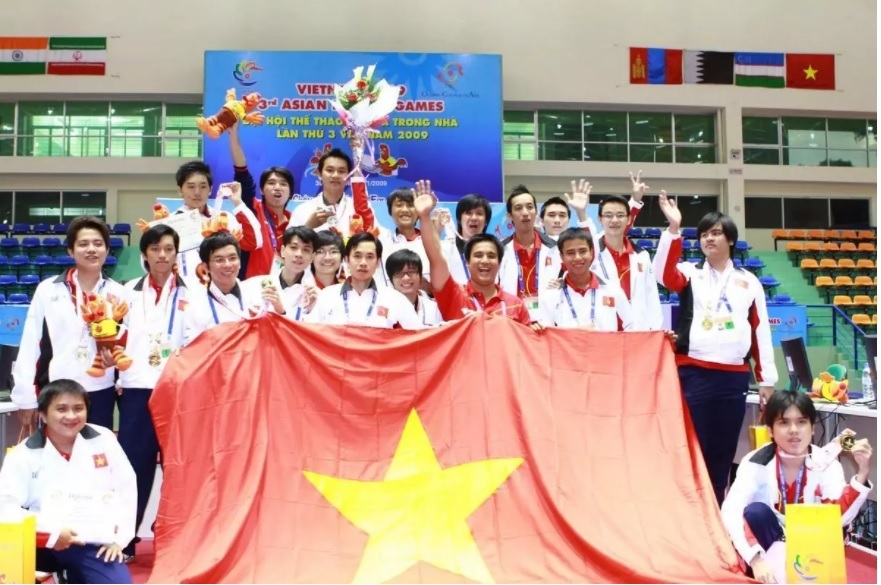 The Vietnamese e-sports delegation at the Asian Indoor Games (AIG 2009).
In the 2000s, those who were born in the 1980s and 1990s often gathered inside cramped Internet shops to have fun in fierce competitions in games like Starcraft, Warcraft or Age of Empires.
That was the starting point for a long-term revolution later, when the younger generation of those days gradually had a desire to express themselves in competitive and highly antagonistic games between people.
As a result, a number of games attracted large audiences who wanted to witness eye-catching competition situations and top-notch performances of individual skills. These games are generally referred to as eSports or electronic sports, which have been gradually popularized since the late 2000s.
The first e-sports tournament called World Cyber Games was launched in 2000. But in Vietnam, eSports has only been known through the Asian Indoor Games 2009 (AIG 2009) where Vietnamese players won 1 gold, 1 silver, and 2 bronze medals.
eSports has gained enough momentum to jump further in its journey, despite concerns about the futility of video games.
By the mid-2010s, along with the explosion of online broadcasting platforms, eSports benefited greatly as young people tended to enjoy digital entertainment services on technological devices. In addition to the global spread of Covid-19 preventing traditional sports activities, cross-border competitions in cyberspace such as eSports have strongly entered the sports arena where football, tennis, and golf have reigned for a long time.
Transformation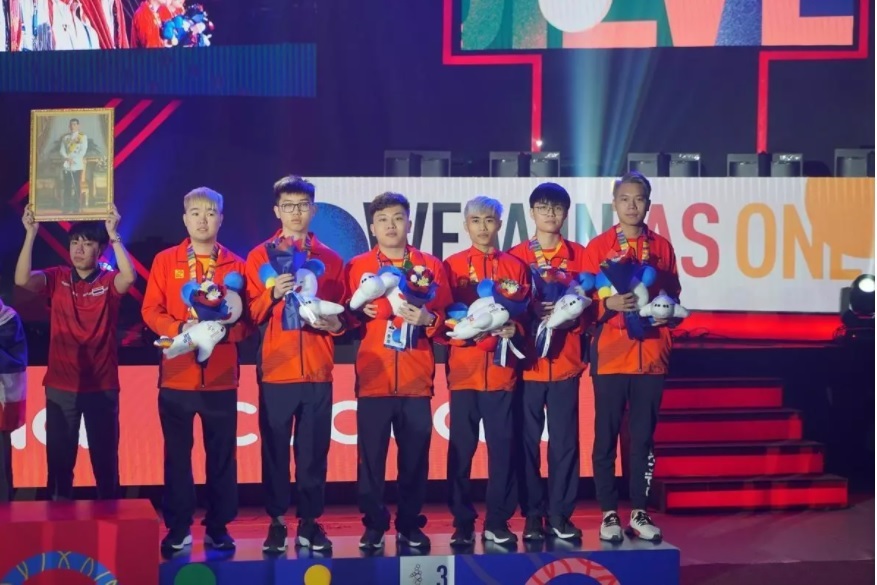 The Vietnamese e-sports delegation at the 30th Southeast Asian Games in the Philippines in 2019.
More than 10 years since the AIG 2009, eSports will again have the opportunity to compete in a sports tournament hosted by Vietnam. It is expected that 10 events of 8 categories of eSports disciplines will be organized at the 31st SEA Games, which will be held in Hanoi later this year.
The potential of eSports is not only to benefit game distributors or game developers. Behind it is an entire ecosystem, a digital economy that promotes the strong development of eSports, in the favorable context of the Covid-19 pandemic that created people's need for digital entertainment at home.
On a global scale, eSports generated $947.1 million in revenue compared to the total gaming industry revenue of $139.9 billion in 2020. However, the majority of eSports revenue is from the sponsors, while earnings from broadcasting rights, livestream, ticket sales and merchandise sales account for a low proportion.
In Vietnam, the eSports market has not yet been estimated. It may account for a small percentage of the $740 million gaming revenue segment that Nike Partners estimated in 2019.
There are no specific or latest data, but eSports is expected to account for an increasing share of this pie thanks to non-game revenues such as sponsorships, ticket sales, broadcast rights, donations via livestream…
The most obvious example is the prize from sponsors for the Arena of Fame, which has increased from 265 million VND when it was launched in 2017, to more than 3 billion VND in the spring tournament 2021. There are at least two such billion-VND tournaments at present, the Survival Arena and the Icon Series SEA.
There are also international tournaments where Vietnamese teams honored Vietnam's eSports with not only big prize money but also attracted the attention of society and investors such as CrossFire Stars, PUBG SEA Championship and Arena of Valor World Cup.
Entering the digital economy
It is estimated that the number of people working in the gaming industry in Vietnam is 25,000. Nguyen Xuan Cuong, Chairman of the Vietnam Recreational eSport Association (VIRESA), said the dream number for workers in the eSports industry is 10,000 people, but they must be the most suitable people selected carefully through movement tournaments at the semi-professional and amateur levels like the way VIRESA is doing to find talented young players for a big playground like the upcoming 31st SEA Games.
One of the few people who realize the growth potential of eSports is Duong Nguyen Duy Thanh, a former coach who is now a businessman. He is launching start-ups that support gamers to organize livestreams, sell goods on demand and integrate QR Code to bring the most modern experience to fans.
The business model that Thanh pursues is to promote the livestream activities of players and teams, thereby using their images to sell products such as shirts, hats, phone cases, mouse pads... The final products to the fans are included with VAT, shipping costs, labor costs, production coast, storage and especially revenue sharing with players and teams.
This business method also known as "merchandise" is already popular abroad, but is still relatively new in Vietnam.
Just as football viewers do not need to know how to play football, eSports is gradually creating its own value system in the digital entertainment age that attracts all young people, regardless of gender or language. If it is possible to build attractive, competitive tournaments that attract millions of international audiences to one of the most exciting and new things for young people, that would be a huge step forward in the world of digital economy of Vietnam's eSports.
Phuong Nguyen

With countries around the world asking their citizens to stay at home to fight COVID-19, the gaming and e-sports (or electronic sports) industry has taken off.

The Vietnamese E-sport Championship and the University E-sport Championship will be held annually starting from this year, the Vietnam Recreational E-sport Association (VIRESA) announced on January 13.