Nurturing the love for heritage among children

Summer holiday offers a great opportunity for museums to host a hive of heritage education activities, which are designed to nurture the love for heritage among people, particularly schoolchildren.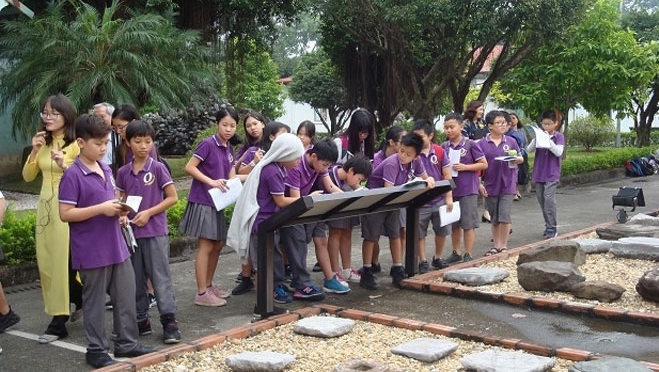 Students learn about the country's history at the Thang Long Imperial Citadel in Hanoi
Various forms of experience for children
Visiting the Thang Long Imperial Citadel in Hanoi these days, visitors can see groups of students digging at the historical site. Sometimes, some of them excitedly cheer after finding an artefact.
The activity is part of a heritage education programme entitled 'Learning to be an archaeologist', which is organised by the Thang Long - Hanoi Heritage Conservation Centre (THCC).
Following the game, schoolchildren are invited to participate in an array of interesting activities, including a drawing contest on artefacts, and making a rubbing of ancient patterns on 'do' (poonah) paper.
According to Nguyen Thi Yen from the THCC, since it was launched in 2013 the programme has attracted the participation of thousands of schoolchildren every year.
At first, it was held only on weekenda, but thanks to the enthusiastic appreciation from the community, the programme is now open every day for children.
As a leading unit in implementing heritage education activities, the Temple of Literature's Culture and Science Centre is now operating 14 activities targeting different age groups, allowing schoolchildren to explore the study space in Vietnam's feudal dynasties and school supplies of the olden days, such as brushes, ink stone, and 'do' paper.
According to Director of the centre, Le Xuan Kieu, the centre-hosted heritage education programmes have attracted more than 12,000 students from 12 schools in Hanoi since November 2018.
Le Quynh Nhu, a sixth grader at the Ngo Sy Lien Secondary School said that it was the first time she had been able to closely observe sacred animals, which are carved on pillars at the Temple of Literature.
Joining a heritage education programme at the temple helped her learn more about the origin, and meaning of each sacred animal and "interact" with them through modern software systems.
Inspiring love and responsibility for heritages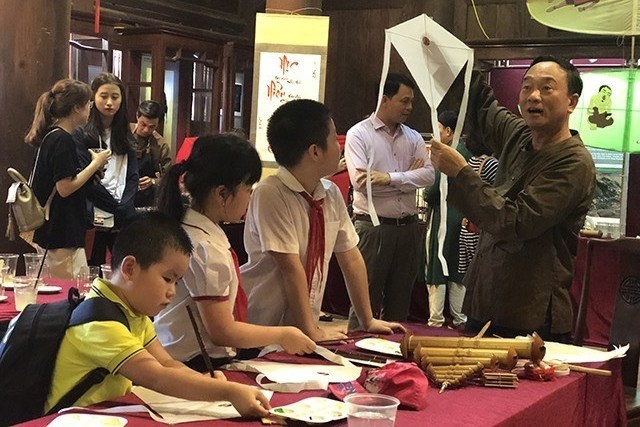 Kids learn to make traditional kites at the Temple of Literature
In addition to the Temple of Literature and the Thang Long Imperial Citadel, during the summer holiday, the Museum of Ethnology, the Vietnam National Museum of History, Hoa Lo prison and Co Loa historical site also welcome thousands of young people, who are invited to engage in assorted learning activities on educating the country's culture and history.
Tran Viet Anh, Director of the THCC, said that many schools in Hanoi have coordinated with the centre to organise tours of the Thang Long imperial citadel during the school year as an extra curriculum activity.
In September 2018, an agreement was signed between the city's Education and Training Department and the Thang Long-Hanoi Heritage Conservation Centre to integrate the two local heritage sites – the Thang Long imperial citadel and the Co Loa citadel relic – in the curriculum of local schools.
Since then, the citadel has welcomed nearly 17,000 out of 2 million schoolchildren in Hanoi, who come to attend learning programmes at the site.
Vice Rector of Nguyen Thi Truong Elementary School in Ba Dinh district, Tran Thi Son Ca, affirmed that students can gain and real experience by developing a direct contact with historical sites, instead of learning through textbooks. These experiences will help to stimulate their creativity and thirst for learning new things.
According to Nguyen Van Huy, Deputy Director of the Centre for Cultural Heritage Research and Promotion, more learning activities and venues targeting children are needed to encourage their passion for learning and fuel their love for the country's traditional values.
He also stressed the need for more supportive policies for such activities and programmes in order to bring them closer to the public. Nhan Dan

CNN travels across the Southeast Asian nation to meet young Vietnamese artisans and craftsmen racing to preserve their culture in a rapidly modernizing world.

Traditional Vietnamese martial arts have a variety of schools. Nowadays, they are becoming more and more popular to foreign learners.  

Music researcher Nguyen Quang Long speaks with reporter Bui Quynh Hoa about his dream to make xam (blind busker's singing) and other traditional Vietnamese music more accessible for young people.