Number of businesses leaving market reaches record high
The year 2020 is witnessing a wave of enterprises leaving the market after being hit hard by the Covid-19 pandemic.
Chair of the Vietnam Chamber of Commerce and Industry (VCCI) Vu Tien Loc said at a recent policy forum on small and medium enterprises that the business community has suffered heavily.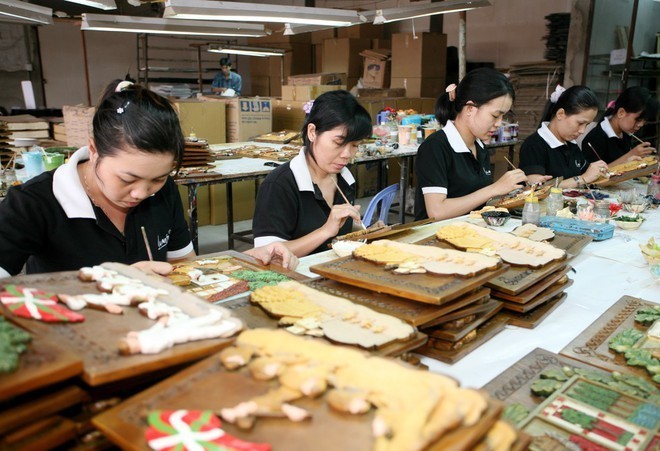 2020 is a tough year for businesses
As of November, about 44,000 businesses had suspended their operation, an increase of 60 percent over the same period last year. It is estimated that over 5,000 businesses left the market each month, a record high number, affecting the jobs and incomes of tens of millions of laborers.
To help businesses, the government has launched support packages, including the VND250 trillion credit package, the VND62 trillion social welfare package, and the VND16 trillion package to help them pay workers.
However, problems have been found in the implementation of the policies.
Analysts say that while the government's policy response is reasonable and policies are good, there are problems in policy design and implementation.
"During Covid-19, policies need to be implemented as if it is now wartime, not in normal conditions. The administrative procedures are still very troublesome," Loc said.
This is why there were no businesses accessing the VND16 trillion package (which offers loans at an interest rate of zero percent to help them pay workers) as of October 2020.
By November 27, 2020, only 75 enterprises had borrowed loans. This was the result of the Prime Minister's Decision No 39 dated October 19, 2020 on implementing policies to support people facing difficulties because of Covid-19.
Le Viet Cuong, director of Vun Art in Ha Dong district in Hanoi, said he still cannot access the support packages.
"I believe that the complicated legal procedures are the biggest barrier that had prevented micro businesses from accessing the packages," he said.

To help businesses, the government has launched support packages, including the VND250 trillion credit package, the VND62 trillion social welfare package, and the VND16 trillion package to help them pay workers.
To get preferential loans, businesses need to obtain certification from local authorities. This is difficult work, because in many cases, enterprises register their business in one place but organize production in other places.
As a result, local authorities have refused to give certification.
Small enterprises incur big losses
Surveys have found that small and micro enterprises, agricultural businesses and businesses in difficult areas have suffered the most from Covid-19.
Because of problems in resources, the group of enterprises could not catch up with the policies on supporting enterprises to exploit opportunities to maintain production and other activities.
VCCI said the VND250 trillion credit package remains inaccessible to many small enterprises. Some commercial banks are reluctant to provide loans for fear that borrowers won't be able to pay debts.
Meanwhile, the costs for borrowing bank loans for small enterprises are always higher than larger firms, about 1-2 percent per annum more. And the proportion of unofficial fees for small enterprises are higher.
Small enterprises are also less likely to enjoy debt rescheduling and interest rate cuts for old debts. The policies are only applied to new loans.
Meanwhile, when enterprises find it difficult to sell products, or even have to suspend operation, they don't need new loans.
A survey by the National Economics University (NEU) and VCCI found that 78 percent of businesses said they still have not received support from the government.
This once again shows that the policies are good, but the design of the policies doesn't reflect the 'breath of life' and the implementation is not smooth.
The narrowing of the gap between policies and implementation is one of the important issues that needs to be considered when designing policies to support enterprises in the Covid-19 period as well as in natural calamities. 
Tran Thuy

Under the new regulation, by the end of the third quarter, enterprises have to estimate the amounts of tax of the fourth quarter and pay the amounts.

The taxation body needs to 'nurture sources of revenue' rather than bleed businesses dry, businesspeople say.