New online program connects leaders and citizens, helps to refute misinformation: official
If the government takes the initiative in providing sufficient and accurate information, fake news will have nowhere to exist, said Le Quang Tu Do, Deputy Head of the Authority of Broadcasting and Electronic Information.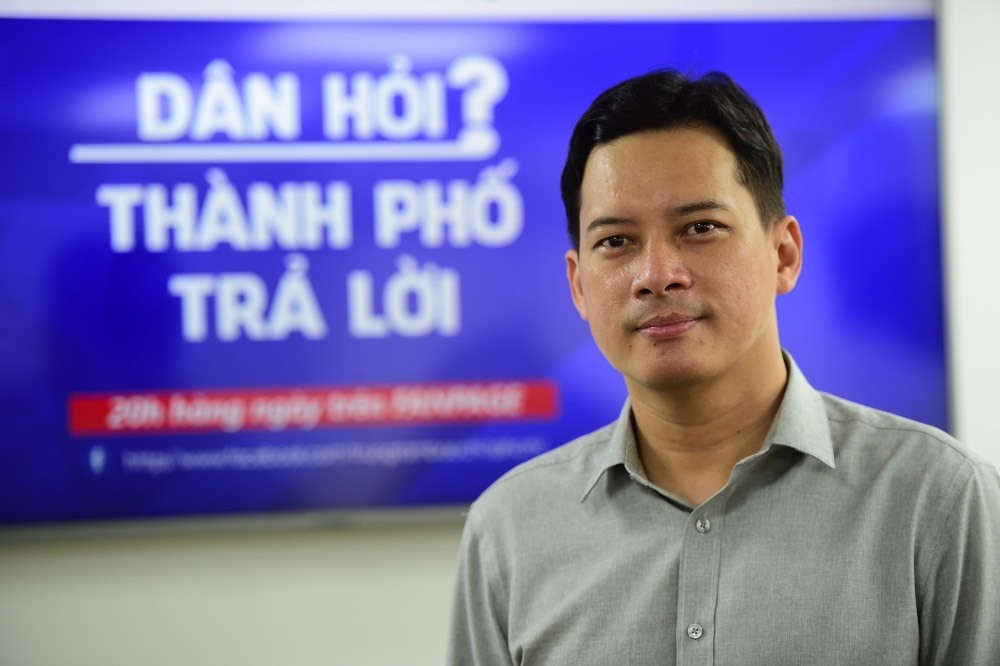 Le Quang Tu Do, Deputy Head of the Authority of Broadcasting and Electronic Information
On September 3 evening, during the 'Dan hoi, thanh pho tra loi' (People ask, city's leaders answer) livestream, Hoang Tung, Thu Duc City Mayor, spoke to a citizen via phone about the aid package for people who have difficulties because of Covid-19. Tung gave clear explanations about the support package the man received in the first phase and promised to consider the people's wish to receive more support.
A leader talking directly via phone with citizens to explain burning issues had never happened in the past. With answers that go directly to the point, 'Dan hoi, thanh pho tra loi' program has caught the public's attention.
VietNamNet spoke with Le Quang Tu Do, who, with MC Quyen Linh, has been hosting the program since its first broadcast.
Was the call by Thu Duc City's Mayor to a citizen on live broadcast a part of the scenario prepared in advance?
Dan hoi, thanh pho tra loi is a program with real people and real stories, with no scenes arranged. People send questions to the program in advance. We will shortlist the questions to be sure they are issues of the public's biggest concern. Leaders also reply to the questions raised during the livestreams.
To date, three HCM City leaders have made direct calls and answered people's questions.
The direct phone calls and the real stories of real people help consolidate people's confidence in the local authorities. In addition, the city can carry out the large-scale Covid-19 relief program.
The program has gathered 1.6 million registrations for welfare bags and sent to districts' authorities for treatment. Thanks to this, the disbursement of money and delivery of welfare bags to people has been going very rapidly. Just within one week, one million bags were distributed.
How has the direct contact between the city's leaders and people via phone created the connection between policies and real life?
This is a program for the local authorities to directly listen to people's problems, wishes and complaints. All the opinions of people must be conveyed in the most truthful way.
When a TV Program is created, we usually leave out names, addresses and telephone numbers. But such programs can only help disseminate policies and give answers to general issues during the process of implementing the policies. But Dan hoi, thanh pho tra loi is different. There must be real people with real stories.
Currently, the program is broadcast on 13 fanpages and two YouTube channels. The comments on four major channels have reached 200,000, which shows people's high interest in the program.
Via the communication channel, local authorities have discovered and helped many needy people.
The city has set new policies, reducing some requirements on people to receive welfare bags. Previously, in order to receive support, people had to satisfy more requirements and criteria and had to have many things certified. The procedure is now very simple.
HCM City Vice Mayor Vo Van Hoan said on the program that the criteria people need to have to receive support are very simple. First, they have lost their job. Second, they are living in isolated areas and cannot go to work. Third, they have problems in getting food.
Businesses which have been hit hard by Covid-19 also ask for help via this channel. They have made suggestions related to tax policies, debt payment extension, and adjustments of travel permits to create favorable conditions for their workers to go to work.
The program has done a lot of significant things. Is there anything you still feel unsatisfied about?
First, the program has given a push to local authorities at different levels, encouraging them to use a new communication tool to access people. These tools are social networks and livestreaming, which have been used by many people in society but have not been used by the local government.
That is why they turn out to be a fertile land for fake news to spread. If the government provides official and accurate information right in the land where fake news is spread, fake news won't be able to exist.
Second, the local government is doing what it never did in the past.
Third, the program provides good input for leaders to consider and design policies.
There are some existing problems, but they are not considerable. 
Hai Dang

HCM City Chairman Phan Van Mai said there are about 2 million households with 5.3 million people in need of welfare support in HCM City.