Nationally shared digital platforms will create a unified Vietnam: Minister
This is the message the Minister of Information and Communications Nguyen Manh Hung conveyed when delivering a speech at a ceremony launching Telehealth, the platform that allows medical examinations to be conducted from a distance.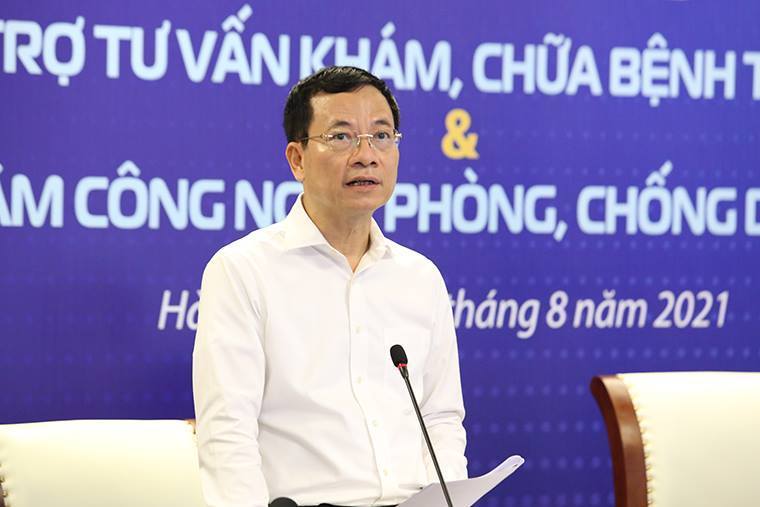 Minister of Information and Communications Nguyen Manh Hung
VietNamNet would like to introduce the full text of Hung's speech at the event:
In the first Covid-19 outbreak, 20 months ago, there were only tens of F0 cases and all of them were brought to end-line hospitals for treatment. But things are different in the fourth outbreak, where hundreds of thousands of cases have been found. It is now impossible to bring all of them to central hospitals.
F0s are being treated at districts' medical centers. And consultation on treatment from a distance, via Telehealth, will play a very important role, or even a decisive role, in success.
Prime Minister Pham Minh Chinh five days ago asked me how many district medical centers could not be connected. I answered that there were still 300 districts, or 45 percent of total districts, and most of them are difficult districts. The PM then asked if we could accelerate the connection, and I said I would give an answer after consulting with the Authority of Telecommunication and businesses. The situation was urgent, and it was necessary to go fast.
It was a surprise to me that both Viettel and VNPT promised to complete within two days and they really did this after 2.5 days. On August 6, 100 percent of district medical centers in Vietnam can connect to central hospitals. This is something that not many countries in the world can do.
Telehealth is our decades-long dream. And the dream was implemented just within 2.5 days. It could be fulfilled because there is political determination from the top leaders. It wad done because in an emergency, no one cares only for himself or herself. It is done because we have Vietnamese enterprises, state-owned enterprises, with a sense of social responsibility, and the responsibility to the country and to the people is even higher than profit.
Covid-19 has made us realize our limitless potential and great untapped energies. A 10-year problem can be solved within a year, a month, or a day. So why can't our country make a breakthrough and develop faster?
The National Technology Center for Covid-19 Prevention and Control also has a similar story. Prime Minister Pham Minh Chinh wants all technological platforms that serve Covid-19 prevention and control to be commonly used nationwide. He wants all of the data to be shared and concentrated for easy reference, so that leaders can make reasonable and timely decisions.
Just within two months, nearly 1,500 hardware devices were brought to the center by businesses. Nearly 1,000 engineers worked for the center, and 18 Vietnam's leading digital firms provided infrastructure and developed anti-pandemic digital platforms.
To date, 18 digital platforms have been put into use, serving all the phases of the anti-pandemic process, from electronic health books, entry management and medical declaration to tracing, quarantine, testing, vaccination and social distancing supervision. The platforms also help give advice to patients, support needy people, build up a database of older people who need vaccinations and a database about homeless and unidentified people who need help.
At this moment, the center is serving 20 million, and the figure will be 100 million in the future.
For digital technology, the higher the number of users, the cheaper the cost. The more it is used, the more it will become complete, the more data it has, the more value it can create. Therefore, a platform will be most effective when it is used nationwide. Essential platforms should be centrally invested and commonly used.
So, the lessons we can draw are: If there is a strong political will from the top and a technocratic enforcement team, many seemingly impossible things will become possible;
Vietnamese businesses always love Vietnam the most. They are waiting for the Government and the country to assign bigger tasks to them so that they can contribute to the country's development, and thanks to this, become great.
Only when the situation is particularly difficult and special will there be special solutions, and will special people and organizations appear.
The nationwide shared digital platforms will turn Vietnam into a unified body, and only with that unified system will Vietnam be able to control the situation nationwide; react quickly and flexibly, which allows high resistance; for every new things, self-discipline will come after compulsion; big data and data analytics will show us both the near way and suggest to us the far way ahead. 
Minister of Information and Communications Nguyen Manh Hung

Having gained a foothold in the domestic market, many technological platforms created by Vietnamese companies are now extending their reach to the world and been welcomed in foreign markets.

Amid the recent Covid-19 resurgence, learning online via technological platforms is a radical solution for students and teachers to maintain a normal life.