NA deputies propose halting distribution of films starring artists who infringe ethical standards
National Assembly (NA) deputies have proposed halting screening or removing licence for cinematic works whose artists violate political security ethics or language.
During a recent group discussion about the amended Law on Cinema, deputy Le Thu Ha of the Lao Cai NA delegation praised the classification of films by age in the draft law, calling it a civilized instrument that has been extensively used around the world.
Her opinion is that the draft's existing 18-year-old age limit should be increased. If the age limit is not 21, 24 or 25, there is also a categorization level outside of 18 if the age limit is not classified as such.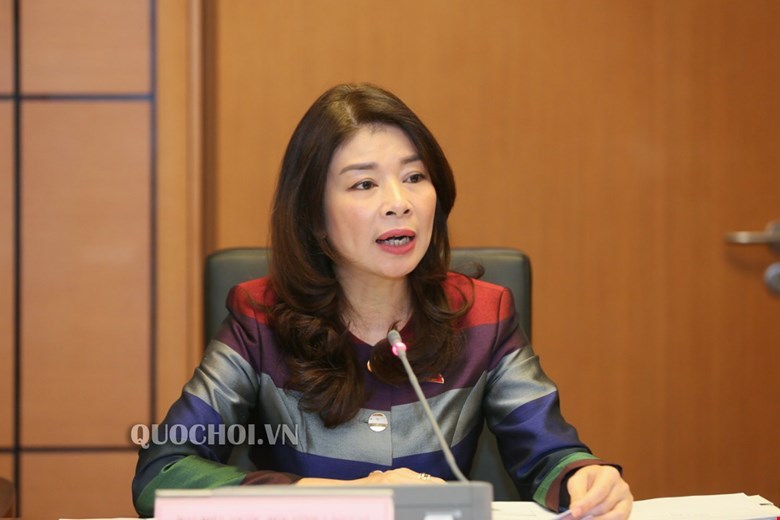 NA deputy Le Thu Ha.
While there is a mechanism in place to categorize films based on audience age, many films are unable to be classified due to regulatory constraints. A large number of important films are being withheld from the public, which is disappointing for filmmakers and the film industry as a whole.
She said that the censorship process needed to be changed. Vietnam's television series market is booming, with TV stations able to self-license and self-censor, although movies must go through the National Film Council first.
Deputy Ha believed a framework should be established to enable multiple units to exercise the same jurisdiction when it comes to film licensing.
Movie performers, according to Ha, are among the members of the audience who participate and play an essential role in the film industry. As she pointed out, China has launched an aggressive push to rid itself of celebrities who lead scandalous lives. It is part of their strategy to increase the quality of artists by honing their abilities, promoting the worth of their products, or dealing with issues that do not adhere to regulations.
In order to preserve their image, artists require morality before talent, she said.
Deputy Ha said that evaluating a film's suitability for release is a vital step in weeding out works that do not fit the criteria. However, the lack of transparency and openness for filmmakers is also a reality. She cited the example of the film Vi, which was barred from screening despite winning numerous accolades at international film festivals. Investors and manufacturers behind such cases may suffer insolvency.
Vice-Chairwoman of the National Assembly's Economic Committee Doan Thi Thanh Mai stated some films contain violence, have poor quality, and have many distorting influences. Since some existed before removal and therefore had millions of viewers, post-checking and removing regulations are not adequate. Some international platforms take even longer. So post-inspections must be considered.
She added that a significant amount of pressure was being placed on authorities due to a high volume of films. It's doubtful that resources will meet if money is rigorously regulated. Appraisal agencies have had problems in the past with unsuitable visuals, such as the "Everest" movie which included the image of China's illegal cow-tounge line. To stop improper films from being uploaded to the internet, she agreed that a suitable solution should be found between the pre-check and post-check phases for movies that are widely available on cyberspace.
The Law on Cinema, according to President Nguyen Xuan Phuc, deputy of HCM City National Assembly delegation, was passed long ago when technology had not yet developed to its full potential, and many problems had not yet been anticipated. In light of the current climate of global integration, this law needs to be updated. Citing countries with a thriving film industry as examples of how cinema can help advance a nation's image and promote its people, the President cited that Glass Slippers, Dae Jang Geum, and other South Korean films aired in Vietnam 20 years ago.
Filmmaking, he argued, must help to maintain Vietnamese culture by showcasing images of the country's landscape, people, and traditions. The President urged that a long-term Cinema Law be developed to take use of technological advances and learn from the experiences of other countries in the world.
To encourage all groups and individuals to make films, the President recommended that filmmaking should be made socially acceptable and that the State should mandate and sponsor films about Vietnam's history and people. He acknowledged the Censorship Council's position as a group of people with vision, talent, high morals, and expertise.
There is a shortage of film promotion overseas and worldwide collaboration in marketing and promotion Vietnamese movies when it comes to film distribution policy, the President said. 
Tran Thuong - Huong Quynh

With the rapid growth of the film industry with movies gaining high revenue in recent years, companies now cherish the ambitious plan to enter the world market.

With the explosion of online movie platforms, the management of online movies is much more difficult.