NA Chairman: fiscal policy plays leading role in harmonization with monetary policy
National Assembly Chair Vuong Dinh Hue has asked commercial banks to share difficulties with businesses, stressing that such support will also help themselves and that banks cannot have profits without businesses.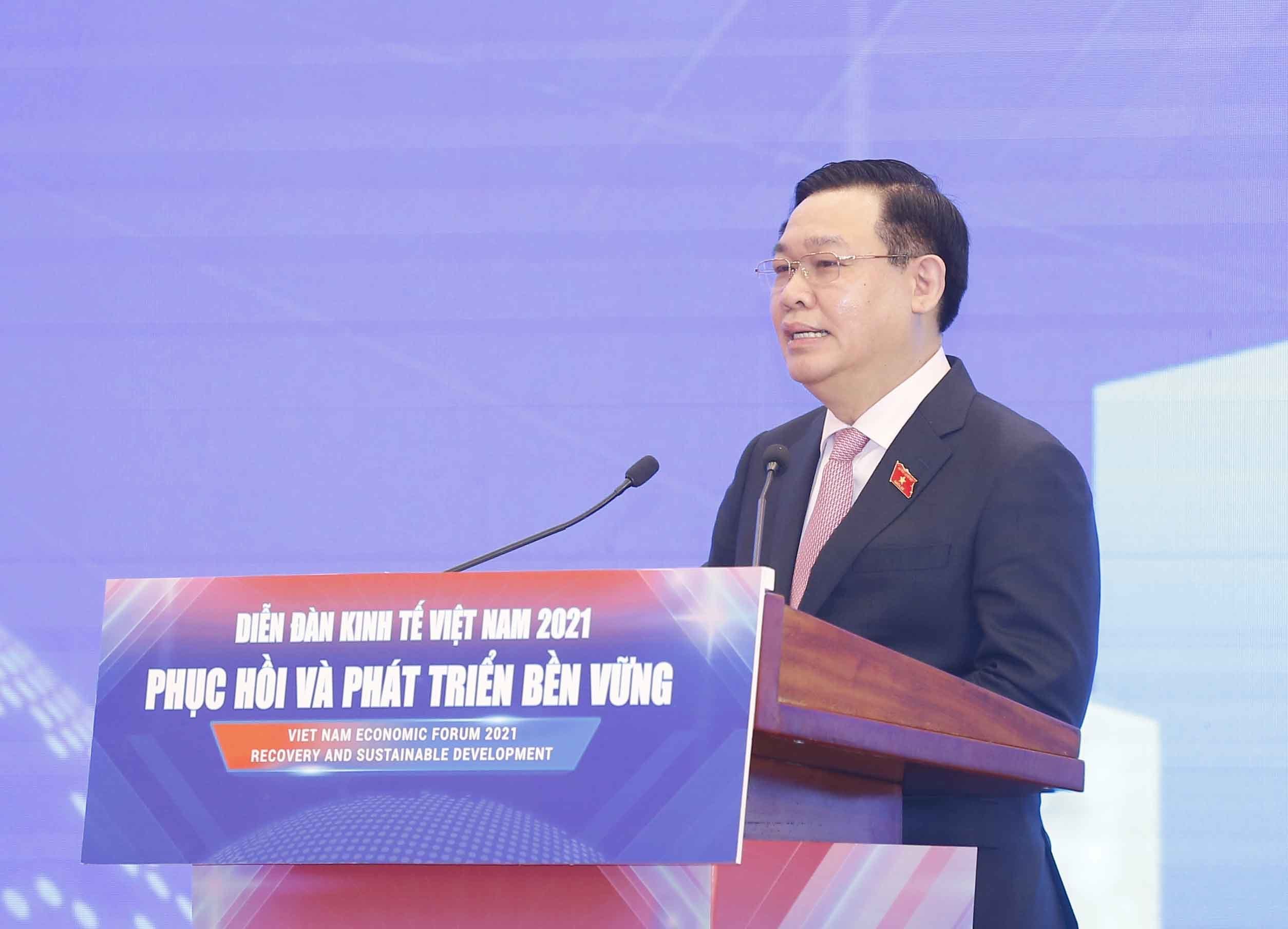 National Assembly Chair Vuong Dinh Hue
The Vietnam Economic Forum, with nearly 200 delegates, including four Politburo members, the Secretary of the Central Party Committee, 20 members of the Party Central Committee, 25 ministries and heads of industries, and nine ambassadors and charge d'affaires closed on December 5.
Twenty presidents and CEOs of large corporations also attended the meeting.
Emphasizing that the Covid-19 pandemic was 'unexpected, unprecedented and unpredictable', Hue agreed with economists that in such a special context there should be special solutions. The bailout for economic recovery needs to support both aggregate supply and demand, with priority given to supply.
It's necessary to implement both fiscal and monetary policies in a flexible and harmonious way, with a reasonable roadmap, wide coverage and a reasonable amount. The time for implementation is 2022-2023 and at most the first months of 2024.
The targets must be feasible and timely so as to satisfy businesses and people's demands.
"It's very difficult and time consuming to maintain macro stability, and it's very easy to quickly lose stability," Hue said.
He agreed with economists that Vietnam could accept overexpenditures and public debt increases in the short term in exchange for economic recovery, but it must ensure national financial security in the long term, especially debt payment capability.
The management and allocation of resources needs to be transparent and public to prevent wrongdoings and conflicts related to interest groups. To do so, there must be a mechanism to supervise and inspect implementation in different ways.
Stressing that the socio-economic crisis is due to Covid-19, Hue pointed out that medical solutions will be the decisive and primary factors, while fiscal policy will play the leading role, implemented in harmonization with monetary policy.
He said that helping businesses and people overcome difficulties will help nurture sources of revenue for the state budget and the banking system.
"It's not granting of favors here. By supporting businesses, commercial banks will support themselves. They cannot have profits without businesses," he said.
Stand on your own feet
Replying to the warning that Vietnam may repeat the mistakes it made in 2008 when it launched an interest rate subsidy package, Hue said the package at that time did not have specific targets, which was a problem.
"We must not avoid the difficult and do the easy. There should be an interest rate subsidy package," Hue said, adding that it would be better to focus on important fields, businesses, cooperatives and business households that can pay debts or recover.
It's also necessary to give financial support to upgrading of old apartments. Hanoi, for example, has thousands of apartment buildings that need upgrading, HCMC has 600, and Hai Phong also has such buildings.
"We will obtain a high growth rate if these bottlenecks are removed," he said.
The National Assembly Chair said that social housing projects are seriously needed, especially for low income workers, and the state should continue to divest from enterprises as parts of the economic recovery program.
Hue agreed with the opinion that businesses need reasonable regulation, not money, emphasizing that institutional improvement is the most important factor in the economic recovery program.
He said the important message of the forum is to have self-reliance, self-improvement, and ability to stand on one's feet, as well as better national and corporate governance.
At the same time, Vietnamese need to be optimistic, turn risks into opportunities and seek opportunities in challenges.
"The consistent message is that we need to go together. There's a saying that if you want to go far, go together with your friends," Hue said. 
Thu Hang

National Assembly Chairman Vuong Dinh Hue chaired a meeting on December 3 to discuss the Government's proposal on several special mechanisms and policies in the fight against COVID-19.

The National Assembly (NA) will hold an extraordinary sitting in late December to address key social and economic issues, NA Chairman Vuong Dinh Hue told the fifth session of the NA Standing Committee, which ended on November 23.