Mysteries of My Son Sanctuary unveiled through restoration

Situated in a peaceful valley surrounded by mountains, My Son Sanctuary has been well preserved since it was built thousands of years ago during the prosperous development of the Champa Kingdom between the 4th and 13th centuries.
Indian, Russian experts help preserve My Son sanctuary
Over 1,000 artifacts of My Son sanctuary go digital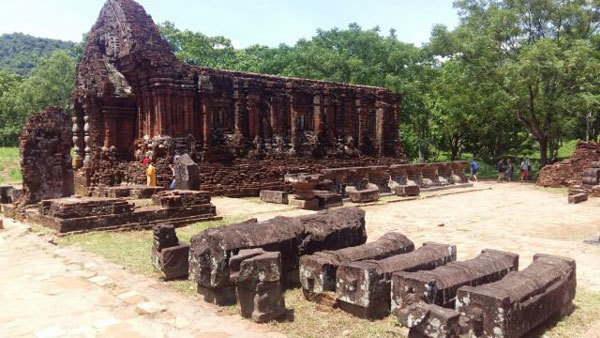 Ancient: A ruined Cham tower preserved at My Son Sanctuary in Quang Nam Province. The UNESCO-recognised world heritage site has 70 towers and temples that were built by the Cham people between the 4th and 13th century.
The ruins – a UNESCO-recognised world heritage site in Quang Nam Province's Duy Xuyen District –are now a popular destination because of their cultural relevance and architectural features. 
Ho Xuan Tinh, who researched Cham culture during his 20-year career in culture management in Quang Nam, describes the My Son Sanctuary – including 70 Cham towers and temples – as the most unique complex of intricate architecture and sculpture of Cham culture in central Vietnam.
The My Son Sanctuary was where royal families of the Champa Kingdom celebrated religious ceremonies and put kings to rest, according to Tinh.
Historic: Tourists pass a complex of collapsed Cham towers in My Son Sanctuary. The site is a popular destination for foreign tourists in Quang Nam.
VNS Photo Cong Thanh
Tinh said the temple and tower complex was protected by a high mountain range and a stream from the Thu Bon River (A major river system in central Vietnam).

"Historically, the mountain range was a safe shelter for liberation fighters during the American war in the 1960s, and the US air force failed to hit the military base of resistance movement due to the difficult terrain," Tinh said.
Cultural: Artists perform a traditional dance of the Cham at My Son Sanctuary. The Champa Kingdom ruled the central region between the 4th and 13th century.

"Although many bombs did not hit the target, many brick temples and towers either collapsed or were partly damaged," Tinh said, adding that time and weather also damaged the remains of the My Son Sanctuary.
"At least 70 temples and towers had been built from the 4th century, and brick and natural cement were used," he said.

Research into the construction techniques of the Cham people resulted from the restoration of monuments in 2003-13 by the Vietnam-Italy-UNESCO tripartite partnership.
The project yielded significant results including the successful restoration of Group G monuments, standard documentation of archaeological research, and archaeological excavations of artefacts for public display.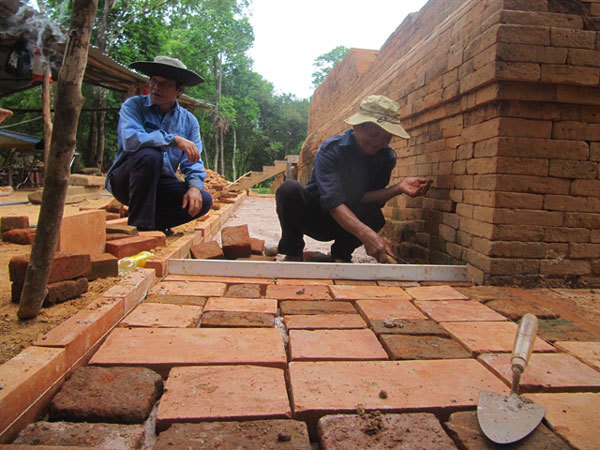 Working together: Local workers restore a Cham tower following a project at the My Son site. Different projects have been organised between Vietnam, Poland, Italy, India and UNESCO in preserving the complex.

The project, at a total cost of over US$1.6 million and funded by the Italian Government, paves the way for a study of brick making skills of the Chăm and as an example of conservation and protection of Cham towers throughout the country.
Nguyen Cong Khiet, deputy head of the My Son Sanctuary management board, said the research into brick production helped fill in the holes on collapsed Cham towers.
He said local craftsmen spent time baking clay bricks in wood-fired kilns.
"Bricks had to be not too hard, but not too soft. Every brick must be laid with natural resin in the middle. We tried to apply techniques used by Cham people thousands of years ago," Khiet said.
"Resin from certain trees was used as adhesive material to create strong, and waterproof, brick structures. There are resins extracted from the tree Dipterocarpus alatus – one of the most popular natural adhesive used by fishermen in making boats in central Vietnam," he explained.
Varadaras Suresh, an Indian expert, who has been working on the restoration of towers in Groups K, A and H, said resin was mixed with powder to create an adhesive.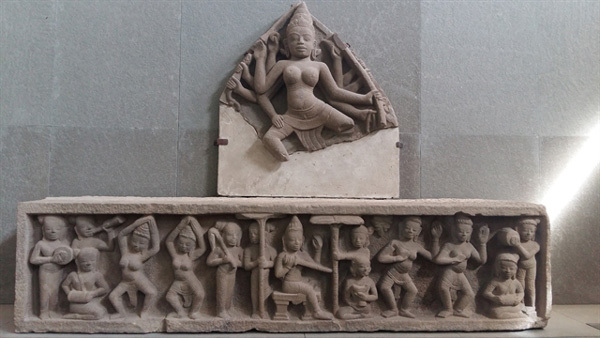 Intricate: A sandstone sculpture on display at a museum. Art works were often found in excavations of Cham towers in central Vietnam. VNS Photos Cong Thanh
"The ancient Cham people used resin as a special 'glue' to fix bricks so they would stand the test of time," Suresh said.
"Resin, which was easily found in tropical forests, is a waterproof material," he said.
"A lot of work has been done since we came here to restore a tower in Group H. Land clearance and protective brick work has been done to keep the tower strong through the rainy season," he added.
"We rebuilt the towers following the original design, including the order of every brick. Only damaged or missing bricks were replaced with new ones. The Chăm people were very accurate, so we could not change the position of every brick," he said.
Conservation
The director of the management board of the My Son Sanctuary, Phan Ho, said Polish archaeologist and architect Kazimierz Kwiatkowski, known as 'Kazik', contributed to the recognition of the Sanctuary as a world heritage site by UNESCO in 1999.
Kazik and a group of Polish archaeologists had strengthened ruined towers with cement, as well as clearing groups of towers in 1981-95 before they would be damaged due to weather and poor conservation.
The towers in Group B were then restored by a group of Polish architects in the 1980s.
Polish architect Kazik had lived in Vietnam for 16 years to help restore major structures in the ancient town of Hoi An, the My Son Sanctuary and the Complex of Hue Monuments (the three sites were recognised as world heritage by UNESCO), of which two belong to Quang Nam.
Italian archaeologists then continued the restoration of Group G on the site from 1997 before Indian experts began recovering towers of Groups K, A and H from 2017-21.
A long time earlier, French archaeologists and researchers found the Mỹ Sơn Sanctuary in 1885, and the first excavation and research on the Cham towers began in 1898-99 by Louis Finot and Launet de Lajongquere.
Heri Parmentier researched the site in 1901-02, and many artefacts were brought to the Cham Sculpture Museum in Da Nang City.
The My Son Sanctuary management board has called for international co-operation and investment in excavation and restoration of F1, F2, D1, D2 towers and Group A in creating further value of the ancient complex.
Cultural researcher Tinh said the My Son Sanctuary is still a unique and mysterious archaeological site, and it remains a research centre for Cham culture – a defunct civilization in Asia.
VNS