Music heals people's spirits during pandemic
Social distancing requires the suspension of cultural and entertainment services; however, this does not hinder artists from unwinding.
In May 2021, conductor Le Phi Phi contracted Covid-19 in Macedonia. Besides the medical treatment from doctors, Le Phi Phi also fortified his mentality with music.
He said he lost 10 kg and his spirit was in pain.
"There was always music in the room where I stayed, which significantly helped me distance myself from my negative thoughts and the empty loneliness I felt. Music has been the wind underneath my wings." During the mishap, Le Phi Phi rewatched all of his performance videos. He is among many people who have been healed by music.
Music performances at hospitals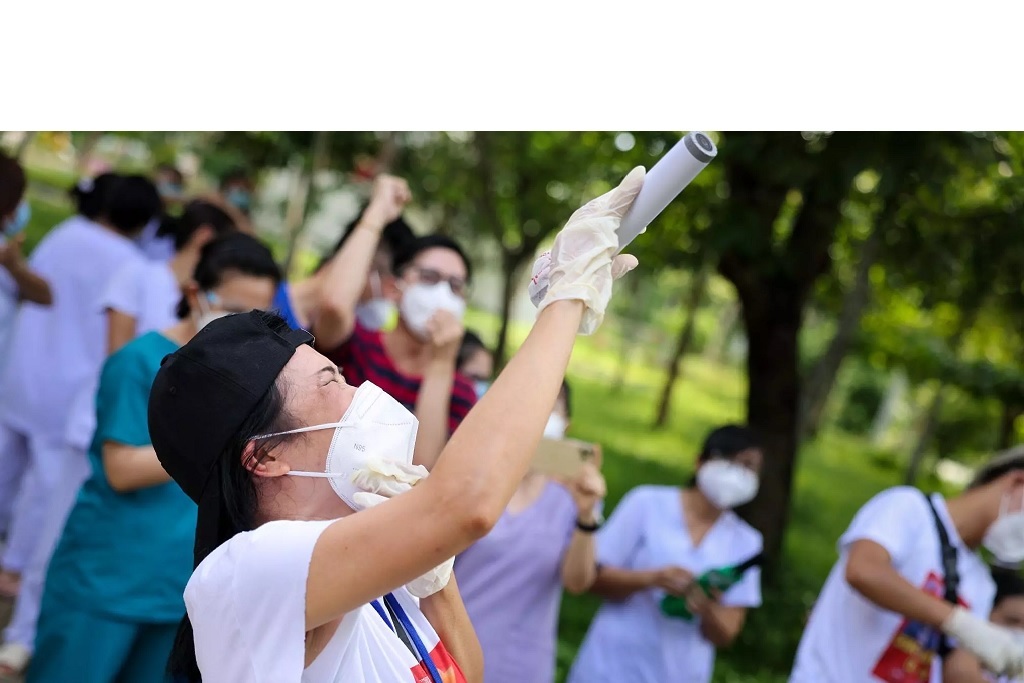 Volunteer artists serenade patients and doctors. (Photo: Photographer Ngo Tran Hai An)
Social distancing requires the suspension of cultural and entertainment services; however, this does not hinder artists from unwinding.
Artists Phuong Thanh, Tran Manh Tuan, Quoc Dai, as volunteers to support the fight against the Covid-19 epidemic, have performed music exchanges in poor conditions at field hospitals Thu Dung number 3, 6, 7, 8, 11 in HCMC. The performance by Tran Manh Tuan playing the saxophone of the song "Homeland" (Que Huong) at Thu Dung field hospital No. 3 caused many viewers to get dewy-eyed.
People's Artist Ta Minh Tam, singers Cam Van, Dam Vinh Hung, Thai Thuy Linh, Toc Tien, Truc Nhan have also serenaded patients and medical staff in field hospitals and concentrated isolation areas in recent days.
Meanwhile, Tuan Hung, Quang Ha, Quang Trung sing for the audience through the medium of livestreaming. Producer K-ICM held four livestreams playing EDM, attracting tens of thousands of viewers at home.
Vietnam Television has invested in two online concert programs 'Chia se de gan nhau hon' (Sharing to get closer) with the participation of Vietnamese artists in different parts of the world: conductor Le Phi Phi in Macedonia; Tran Thu Ha in the US; Thu Minh, Doan Trang in Singapore; and other international artists.
During the pandemic, whilst entertainment products have grown sporadic, the music segment turned unusually aflame with ardor. Anh Tuyet's MV 'Gui vo Nam' (Sending to the South) brought tears to viewers by documenting the poor people in the Central region collecting each squash and melon, or even 20,000 VND, to support Ho Chi Minh City. Three other MVs including 'Cam on nhung trai tim yeu nguoi' (Thank you for the loving hearts) of Tung Duong, 'Bac si oi, nu cuoi' (Doctor! The smiles) of Viet Hoan and 'Anh se ve nhung khong phai hom nay' (I'll be back but not today) of People's Artist Quoc Hung was filmed simply for safety reasons during the epidemic, but remained deeply emotional and moving.
Never before has the audience needed music this much. Dr Nguyen Thanh Tam (No. 1 Field Hospital, Ho Chi Minh City) said: "The F0 patients here are very stressed. We were excited that artists brought music here. I look forward to more meaningful programs like this."
Online concert "Sharing to get closer" also made many hearts sob. Since the onslaught of Covid-19 in his hometown of Bac Giang, MC Minh Duc has had a heavy heart, which is why he shed tears upon listening to the song 'Tro ve dat me' (Returning to the motherland) during the concert.
The bustling music activities during the epidemic are a great source of solace to the multitudes. In the flow of malicious and negative news that is billowing every day, internet users can temporarily wind down to view music videos of their choice.
Why is music healing?
Why can music intangibly do these things? Musician Mien Duc Thang, who has studied the healing properties of music for many years, said that the healing process of music comes from the vibrational physics of brain waves at different frequencies. Each such frequency will kindle a different kind of emotion. The listener is like a radio that picks up a frequency. For that reason, music helps to decrease stress and fatigue, and positively affects the human body.
There have been several studies in the world proving the positive effects of music on stress and anxiety. "Music has the effect of regulating emotions. In some cases, I know, people with psychological problems have been given music to calm their mental state, thereby openly sharing their problems with others. Clinics are now also very interested in choosing which songs to play in the patient waiting area. This is a very practical application of music," said doctor Pham Viet Ha (Covid-19 Department B3, Covid-19 field hospital for treatment of Covid-19 Pham Ngoc Thach HCMC).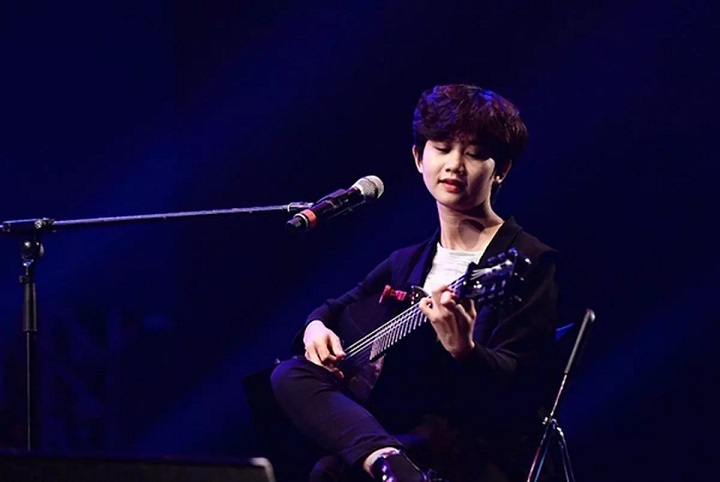 Music is invisible but magical. Illustrative image
The definition of healing music varies. Someone needs to listen to Le Cat Trong Ly, Nguyen Ha, Nguyen Thao, Ha Anh Tuan who sing like unfolding a story; some crave a bit of the ferocity from rock; others need the goodness in rap by Den Vau, or the youthful freedom of love by HIEUTHHUHAI.
Research into art shows that the arts have healing powers, but music is said to be more accessible to the masses. For example, a person may not be able to perceive a picture, an hour-long movie, or a text of several thousand words, but can effortlessly absorb and quickly remember a certain melody.
The accessibility to the masses makes the spread of music wider and stronger. The message of music is invisible, yet its soft power is mighty on humans. Conductor Le Phi Phi said that the omnipotence of music is due to it being a universal tune that everyone can perceive. Without music, human life would be a jumbled series of sounds.
"Over the past time, all those performances or virtual concerts, MVs, songs, etc. have manifested the greatness of music. You might not get money from listening to a song but a refreshing energy or a feeling of comfort is what it has to offer," said MC and journalist Minh Duc.
Furthermore, the healing power of music is so wide that not only listeners but also singers, musicians, producers can all find solace in it. Conductor Dennis Gregory Sugarol rendered covers of 80 songs as a path out of the stalemate when infected with Covid-19 and when his beloved grandmother departed this life. Musician Nguyen Van Chung, who suffered from post-divorce depression, also was healed. He then compiled all the tunes to complete the album Heal Me. Singer Phuong Thanh said that her singing cheered up patients and doctors and is also a way for her to motivate herself to volunteer until the city ends the epidemic.
What should we listen to?
MC Quynh Hoa said that the volunteer artist team will continue to organize meaningful shows at the hospitals where they go to serve patients and doctors.
Meanwhile, people at home can enjoy music products that are considered to have healing properties such as: 'Heal Me' by Nguyen Van Chung; 'Khanh Linh's Journey' by Khanh Linh featuring Vo Thien Thanh; 'Rung xua da khep' (The Secret Ancient Forest) and 'Hoa am cua dai ngan' (Harmony of high mountain and thick forest) by Vo Thien Thanh; 'Tinh dan' (Heaven's Gourd) by Ngo Hong Quang,...
Some artists have offered to share music that they believe is rewarding for the human spirit during the pandemic. During these days, musician Quoc Bao often listens to works by Ha Tran, Uyen Linh, Ha Anh Tuan and Tuan Ngoc. Meritorious Artist Thanh Lam often listens to Mua Hong (Rosy Rain), Danh thuc tam xuan (Awakening Dog-roses) and Do Tinh (Quiz Love), songs that, according to her, "exude loving energy", which is what we all need amid the pandemic.
Tung Duong suggested that audiences listen to songs Hay yeu nhau di (Let's love each other) and De gio cuon di (Cast into the wind) in order to lighten your spirits. He listens to his own album Human to reflect on life and the poignancy of it during this sensitive time.
Meanwhile, Toi thay hoa vang tren co xanh (Yellow flowers on green grass); Thanh xuan cua chung ta (Our youth); Do what you want; Chan ai (Real love) and Nho nguoi hay nho (Miss you or miss…) are five songs recommended by Musician Chau Dang Khoa for the young to run the gamut of emotions.
"Whatever the circumstances, be selective about what you listen to. Music enriches life and gives meaning to it," Conductor Le Phi Phi reminds readers.
This epidemic might be causing physical disconnection among humans, and disrupting familiar habits and hobbies, but music remains intact and alongside us all. Regardless of genres, origins or popularity, music is what feelings sound like and always fulfills its mission of uplifting people's lives.
Gia Bao

A DJ in HCM City brought his musical instruments to his balcony to play music for free for his neighbors during the current difficult time of social distancing.

Dozens of musicians and artists of HCM City have given special performances to inspire frontline workers and people staying in concentrated quarantine zones and COVID-19 treatment hospitals.