More businesses seek black credit as cash flow plummets
Seventy-one percent of businesses anticipate revenue decreases in 2021, higher than the 65 percent figure in 2020, according to a survey.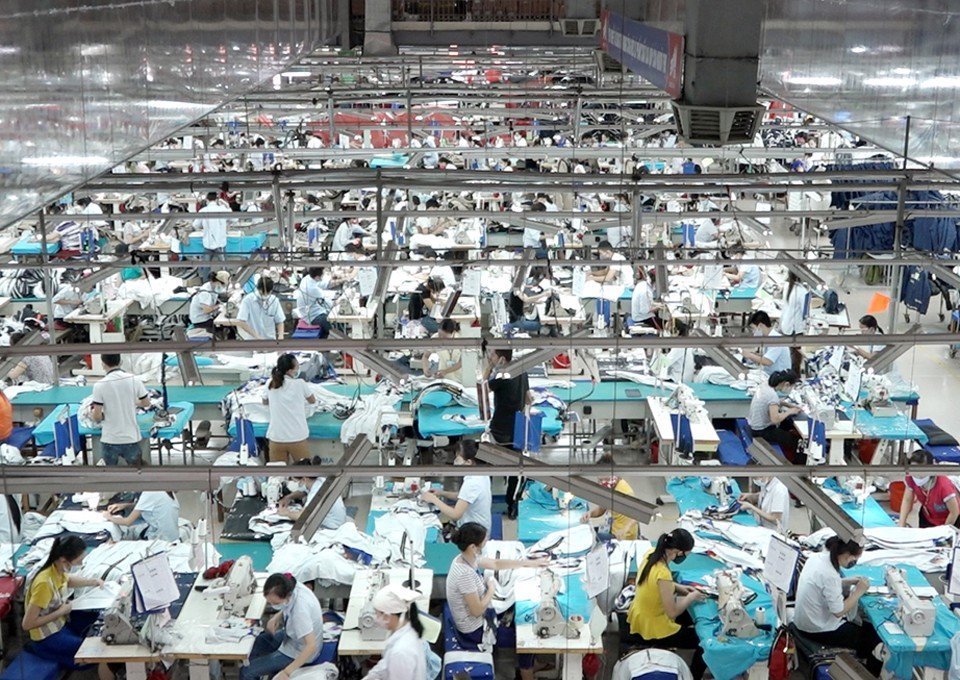 Vietnam Chamber of Commerce and Industry (VCCI) conducted a quick survey of businesses in 63 cities and provinces on the impact of the fourth Covid outbreak. Nearly 94 percent of businesses said they had suffered adverse effects, higher than the 87.2 percent figure in the 2020 survey.
Of these, 60 percent of businesses said the impact was 'mostly negative', while 34 percent said the impact was 'completely negative', twice as much as the 15 percent figure in 2020. Only 4 percent said they were not affected by the pandemic, and 2 percent said the pandemic had brought development opportunities.
Around 90.8 percent of surveyed businesses said they had to downsize the workforce during the outbreak. About 92 percent of businesses have large scale, 81 percent medium scale, 94 percent small, and 90 percent micro.
The job losses mostly occurred in the service sector, with 97 percent cutting wages or jobs in education and training, administration, accommodation services, and food and beverages. About 95 percent of businesses in the southeast region, 93 percent in Mekong Delta and 92 percent in central region had to lay off workers.
The Red River Delta had the lowest proportion of workers losing jobs, while 78 percent of businesses had to streamline their workforces.
Ninety-six percent of businesses had problems related to value chains, including difficulty in approaching customers, cash flow imbalance, difficulty in managing workers, and supply chain disruption.
At least 61.8 percent of businesses had difficulty accessing domestic and foreign customers, 57.6 percent had problems with cash flow, 57.2 percent in personnel management, and 51.4 percent in maintaining supply chains.
Revenue decreased by 71 percent compared with 2020. About 93 percent of businesses in the medical and social support sector (private hospitals, long-term care settings) anticipate revenue decreases in 2021 compared with 2020. The figure is 87.5 percent in accommodation and food services, and 45.9-87 percent in other sectors.
Of these, small and micro businesses anticipate the sharpest revenue decreases (71-72 percent). In 2020, 65 percent of businesses had lower revenue than in 2019.
Businesses will fall into the state of financial exhaustion if they are not given reasonable support.
Struggling companies
Businesses say they can continue to hold out for no more than six months on average. The figure is five months for businesses in the southeast and 5.3 months in the Mekong Delta. The time is 8.4 months for northern businesses.
VCCI said the survey was conducted from July to September 2021, which means that businesses can only hold out for one more quarter from now.
More than 42 percent of businesses said they would maintain current production scale in the next two years. At least 18.4 percent said they may scale down production, or even shut down. About 36.8 percent intend to expand business scale, a fall from the 41 percent in 2020. Notably, 42.7 percent of businesses have not used automation and digitization.
Businesses resumed production in early October. But they complain they are seriously lacking capital. Some businesses revealed that they have had to sell cars and fixed assets to maintain operations. As it's difficult to access official credit, many businesses have had to seek capital from black credit at exorbitant interest rates.
According to VCCI, the Government's credit support package which provides preferential loans, restructures debts and reschedules debt payment, launched in early 2020, has brought limited effects.
A quick survey of 500 businesses in August 2021 found that only 30.72 percent of businesses could access the package. Only 0.65 percent said the package can satisfy their capital demand.
Once cash flow is exhausted, businesses will need new loans to maintain production. However, the problem is that businesses, which have been hit hard by the pandemic, have no assets to use as mortgage for loans.
To solve this problem, experts said there should be a refinancing package to provide new loans to businesses. The refinancing package would comprise some capital from the state budget.
One of the most important factors to ensure businesses' loan access is allowing unsecured loans. At the same time, it's necessary to refinance commercial banks at low interest rates and ask banks to use the refinanced amount to provide new loans to businesses. 
Tran Thuy

Scammers are impersonating officers of online lending apps, promising loans at low interest rates in order to appropriate money from people.
Economic expert Pham Chi Lan said that financial solutions to support pandemic-affected businesses this year have not yet learned from the irrationalities of 2020.