Minister, officers run against time to bring VND26 trillion support package to people
Minister of Labor, War Invalids and Social Affairs Dao Ngoc Dung said agencies and localities cannot be slow in disbursing the VND26 trillion support package.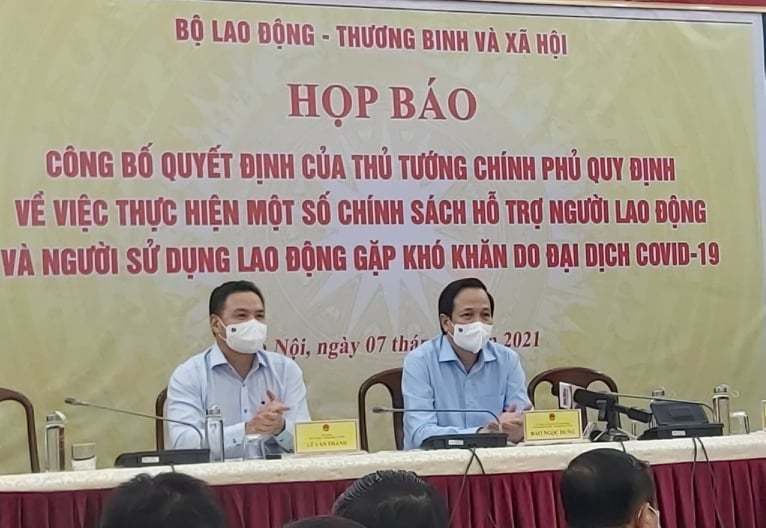 The press conference
The Ministry of Labor, War Invalids and Social Affairs (MOLISA) on July 7 afternoon held a press conference, announcing the PM's Decision on implementing policies to support laborers and employers facing difficulties because of the Covid-19 pandemic.
The package is a follow-up to a previous initiative of VND62 trillion Vietnam issued last year to support the poor and businesses hit by Covid-19.
Dung said the ministry, together with the Government and other ministries, have tried their best to bring Resolution 68 into life.
"In normal conditions, it would take a month to fulfill the workload. But we have been working day and night in the last few days. The Minister last night worked until 0.30 am so as to be able to submit the draft decision and consult with the National Assembly's Committee for Social Affairs this morning, and then, together with the Government Office, to complete the document to submit to the Prime Minister for promulgation this afternoon," Dung said at the press conference.
MOLISA has been asked to be sure that the package could reach those in need, including informal laborers like street vendors.
Dung stressed that the procedures have been shortened and simplified at in an effort to create favorable conditions for people to access the support in the easiest possible way. Local authorities still can strictly observe the regulations stipulated by the laws, but can be flexible in applying regulations to give support to people and businesses.
With the previous support package, businesses had to satisfy very strict requirements to borrow money to pay their workers. Meanwhile, commercial banks would consider the application for loans on the fifth day every month. This meant that if businesses applied for loans on the sixth day, they would have to wait for reply on the fifth day of the next month.
"At noon today, I discussed with the Governor of the State Bank of Vietnam (SBV) and Director of the Bank for Social Policies and reached some agreements. All complicated procedures will be removed, while necessary procedures need to be completed within four days and the disbursement within three days," Dung said.
This means that businesses now have to wait seven days at maximum to access the support package instead of one month and 10 days.
With simplified procedures and easier requirements, Dung stressed that the time to access the VND26 trillion support package is a "daring revolution".
"People are looking forward to support every day, especially informal laborers. Therefore, if agencies and localities are slow in deploying the support package, we will be guilty," Dung said.
The Minister reminded everyone of the images of small children in quarantine and Covid-19 patients under treatment or quarantine, who have to queue up for free meals. He also mentioned HCM City residents, who queued up to buy products to prepare for social distancing on July 7. All these things showed that people are facing difficulties and are awaiting support from the State and the community.

The Ministry of Labor, War Invalids and Social Affairs (MOLISA) on July 7 afternoon held a press conference, announcing the PM's Decision on implementing policies to support laborers and employers facing difficulties because of the Covid-19 pandemic.
"They images show the significance of the deployment of this support package," he said.
He said that the pandemic cannot be contained overnight and people will still face difficulties, especially workers in fields directly hit by the pandemic such as tourism, transport, aviation and informal laborers. They need prompt support from the State and the community.
"In the last days, I have been to Bac Giang, Bac Ninh, Dong Nai and HCM City as a member of the PM and Government's missions. The Government discusses solutions to fight the pandemic every day," he said, adding that since the pandemic developments in HCM City have become complicated, the Prime Minister has ordered restriction on people's travel in order to ensure safety.
He also expressed concern over the possibility of the pandemic attacking industrial zones (Izs) and export processing zones (EPZs) with high numbers of workers. HCM City now has 1.6 million IZ workers, Binh Duong 1.2 million and Dong Nai 1 million. If the localities can control the pandemic, this would make a great contribution to the whole country's fight against Covid-19.
According to Dung, it is necessary to apply drastic measures such as restricting people's travel. And in order to do that, it is necessary to ensure people's lives and normal activities, especially for informal laborers who don't have savings. Local authorities must not leave any individual in hunger and allow social disorder to happen because of the pandemic.
"It's necessary to support people as soon as possible. MOLISA's officers, including the Minister, have been working day and night, running against time to realize the support. The Government always orients towards people and tries to ensure people's health and safety," Dung added.
The new points of the new support package
Describing the new points in the 12 categories of policies aiming to support workers and employers in the VND26 trillion support package, Dung pointed out four noteworthy things related to the occupational accidence insurance policy.
The premium has been reduced from 0.5 percent to zero percent, while the benefits remain unchanged. Employers can use the money from the reduction to support workers. The people in armed forces, and get salaries from the State do not benefit from this policy. Foreign workers currently working in Vietnam who pay this insurance will still be entitled to benefits.
Regarding the policies to support quarantined people, F0 (infections) and F1 (direct contact with F0), both adults and children can receive VND80,000 a day for meals, for 21 days at maximum. Their treatment costs will be paid by the State, for no more than 45 days. Small children can get VND1 million additionally. Pregnant women and women feeding children aged below six can receive VND1 million when they have to suspend or stop working because of the pandemic or quarantine.
The artists to receive support are those who have a fourth-class professional title and low income. There are 2,000 people nationwide belonging to this group.
Tour guides are now subject to support. It is estimated that 26,000 individuals have tour guide cards.
As for informal laborers, they don't have to return to home villages to get certification from local authorities, but they can get certifications in the localities where they are residing.
"This is a support package that is so open that it cannot be more open," Dung commented. 
Thu Hang

The second support package worth VND886 billion (US$37.8 million) will be directly given to HCMC dwellers who have been affected by the coronavirus epidemic.

The Government has just issued Resolution No 68 on a number of policies to support employees and employers facing difficulties due to the COVID-19 pandemic, worth a total of VNĐ26 trillion (US$1.13 billion).