Minister of Natural Resources and Environment recalls his eventful 5-year term
Minister of Natural Resources and the Environment Tran Hong Ha recently spoke with VietNamNet about his five-year term on the 'hot seat', and about dealing with environmental incidents, preoccupations and plans.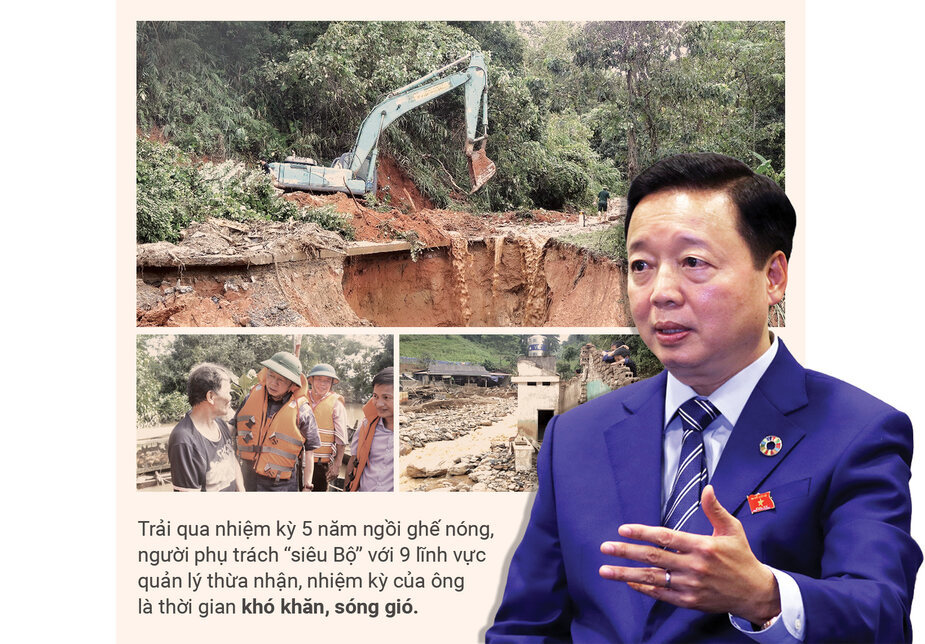 Minister of Natural Resources and the Environment Tran Hong Ha
In April 2016, Tran Hong Ha officially became the fourth Minister of Natural Resources and the Environment. Just days later, the Formosa sea environment incident occurred, affecting provinces in the central region.
At 6 pm on April 27, 2016, many reporters were seen gathering at the Ministry of Natural Resources and the Environment (MONRE) head office. They were waiting for the outcome of the meeting between the representatives of seven ministries and branches and the leaders of Formosa Ha Tinh, which caused the unprecedented incident.
At 8 pm, the meeting ended. MONRE's Deputy Minister Vo Tuan Nhan provided initial information.
Two months later, on June 29, 2016, the management board of Formosa Ha Tinh publicly apologized to the Vietnamese Government and people for the incident.
After Formosa, many events related to the environment occurred, including Vinh Tan Thermopower Plant seeking permission to submerge sludge and waste in the Hon Cau sea; drought and saline intrusion in Mekong Delta, anf landslides in the southern part of the central region; the leaking of mercury caused by a fire at the Rang Dong Light Source and Vacuum Flask factory; and waste oil spill that polluted the clean water supply source.
Having experienced a 5-year term, the head of the 'super-ministry' which manages nine different fields, admitted that his term was full of events.
"There were always burning issues in the fields under the ministry's management. We were in a state of constant anxiety. We had to gather all strength to solve the problems," Ha recalled.
He said this was not a surprise, because the Party and the State have determined that it is now the transition period when Vietnam shifts from developing an economy making full use of natural resources to developing an economy in a sustainable way and not causing bad impact on the environment. Vietnam has now developed an economy based on tight control over natural resources, while taking the initiative in adapting to climate change.
Ha said that this was an important lesson in natural resources and environment management. Vietnam will have to pay a heavy price if it continues following the principle of developing economy first and treating the environment later. The Formosa incident was a lesson.
The lesson learned was that it was necessary to establish management tools for large-scale projects such as Formosa. This requires management agencies to learn international practice so as to approach technologies, and to have better capability to adjust policies and management tools.
In addition, it is necessary to reconsider the policies related to natural resources management and proactive adaptation to climate change. Environmental protection should be implemented under which prevention is the key.
"In dealing with problems in land, water, mineral resources management, we listened to localities to understand and solve the problems in a transparent and scientific way with simplified administrative procedures, while ensuring that natural resources could be used effectively," Ha said.
Shifting from passive to active management

Minister of Natural Resources and the Environment recently spoke with VietNamNet about his five-year term on the 'hot seat', and about dealing with environmental incidents, preoccupations and plans.
According to the Minister, with many policies and decrees, natural resources and environment management is no longer in passive way, but it is prepared methodically and comprehensively in policies, while the awareness of all levels and the people about the environment has been heightened.
Natural resources are managed closely and used effectively. Mineral resources and geological value are investigated, managed and used effectively in association with the processing industry, contributing to growth. The advantages of territorial waters and coastal areas have been promoted, making up 60 percent of the country's GDP.
In 2020, when the budget collection faced difficulties, the collection from land still fulfilled 133 percent of the plan, while minerals represented 112 percent.
Water resources have step by step been managed and used in a sustainable way, ensuring water security for multi purposes, with the focus on settling water pollution at big rivers.
The policies on responding to climate change have been implemented systematically with a strategic vision. The hydrometeorological forecasting has been modernized and improved to help ministries, branches and localities take the initiative in planning their production and business and has mitigated damages caused by natural calamities.
In the 2019-2020 drought and saline intrusion season, while the impact degree was 2-2.5 times higher than 2016, the toll was 9.6 percent lower.
With support from the people, at the end of the working term, the viewpoints and management methods changed basically. The 'brown economy' and 'brown energy' models have shifted to 'green economy' and 'green energy', from unsustainable to sustainable economy, in which environmental issues have a considerable impact.
In an effort to better manage a wide range of nine fields, MONRE has been applying information technology largely in its operations, from management and instruction to monitoring to surveying.
"We are one of the pioneering ministries in building and forming a digital government," Ha said.
At least 85 percent of people say they are satisfied about the public services provided by the ministry. 
Kien Trung

HCM City Vice Chairman Vo Van Hoan has required relevant agencies to take urgent and drastic action to deal with noise pollution.

The Ministry of Natural Resources and Environment has built a digital tree map in Vietnam to serve the identification of planting sites as well as management and taking care of trees throughout the country.