Minister of Information and Communications discusses digital transformation in education
On the occasion of the new academic year 2021-2022, Minister of MIC Nguyen Manh Hung has written the following article about digital transformation in education.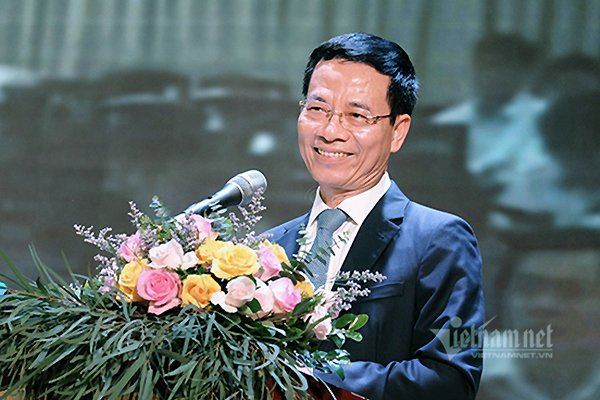 Minister of Information and Communications Nguyen Manh Hung
Digital transformation in education is broadband digital infrastructure that reaches every household.
There are still 2,000 points nationwide that mobile waves cannot reach. But MIC has decided that by the end of this year these points will have access.
Provinces are also striving to have at least one smartphone for every household by the end of 2021, while 100 percent of Vietnamese would shift to use smartphones by early 2023. It is expected that every household will have an ultra-broadband fiber optic Internet line prior to 2025.
Vietnam's telcos have offered preferential service fees for the educational sector for many years. The national digital infrastructure strategy that the PM is going to promulgate this year sets the goal that Vietnam will be in the list of the world's top 30 prior to 2025.
When we talk about digital transformation, we have to talk about about electronic payments. The PM has instructed to speed up e-payments for the educational sector. At present, e-payment at schools remains very low, below 10 percent.
The two biggest bottlenecks are the lack of commonly used payment connection standards and e-payment fee collections.
MIC has reached a consensus with the banking sector about payment connection standards and the Ministry of Education and Training (MOET) needs to release a document requesting training establishments to apply the standards for their fee collection management software.
The banking sector has agreed that it won't collect e-payment fees from schools. Now is the time for Minister of Education and Training to request that e-payment needs to account for at least 60 percent of payments at every education establishment by 2022.
In digital transformation, the most important factors aren't in technology and money, but in the determination of the heads of agencies. The determination makes up 80 percent of success.
This is because digital transformation relates to the changes in the way of operation. Technology just helps us make the changes.
For example, we need to answer the questions: Will we accept online exams? Will we have digital universities?
Technologically, we have many good technology firms. But digital technology has two important characteristics.
First, to make it excellent and smart, we need to use it, because the use involves practice which makes it excellent.
Second, in order to have cheap technological solutions, it would be better to share solutions.
Both things can be done only with the strong determination of leaders. People naturally are reluctant to use new things because they don't want things to change. If 44,000 schools use 44,000 different software products, it would be a big waste and they cannot connect with each other.
In order to develop rapidly and sustainably, the most suitable solution in the current period is digital development, because it consumes the least resources. The technologies of the fourth industrial revolution also focus on digital development. Innovations are mostly in digital technology. Digital development is considered the major development of the first half of the 21st century.
All the countries and industries which want to make a breakthrough and change their positions will have to take full advantage of this great opportunity. But they need to go ahead of other countries.
If the educational sector wants to choose something for a breakthrough in the next five-year development period, it should think of digital transformation, considering this a long-term and strategic strategy, not just a temporary solution in the Covid-19 period.
Digital technology and digital transformation can help settle a lot of long-lasting problems of the education and training sector.
The major answer to digital education is commonly used digital platforms. The sector has a lot of policies on innovation but it still lacks a tool to effectively implement policies.
The digital revolution has brought a revolutionary tool, which are platforms commonly used nationwide. They not only help to implement the policies but also stronger reforms.
Every need will be settled with a digital platform. From this perspective, schools, especially universities, will be like digital firms rather than traditional schools.
Schools will develop technology and content to serve teaching and learning. But they will do this by cooperating with technology firms to deploy knowledge and teaching methods on digital platforms. 
Minister of Information and Communications Nguyen Manh Hung

Luu Nguyen Nguyet Minh is working on sustainable solutions to help solve Mekong Delta's problems.  

Green and digital development is the main development trend in the first half of the 21st century.