Meet the woman running from Hanoi to HCM City for charity

Every year, hordes of backpackers and expats alike drive motorbikes from Hanoi to HCM City or vice versa for a unique adventure and to experience the wonderful sights Vietnam has to offer.
Popular community races raise funds for charities, scholarships
Charitable bike ride raises funds for underprivileged children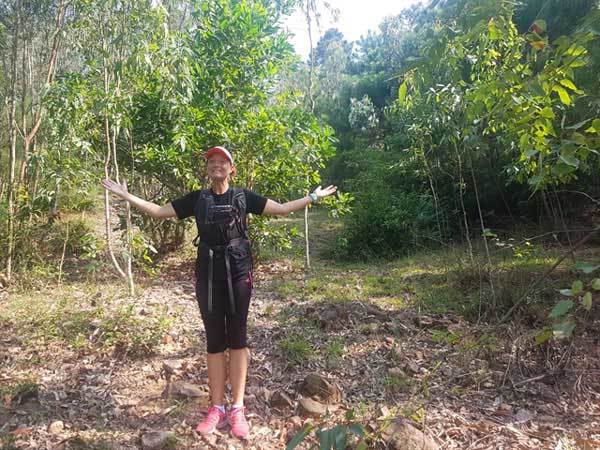 LONG WAY TO GO: Naomi Skinner is running from Hanoi to HCM City to raise money for Vietnamese charities. — Photo courtesy of Naomi Skinner
For those who don't fancy risking life and limb on the back of a Honda Win, there are planes, trains and automobiles available to make the journey.
But what about running? Sounds impossible, right?
Wrong. One British woman is proving it can be done, one step at a time, all the while helping disadvantaged Vietnamese kids.

Charity challenge
"I'm not even really much of a runner so it's definitely a challenge," Naomi Skinner told Việt Nam News via phone on Tuesday, after she had completed a 32km stretch in Nghe An Province, about 100km north of Vinh City.
So what possessed an English teacher who has lived and worked in HCM City for the last four years to take on the daunting 2,200km-plus route, having never previously run further than 21km in one go?
"I kind of wanted to challenge myself and I've lived in Sai Gon for four years and had a great time teaching for four years, and thought I wanted to give something back to some of the charities I've been working with for a couple of years," she explained.
Skinner worked for the British International School (BIS) branch in HCM City for four years up until July, when she resigned so she could take on the herculean task of becoming possibly the first person to run between the two cities.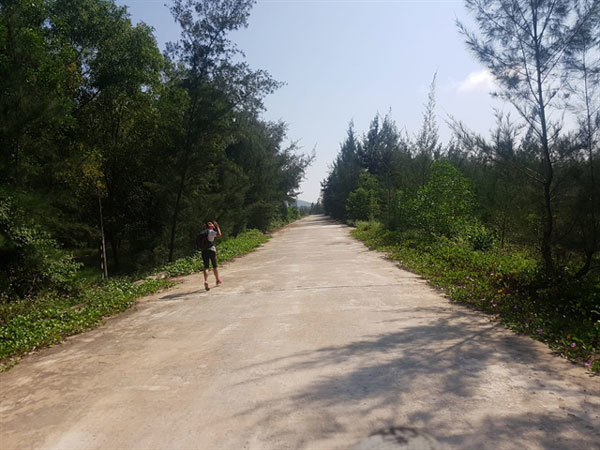 BEST FOOT FORWARD: Naomi Skinner thinks her 2,000km plus run will take her about five months to complete. — Photo courtesy of Naomi Skinner

The run is about more than exploring Vietnam and a personal challenge though; she's seeking donations to split evenly among five Vietnamese charities, each of which she's worked with through their partnerships with BIS.
Friends for Street Children, Thien Phuoc Orphanage and Green Bamboo Shelter are based in HCM City, while Blue Dragon Children's Foundation and Blossom House Hanoi are more capital-based.
"I've worked with them on and off for the last four years," said Skinner.
"The Sai Gon ones are all street kid ones, getting them back into education, which is what I really believe in.
"The two up in Hanoi are focusing on the rehabilitation of kids and women who have been trafficked, so again getting them back into education and a lot of holistic care."
With more than half of the GoFundMe goal of 15,000 pounds raised already, Skinner is well on the way to doing some real good with her run.
Kindness
While she only set off on October 6 and expects to finish by March, Skinner has already experienced some of the warm hospitality that rural parts of Vietnam are renowned for.
"People have been so amazingly kind, which has been the absolute highlight so far," she said.
Understandably, many of the people she passes are bewildered by the sight of a Westerner running down the road in a place where they rarely see foreigners.
"They're completely confused by it!
"They're all really excited and want to know why I'm doing it…People have been shocked but they're really pleased with what I'm doing and they thank me and wish me good luck, which is nice," she said.
The kindness extends to help with her cause, as Skinner said many people won't let her pay for the water she buys along the way, while one massage parlour in Tam Coc in Ninh Binh Province wouldn't take her money for a massage and insisted the fee go towards the charities instead.
While not every inch of the route can be scenic (she ran about 70km down a highway leaving Ninh Binh that was particularly unpleasant), Skinner has already had a taste of some of northern Vietnam's most stunning scenery.
"Coming in to Ninh Binh and running out of Tam Coc with all the huge rock formations was beautiful, just feeling really tiny running through the paddy fields with the rocks looming over you. That was pretty cool."
Get involved
With more than 1,000km to go, Skinner's long journey is just beginning, but you'd be a fool to bet against her making it to HCM City with her good cause driving her on.
To donate to her cause, visit www.namrunsnam.com and click the donate tab.
Anyone can also sign up to run with her through the website, but don't worry, there's no obligation to do something crazy like run a few thousand kilometres! VNS
Peter Cowan