Man with cerebral palsy grew up to be proficient in computing, foreign languages
Nguyen Kim Ngoc, 45, and Nguyen Cong Luan, in Long An, got married in 1999 and gave birth to a healthy son, Nguyen Hoang Phuc, one year later.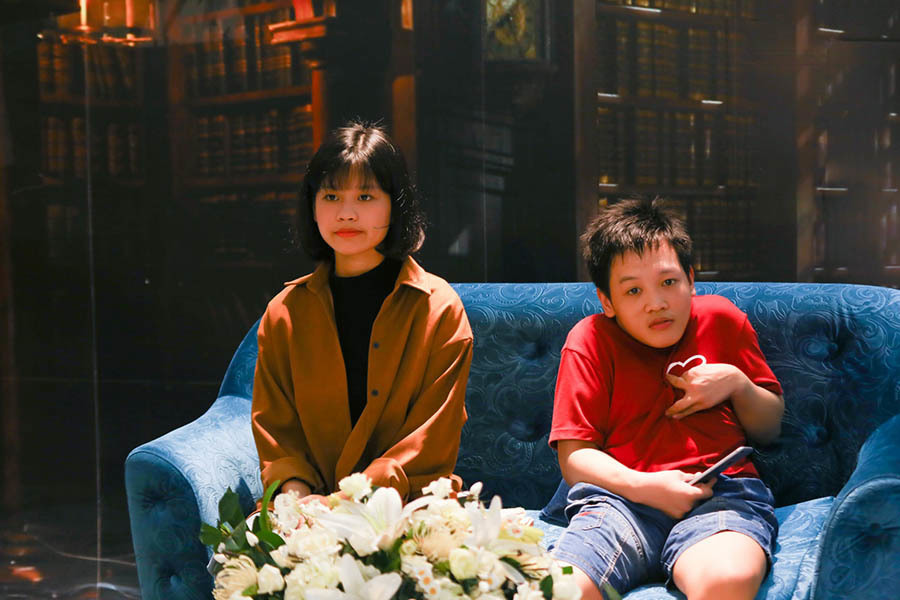 Nguyen Hoang Phuc (right) and his younger sister
But when Phuc was six months old, Ngoc discovered that he still could not sit. Worried, she brought her son to hospital for medical examination and was informed that he suffered from cerebral palsy.
Ngoc said she felt desperate, as if someone had pushed her into an abyss. She asked herself what she had done wrong and why this had happened.
When her son turned three, Ngoc had to accept the fact that he had cerebral palsy because of asphyxiation at birth. She told her husband that they needed to give their child a peaceful life at any cost.
The parents went everywhere to ask for medical help and spent time going out with their son.
She shed tears when remembering the suspicious looks she received from people. "Some people asked me why we still brought our son in such a bad state to play," she recalled.
Ngoc said from the time when the son was six months to six years old was the most difficult period for her family. Because of cerebral palsy, Phuc became sick more easily, suffering from pneumonia, bronchitis or diarrhea.
As Phuc could not sit on his own, Ngoc had to use a cloth to tie him to a plastic chair so that he could play games on a computer.
They also bought a mobile phone so he could exercise his fingers on the keyboard, and a bicycle to practice using his feet.
Ngoc also had to travel 50 kilometers from Long An to HCMC to the hospital nearly every week.
"At that time, we spent most of our time at hospital and my husband and I only met each other when we looked after the child in shifts."
Ngoc and her husband were both teachers at a vocational school, but they resigned their posts to have time for their child. They used all the money they saved to buy computers and opened an informatics class at home to earn money.
When Ngoc was at home, she created handmade flowers for sale. She was willing to do anything to get money for her child's treatment.
Late happiness

Phuc says that he believes there is nothing in life more precious than his family – his grandmother, parents and sister Phuong.
When Phuc was six years old, they heard about Prof Nguyen Tai Thu, who had cured many people with acupuncture. Luan and his son then left Long An for Hanoi for treatment, bringing with themselves all the money they had.
After the treatment for 10 consecutive days at the Central Acupuncture Hospital, Phuc was exhausted. He was brought home.

Three days after returning from Hanoi, Phuc surprised family members when typing the words 'Me oi, Ha noi co hoi nghi APEC' (Mom, APEC conference is taking place in Hanoi) on a computer.
Every time after going out, Phuc could remember all the sign boards, names of streets and phone numbers. At home, he typed what he had seen on the streets.
"Because of his health, we never thought of teaching him. But he could learn himself," Ngoc said.
Phuc is now a 21-year-old man who can use computers well and is very good at English.
He writes novels and once won a prize for the most impressive work in a competition for stories about Doraemon, and he finds passion in movies and television shows as a member of a movie reviewing group.
Ngoc and her husband are happy as their son is leading a peaceful and healthy life, and their second child, a girl, was born healthy.
The daughter also helps her parents and brother. The parents said they decided that they needed to be strong to serve as support for their children.
Phuc says that he believes there is nothing in life more precious than his family – his grandmother, parents and sister Phuong. 
Tu Anh

The overall labor force participation rate of people with disabilities (PWDs) in Vietnam remains low compared to the total population, with 31.7% of PWDs joining the labor force compared to 82.4% of people without disabilities between 2016-2019.

A disabled teacher in Quang Ngai Province has been honoured for his great efforts in teaching disabled children over the past 10 years.