Lychees and the agricultural revolution in Vietnam
Farmers in the northern province of Hai Duong have earned revenue of VND1,600 billion in the lychee season this year, the highest ever. 
Farmers in Bac Giang province are now in the last days of the lychee season, with earnings from this specialty fruit at nearly VND7,000 billion.
This year, with an output of nearly 300,000 tons, lychee growers did not have to see their products go unsold, stuck at the border, or the prices plunge as they have witnessed in previous years. The fruit, in addition to being consumed in the domestic market, is also exported to China, Japan, the EU, Singapore, Taiwan and others at high prices. For the first time, lychee has become a hot item on e-commerce platforms.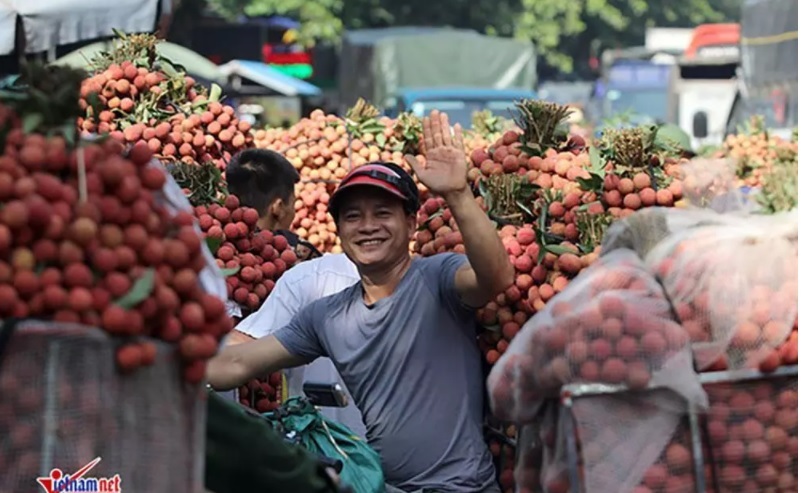 Hai Duong and Bac Giang have had a successful lychee crop this year.
This was an unexpected result because the lychee harvest season was the time the Covid-19 epidemic became complicated in in Hai Duong, and Bac Giang became the country's epidemic center with 5,625 positive cases of SARS-CoV-2 (as of July 1, 2021).

To have the most successful lychee crop ever, before the harvest season, both Hai Duong and Bac Giang authorities had collected all necessary information from the output and the harvest time of varieties of lychee in order to develop plans to help local farmers sell their products.

According to experts, Hai Duong and Bac Giang have had a successful lychee crop thanks to information transparency and the good collection of information extending from production to supply - demand.

High output but vague product information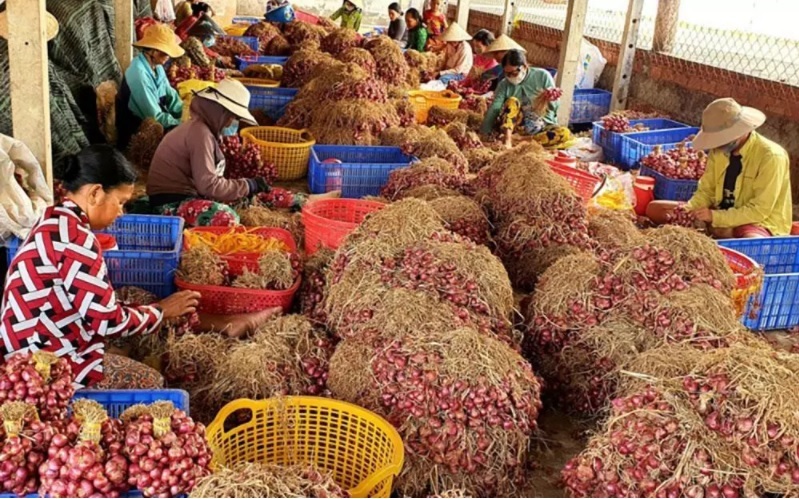 When there is a digital map of Vietnamese agricultural products, information will be transparent, and supply and demand will be harmonized. (photo: BH)


According to the Ministry of Agriculture and Rural Development's report on agricultural production in the first half of 2021, most of the key commodity groups increased, and some products even reached record high outputs.

In the first half of this year, the export turnover of agricultural, forestry and fishery products hit US$24.23 billion, up 28.2% year on year. However, due to the impact of the pandemic, which disrupted the supply and demand chain as well as many agricultural products with bumper crops, the prices dropped sharply.

In the southern provinces of Vinh Long and Dong Thap, the price of purple sweet potatoes fell by more than 20 times from late April to mid-June. Local farmers "cried" when they had to sell potatoes for only VND500-600 ($1 = VND23,000) per kilo but a large volume of potatoes did not sell.

Similarly, the price for Thai jackfruit in the southern provinces of Tien Giang and Dong Nai plummeted, down to several thousand VND per kilogram. In the Central Highlands, the prices for avocado and mango also dropped to several VND per kilo.

Vinh Chau purple onion and chili prices fell to a record low level, with thousands of tons unsold.

Minister of Agriculture and Rural Development Le Minh Hoan said that the output of agricultural products is its peak, but production costs are also very high.
Meanwhile, measures to adjust and balance supply and demand are not implemented effectively. The state agency responsible for market development and trade promotion lacks the ability to forecast domestic and export demand.

Farmers lack information about market demand while traders lack information about the place of production, making it difficult to connect farmers with consumers. Consumers face "vague" information about the origin, food safety and hygiene. An ill-informed agriculture led to a fall in prices, Hoan said.

Building a digital map for agricultural products
The lack of information did not happen to potatoes, onions or jackfruit, dragon fruit. According to Deputy Minister of Agriculture and Rural Development Phung Duc Tien, lack of information has been a problem of the livestock industry for many years, which has resulted in an imbalance between production and market demand and unstable prices of livestock products.

Deputy Minister Tien said that it is necessary to establish a Steering Committee on digital transformation in the agricultural sector; urgently develop the national database on livestock production; and apply software to ensure updating, management and exploitation of livestock data nationwide. On the basis of analysis of aggregate data, it is possible to make a realistic assessment, forecast production capacity and supply and demand of the livestock market to help regulate the production of businesses and breeders.

Minister Le Minh Hoan said that Vietnamese agriculture needs a "digital map of agricultural products". With such a map, we have accurate information about the raw material production area, harvest time, and output of each agricultural product in each area. Information will be analyzed, integrated and evaluated to become useful and transparent information for public use. This will help overcome the current situation of "ambiguity" in the agricultural industry.

Once there is transparent information, multi-dimensional analysis information with the participation of the supply chain, we will have a transparent and smart agriculture.
On that basis, producers will understand the needs of the market in terms of output, standards, distribution and circulation; consumers will know the origin of agricultural products; trade centers will know the raw material areas in specific time, so we do not have to wait until agricultural products are about to be harvested to take into account of distribution, Minister Hoan said.

The lychee crop in Bac Giang and Hai Duong this year is proof that when there is transparent and clear information about the crop and output, we were proactive in domestic consumption as well as exports, despite the pandemic.

At an online conference entitled "Digital transformation in agriculture and rural development" held in June, Minister of Information and Communications Nguyen Manh Hung assigned some IT firms to urgently assist the Ministry of Agriculture and Rural Development to develop a "digital map of Vietnamese agricultural products".

The Ministry of Agriculture and Rural Development has set a target that 80% of agricultural databases are built and updated on the basis of big data with contributions from organizations, individuals and communities. This is a digital agricultural map that is ready to connect, share and provide open data to perform online public services for people and businesses.

Tam An

In mid-June, during the peak of the fourth Covid-19 wave, up to 100,000 tons of lychee sourced from Bac Giang Province, Vietnam's largest pandemic center, were sold. 

Many Vietnamese farmers just need to press a button to grow vegetables and raise pigs, and click a mouse to sell vegetables in the global market.