Ly Son Island is in 'hibernation' due to Covid-19
Boats are anchored ashore, buses are resting at parking yards, and hotels and restaurants are closing their doors. On Ly Son Island in Quang Ngai province, there are no tourists.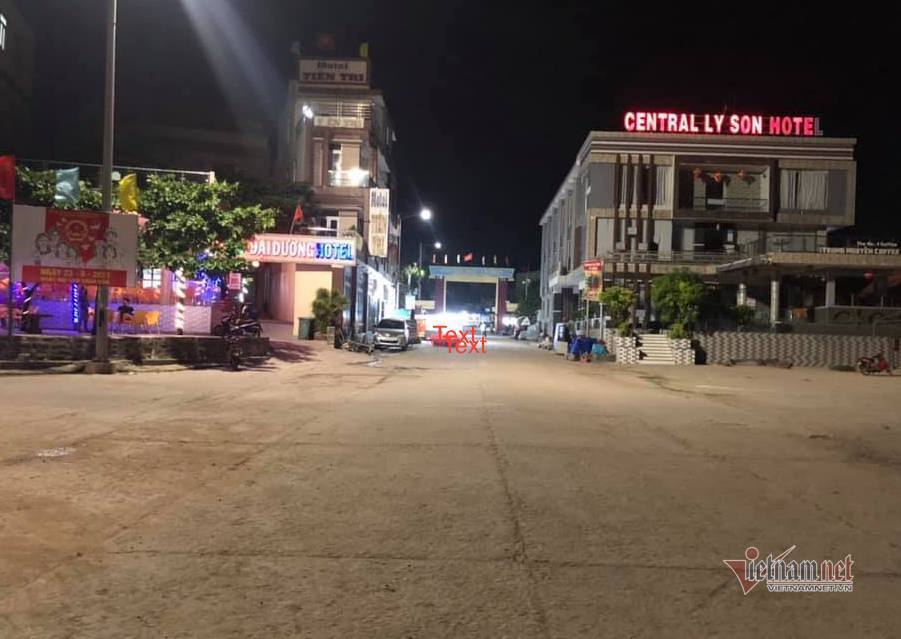 Ly Son Island District in the central province of Quang Ngai, located 30 kilometers from the mainland, consists of three islands: Dao Lon (Big Island), Dao Be (Small Island) and Hon Mu Cu (Mu Cu Islet).
Summer is the high 'business season' for Ly Son's tourism sector, but everything has been turned upside down. The rhythm of life on the island has slowed down. Scenes of travelers in crowds are no longer there. The island seems deserted.
Quang Ngai province, in an effort to prevent Covid-19 from entering Ly Son, has prohibited all travelers from other provinces and foreign travelers.
As a result, all the business sectors related to tourism, such as boats, guesthouses, hotels, homestays and restaurants have fallen into 'hibernation' status.
Muon Thanh Ly Son Hotel, with 92 rooms meeting four-star standards, has been opened for a month. However, there have been no guests.
Bui Xuan Nghia, director of the hotel, said there are 66 workers, but only 5 percent of them have been working in rotation, just cleaning and maintaining equipment.
Though the hotel has no revenue, it still pays 40 percent of monthly wages to workers to help them cover basic needs.
"Having been hit hard by a series of Covid waves and then Typhoon No 9, the people with jobs related to tourism are facing big difficulties," Nghia said.
Ngoc Island Resort, located opposite Muong Thanh Ly Son, one of the big accommodation service providers on the island, has closed its door for three weeks.

Boats are anchored ashore, buses are resting at parking yards, and hotels and restaurants are closing their doors. On Ly Son Island in Quang Ngai province, there are no tourists.
Most of the hotels, guesthouses and homestays in the district are in the same situation. Hotel owners are feeling pressure because they have no guests, while they still have to pay bank loan interest.
Since there are no travelers, the parking lot of the Ly Son Labor Federation is full of buses waiting for tourists. Meanwhile, most electric car drivers have taken other jobs to earn a living.
Just one month ago, people were busy from early morning till midnight preparing to receive travelers. But now they are all idle.
Vung, a driver of a 7-seat car, said he is free these days.
"Previously, I was very busy with a lot of orders every day. But now I can serve only a few people on the island now and then," he complained, adding that the pandemic has deprived many people of their livelihood.
Ships and small boats are facing the same problem.
At least three ship journeys on Sa Ky – Ly Son route a day connected the island with the mainland. But now only one journey a day serves people and officers on the island.
However, ship owners seem to be luckier than boat owners because their ships still can operate these days. Meanwhile, tens of boats running between Dao Lon and Dao Be have been lining up close together, exposed under the sun and the rain for more than a month in the boat anchorage area.
Food service providers have also had slow sales. Tens of eatery houses on the road around the island have closed. Only a few houses are still open, but they have few local customers.
An, the manager of Thung Hai San Ly Son (Ly Son's seafood), said his restaurant has suspended operation since the local authorities imposed the ban on travelers to the island. All the workers of the restaurants have been laid off. He now spends time to upgrade the facilities of restaurants to get ready to serve customers when the ban is lifted.
"Big difficulties are still ahead. But I believe that if we join forces to fight the pandemic, we will recover when the pandemic is contained," An said.
For the time being, people have tried every possible way to earn their living. Some tour guides now sell seafood via their Facebook pages. Boat drivers now go fishing. Meanwhile, hotel owners sell garlic and drinks.
Nhung, a receptionist at a large hotel, has been taking unpaid leave for one month as the hotel closed the door, and found a temporary job at a café near her house.
"I feel lucky as I still can find a temporary job while waiting for the hotel to resume its operation. Many friends of mine now just stay at home," she said, adding that it is not easy to find jobs in an island district because of specific conditions.
Le Van Ninh, deputy chair of Ly Son district People's Committee, confirmed that because of the pandemic, the island is not receiving travelers at this moment. This is a move aimed to protect people from the developments of the pandemic in some localities.
"It is still unclear when tourism activities can resume. The impact of the outbreak has seriously affected people's lives and incomes," Ninh said. 
Le Danh

Among the numerous islets in Van Phong Bay, Khanh Hoa Province, are Diep Son, Hon Giua and Hon Duoc islets. Diep Son and Hon Giua islets are connected to each other by a natural walking path which is submerged in the sea at high tide.

An increasing number of tourists during the summer has helped revive the market, but tourism agencies need further support for better recovery.