Local specialties plummeting in price
While Phu Yen lobster prices are surging, VND100,000 per kilogram more expensive than the previous crop, other aquatic specialties including ca lang (hemibagrus) and hau sua (oyster milk) have seen prices plummet, causing big losses for farmers.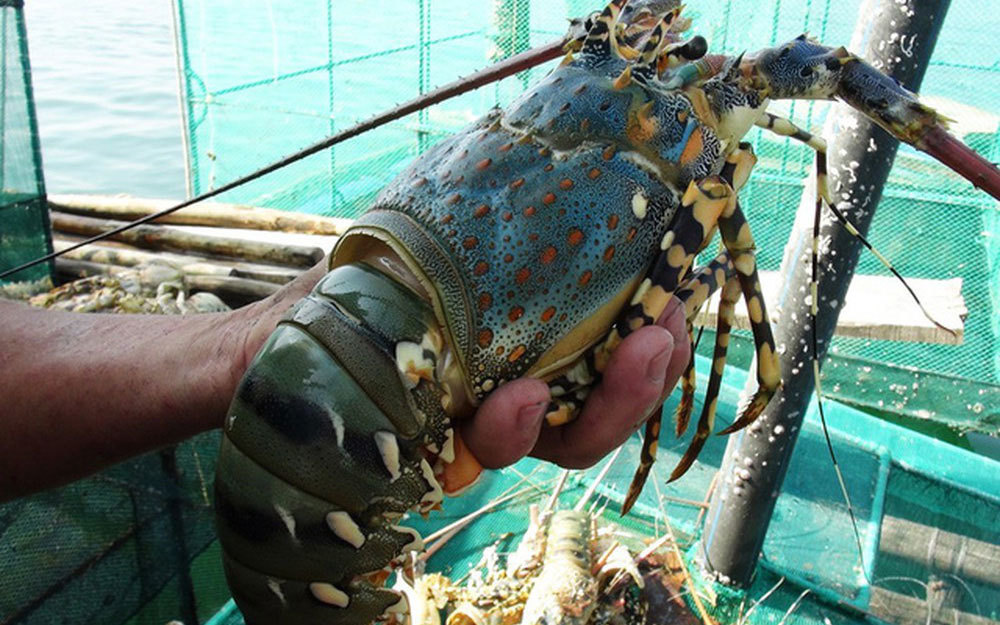 Phu Yen lobster
Phu Yen lobster
Phu Yen's farmers are in high harvesting season for lobster. After many years of crop failure because of natural disasters and epidemics, which caused prices to fall dramatically, farmers are happy this year because of the bountiful crop and high prices.
Lobsters are traded at VND680,000-700,000 per kilogram, or VND100,000 higher than the previous crops. On online market, live lobsters are offered at VND680,000-780,000 per kilogram.
Specialty surprisingly cheap
Ca lang is the specialty of Hoa Binh, Son La, Tuyen Quang and Phu Tho. With the typical good taste, this species of fish was used as tribute to kings in the past.
There are three species of ca lang, including red-tailed fish, priced at VND270,000-500,000 per kilogram, yellow fish VND300,000-400,000, while dotted fish VND120,000 only
Because of complicated developments of the pandemic, many cities and provinces are imposing social distancing, resulting in the sharp fall in seafood demand, including ca lang. Farmers sell ca lang at VND60,000 per kilogram only, while it is selling at VND85,000-115,000 per kilogram on online market.
Cage fish farmers in Nam Sach district said with the current selling prices, they incur a loss of VND50 million per fish cage (5 tons).
Quang Ninh oyster milk dirt cheap
Quang Ninh's farmers have also suffered from seafood price falls. The price of oyster milk has fallen from VND20,000 per kilogram to VND3,000. On online market, oyster is sold at VND20,000-25,000. Meanwhile, at seafood shops or on e-commerce sites, one can buy at VND5,000 per oyster, or VND40,000-49,000 per kilogram.
Red flesh pomelo, Thai jackfruit unsold despite price falls
Before the Covid-19 pandemic recurring in late April, red flesh pomelo was exported in large quantities to other countries, and had high selling price in the domestic market, VND55,000-60,000 per kilogram.
But now first-class pomelo is sold at VND30,000-35,000 only, and despite the sharp price decrease of 50 percent, pomelo sales still go very slowly.
The same is occurring with Thai jackfruit. Since the pandemic recurrence, the price of jackfruit at gardens in Hai Duong, Thanh Hoa, Dak Lak, Dong Thap and Long An has been decreasing continuously.
While the retail price has fallen from VND25,000 to VND10,000 per kilogram, wholesale buyers can buy the fruit at VND8,000 only.
Field-raised fowls selling well
Ga dong in Vietnamese, or fowls raised in rice fields, which hide themselves in the bushes in dense rice fields in the border areas of the north and the west. A couple of ga dong (a hen and a cock) is sold for VND250,000 and they have been selling well during the pandemic.
According to Tan in Lao Cai Town, ga dong is a species of wild bird, but they have small size. A cock is 300-400 grams, while a hen is smaller, just 200-300 grams. They lay two or three litters a year in April-June. Their major feed is insects, small fish and nuts.
Purple sweet potato can't be exported, prices plummet
Purple sweet potato cultivation helped many Vinh Long's farmers earn big money in recent years from exports.
However, as exports have been stuck since Tet, the prices have fallen dramatically to VND3,000 per kilogram in the domestic market.
According to Son Van Luan from Thanh Ngoc Sweet Potato Cooperative, potatoes are still in the fields because of slow sales. The cooperative is the only buyer, while merchants have not turned up, partially because of travel restriction policies in many localities.
While farmers can sell potatoes at VND3,000 per kilogram only, consumers in Hanoi have to buy at VND15,000 per kilogram.
HCMC: wheat, rice flour prices surge
The demand for wheat and rice flour has unexpectedly increased because of social distancing. Since people have to stay at home for a long time, they try to ease stress by baking cakes. However, it's not easy to buy flour at shops and supermarkets because of short supply.
Some housewives contacting online shops found prices had increased by 2-3 times. Dry rice vermicelli and vermicelli made of cassava have also increased.
Gia Lai passion fruit prices at 3-year peak
Passion fruit is collected at VND35,000-38,000 per kilogram (big size) for export and VND8,000-11,000 (small size), the highest price levels since 2018. Thanks to good prices, farmers can make a profit of hundreds of million of dong per hectare. 
Hanh Nguyen

"We have to figure out a new 'farm produce path' that allows us to connect fields and markets," said Minister of Agriculture and Rural Development Le Minh Hoan.  

A group of experts of the Hanoi-based National Economics University have put forward several immediate solutions to remove bottlenecks and connect disrupted supply chains that have impacted localities hit by COVID-19.