Livestream industry: a way out for Vietnam's digital economy
The combination of livestreams and e-commerce could create an industry worth tens of billions of US dollars. This promises to be a very important element in the development of the digital economy.
The power of a livestreaming economy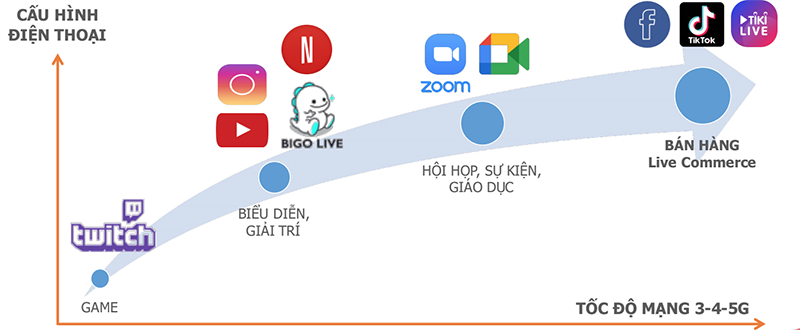 Along with the development of Internet connection speed and terminal configuration, streaming services will be applied more to entertainment, online meetings and online sales.
Video is the future of the content economy on the Internet, while livestream will become the trend of video content. Statistics show that in 2018 80% of Americans watched content on livestream platforms weekly.
On average, Americans watched video content 83 minutes a day. In particular, the viewing time of the livestream content was 10 times more than that of normal videos. About 42% of American users said they themselves broadcast livestream content on the Internet.
Along with the development of Internet connection speed and terminal configuration, streaming services will be applied more to entertainment, online meetings and online sales.
Users tend to share more on social media for the content in the form of videos. The rate of users sharing video content is about 39% more than static content like texts and images.
Statistics also show that 48% of users have shared a video about a certain brand on social networks. Video ads also had 30% more interactions and 3 times more viewing time compared to conventional ads.
About 10 years ago, livestream videos were usually used to deliver game content. However, with the development of Internet infrastructure and the configuration of terminals, livestreams are now being applied more in entertainment and e-commerce.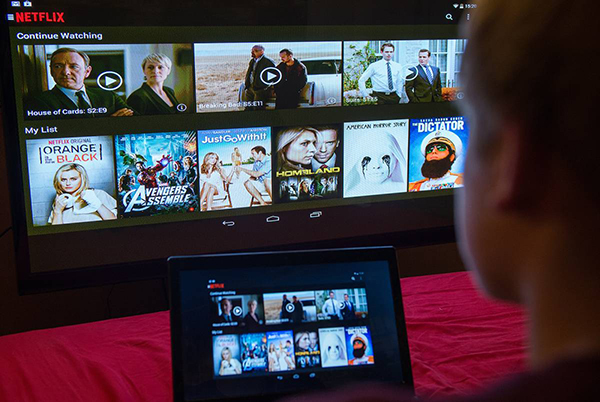 Netflix's streaming service rapidly grew during the Covid-19 pandemic.
During the Covid-19 crisis, movie and music streaming platforms have shown their superiority to traditional content distribution methods. One Netflix service package can be around the price of a bag of popcorn at a movie theater, and users can watch a lot of movies without leaving the house.
For this reason, many blockbuster movies have chosen streaming platforms for their premieres. This shift has saved many film producers from a "visible loss" during the pandemic.
According to forecasts, by 2022, video will account for about 82% of Internet traffic. This figure could even reach 90% thanks to the development of 5G. This is the premise for the streaming economy to develop even stronger in the future.
China makes billions of US dollars through livestreams
In the past five years, the livestream industry has become a trend in China. The country has been very successful in developing live commerce - a combination of livestream and e-commerce.
According to a report from iiMedia Research Group, the live online shopping industry in China had turnover of $61 billion in 2019. This figure will be $136 billion in 2020. E-commerce livestreaming currently accounts for about 7% of the $867 billion revenue structure of the whole e-commerce industry in China and is expected to increase strongly in the near future.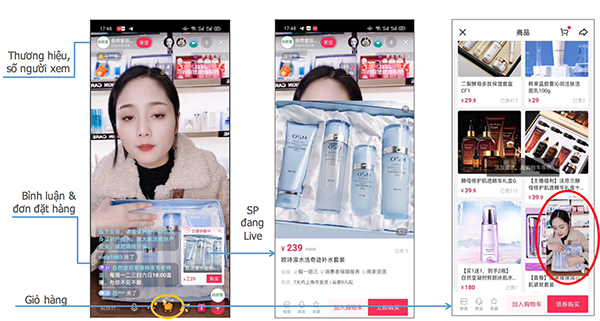 An e-commerce livestream session in China. The combination of livestream and e-commerce in this country has created an industry worth tens of billions of dollars.
E-commerce livestreaming in China is like a combination of the livestream platform Facebook Live and the e-commerce site Amazon.
Unlike the 2D experience when visiting regular e-commerce websites, a livestream channel allows shoppers to see products from many different perspectives. This has resulted in a strong growth in sales of live commerce compared to traditional TV Shopping.
Many Chinese retailers have employed e-commerce livestreaming as a solution during the Covid-19 pandemic. As a result, in 2020, the number of sellers through livestreams on Taobao Live (China's largest live streaming platform) increased by nearly 300%. In February alone, the outbreak of the first Covid-19 wave, the number of sellers on this platform increased by 720% compared to the number a month earlier.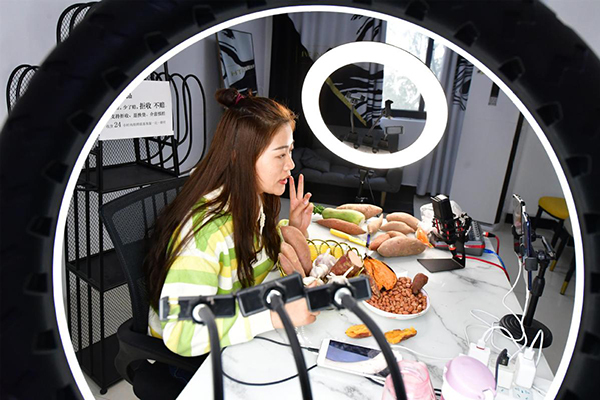 Livestream has become a major sales channel for many Chinese businesses.
In China, e-commerce livestreaming has become the main sales channel of many stores and businesses. Not only farmers and household businesses, but also local officials and celebrities have joined the trend.
In April 2020, billionaire Jack Ma - the founder of Alibaba Group – joined an e-commerce livestream contest with livestream star Austin Li. In August, Xiaomi CEO Lei Jun also participated in an e-commerce livestream session for the first time, which earned revenue of up to $30 million.
In the third quarter of 2020, only Huang Wei - dubbed the "Chinese livestream queen" - had sales of up to $890 million. Other stars in China's top 50 e-commerce streamers, such as Austin Li or Xin Youzhi, also have turnover of tens or hundreds of millions of US dollars a month.
Mrs. Cui Shuxia (Shaanxi, China) on a livestreams sells apricots that she cultivated.
The appearance of livestream stars has stirred a fever for the online community in China. Livestreaming is becoming a popular and accessible sales channel for all parts of Chinese society, from farmers to stockbrokers. Livestream has become an indispensable skill for sales people. China has listed livestream as one of 10 new jobs alongside blockchain engineer and Internet marketing.
The emergence of a streaming economy with vivid examples in the Chinese market will be a model for Vietnam to learn from. With a young, technology-loving population and a high proportion of internet users, Vietnam has the full potential to turn livestreams into a key industry in the digital economy.
Trong Dat
To be continued…

Within one hour, nearly 2,000 products were sold by last cam farmers. In the middle of the pandemic, Truong Thi Tam, a local seller, for the first time tried to sell her goods by livestreaming.

Television channels now livestreams big events as well as daily news.