Law revision may impede business
With Vietnam's low labour productivity and overtime, a proposal on reducing working hours in the latest draft amendments to the Labour Code – if adopted – could become a burden for the business community. Khoi Nguyen reports.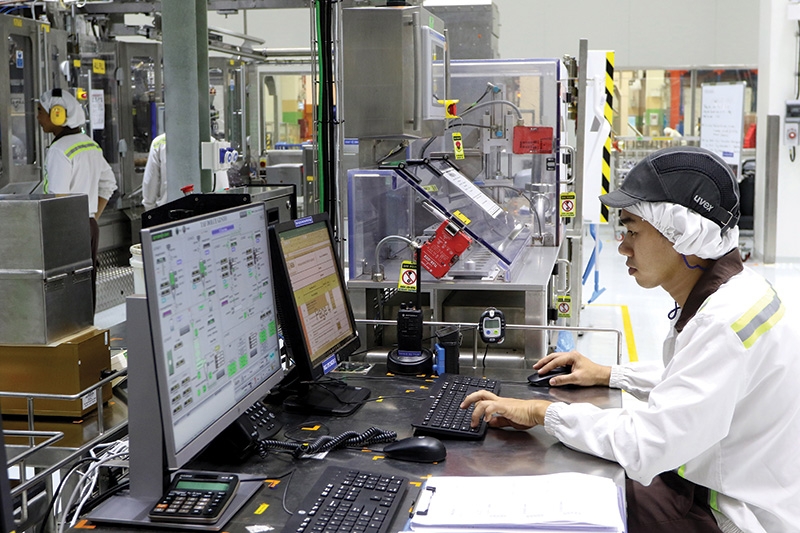 Many business associations deem the proposal to the Labour Code unreasonable
Having been working in Vietnam for more than 20 years, Hong Sun, vice chairman of the Korea Chamber of Business in ­Vietnam (KorCham), has seen massive improvements in the country's business climate.
However, these days, not only KorCham, but also many other business associations in Vietnam are like a cat on a hot tin roof due to the Ministry of Labour, Invalids and Social ­Affairs' (MoLISA) proposed amendments to the Labour Code to reduce working time.
Earlier this month, seven business associations sent ­petitions to state agencies, the National Assembly, and the government, asking them not to agree to the proposal as it could drive firms into difficulties.
"How was the proposal made? What is the foundation for the MoLISA to coin this proposal? We need clear and persuasive explanations," Sun told VIR.
According to Article 107 of the latest draft amendments to the Labour Code, scheduled to be submitted to the National Assembly for discussion and approval later this year, the MoLISA has proposed that the working time be reduced from the existing 48 to 44 hours per week. This means that workers will have to work half a working day a week or two working days a month less than they currently do.
"Employers can decide on the working time on a daily or a weekly basis, but they have to notify their employees. In the weekly case, working time cannot be over 10 hours a day or exceed 44 hours per week," stated the article.
BARRACKING
Sun told VIR that if this proposal is adopted, enterprises' performance and the economy's competitiveness will be affected, which would prove counterproductive to the country's efforts to improve its business climate to attract more investment. "Over 8,000 South Korean enterprises are ­operating in Vietnam and if the proposal is passed, each of them will suffer losses in both finance and working time. This will also affect the ­competitiveness of the Vietnamese business climate," he said.
Taking a medium-sized textile and garment firm which employs an average of 2,000 workers as a basis for his ­calculations, Truong Van Cam, general secretary of the Vietnam Textile and Apparel Association, said that a four-hour reduction in working time a week would cost enterprises an additional VND5 billion ($217,400) per year for overtime work.
"Operating costs will surely increase, but enterprises will not be able to raise their product prices because if they increase the prices, they will lose contracts," Cam said. "Then enterprises' profits will go down and workers will not be able to enjoy any pay rise. If enterprises face bankruptcy, their workers will even have to face unemployment."
Under a survey of 56 member companies of the Japan Chamber of Commerce and Industry in Vietnam, if the working time was reduced to 44 hours in a week, they will have to recruit about 30,000 workers to make up for lost time.
Do Thuy Huong, representative from the Vietnam Electronic Industries Association also gave the thumbs-down to the new proposal.
"If passed, it will only cause difficulties for enterprises. At a modern production chain of an electronics firm, all labourers are accounted for carefully," Huong said. "If 48 hours a week is needed to complete an order, the new 44 hours will make schedules infeasible because the enterprise cannot easily increase workers at the production chain."
"As local labourers' productivity remains limited, the best solution is to increase overtime, meaning a rise in costs," she added.
Currently, many nations more developed than Vietnam and in direct competition with it have 48-hour working weeks, including Thailand, India, Bangladesh, Malaysia, the Philippines, and Laos.
However, workers like Nguyen Thi Nhan, at Japanese furniture maker Nitori Co., Ltd. in Hanoi, feel happy about the new proposal.
"We will have to work less without having our salaries cut. We will have more time for our families," Nhan told VIR.
Nguyen Anh Mau, a worker from Hanoi Knitting JSC that employs about 3,000 workers, also told VIR that if 44 working hours are applied, he will be able to work overtime more.
"At our company, the overtime salary is often 20-30 per cent higher than that for official working time," Mau said.
Currently, the average monthly salary at this company is VND6 million ($260.87), which according to Mau is not enough for his family of four.
LOW OVERTIME
The overtime cap in Vietnam is currently 200 hours per year. However, under the latest draft amendments to the Labour Code, firms can increase their annual overtime cap up to 400 hours if they produce textiles and garments, footwear, electronics parts, and produce agro-forestry-fishery products, as well as manufacture electricity and telecommunications equipment.
However, this overtime cap, aimed to protect labourers' health, is lower than in many regional nations, such as Thailand (1,872 hours), Malaysia (1,248 hours), the Philippines (1,244 hours), Singapore (864 hours), Indonesia (728 hours), and Laos (540 hours).
Over past years, foreign business associations such as KorCham, the European Chamber of Commerce in Vietnam, and the Japanese Business Association in Vietnam have consecutively asked the MoLISA to raise the overtime cap, but their proposals have always been rejected by the ministry to safeguard workers' health and lives.
LOW PRODUCTIVITY
Vietnam's current labour productivity is rather low compared to some regional peers. Based on the purchasing power parity in 2011, it stood at $10,232 in 2017, equal to 7.2 per cent of Singapore, 18.4 per cent of Malaysia, 36.2 per cent of Thailand, 43 per cent of Indonesia and 55 per cent of the Philippines. According to the International Labour Organization, labour productivity measures the GDP produced per unit of labour.
Sun from KorCham told VIR that in the context of Vietnam's low productivity and lack of skilled labourers, the MoLISA's proposal to reduce working time to 44 hours a week needs to be re-considered.
"If the labour productivity in Vietnam was high and it was easy to find skilled labourers in the country, the proposal may be reasonable. The drafters should seek comments and feedback from the business community about this issue, which is considered sensitive," Sun said.
Guru Mallikarjuna, managing director of Germany's Bosch in Vietnam, told VIR that Vietnam needs to improve its labour productivity if it wants to attract more FDI. "It is necessary to further develop Vietnam's young workforce. Knowledge transfers will increase with closer co-operation between international and local organisations and institutions, especially in the field of technical and vocational education and training, thus enhancing the competitiveness of Vietnam's workforce," he said.
Adam Sitkoff - Executive director Amcham Hanoi
Reducing the allowed number of hours that people can work creates burdens for businesses and takes much-needed money out of workers' pockets. In almost all jobs, there are times when you are busier and times when you are less busy. This also applies to manufacturing. When orders surge, or when there is a tight deadline, it is important that rules allow for flexibility when considering work conditions.
The foundation for improving the operational efficiency and competitiveness of Vietnamese-based businesses is workforce productivity. Companies that are looking to shift production to Vietnam are looking closely to see if the workforce has the skills required for their business. Continued workforce development initiatives will improve worker output, but efficiency also depends on one critically important input: labour costs.
Over the past few years, the rise in wages and the costs of mandatory insurance schemes have not been matched by increases in productivity. The result is that many companies across Vietnam are experiencing declines in productivity for each US dollar invested in human resources. This is simply not sustainable, and the government needs to think carefully about ways to boost productivity.
Joseph Perucca - General director GIVI Vietnam Co., Ltd.
Regrettably, the changes can only be seen as a negative move, particularly if you are a foreign investor or own a company here, which is subject to stricter controls. In order to attract the right workforce with the required skills, such companies generally have to pay higher wages than local companies.
In our specific industry, textile and garments, the costs and prices are extremely competitive and highly labour-intensive, with the majority of production done by third parties. Any increase of costs means that we would face the sad reality that a large group of customers could easily switch their production to other countries like Myanmar, Pakistan, and Sri Lanka, where the labour costs are much lower than Vietnam.
Of course it is fully understandable and socially correct to take all the necessary steps in ensuring that any growth development affects every class in the country and not only a few, but this must be done with an action plan which strengthens the capability and skills in producing and commercialising brands and products.
Marko Walde - Chief representative German Industry and Commerce Vietnam
We think there is room for improving productivity in Vietnam. Labour productivity is not only measured by human resources but also based on the working environment. Vietnam is now facing a lack of qualified work forces and needs to increase capacity for innovation in order to create competitive advantages.
At the moment, local businesses, especially small and medium-sized enterprises, have not invested adequately in facilities and technologies, thus failing to offer workers a conducive environment to promote its competence. We strongly believe that the government plays an important role in enhancing productivity, for example in reforming the education and training system. In addition, we see the important role of firms involved in training the workforce in Vietnam.
Many companies still suffer a shortage of highly skilled manpower. The biggest difficulty is finding a worker with sufficient technical knowledge and English proficiency. Most of the time, trainees have to be retrained before they can start working. This is very costly and time consuming.
Therefore, the co-operation between businesses and education institutions plays a key role in enhancing the quality of labour.
Nguyen Thi Bich Ngoc - Corporate lawyer and head of legal, Phu Thai Group
With respect to enterprises, this ruling may request the enterprise to fully comply with the Labour Code on working hours and overtime payments. By reducing the working hours, enterprises would create a better working environment for employees as well as a better image of the enterprise in the labour market. Thanks to the positive progress of the working effectiveness, the reputation of enterprises would be increased which contributes to the strong and stable position of enterprises in business.
Regarding employees, it is good news that will make them happy and motivated. By spending less time at the workplace, employees may enhance working capacity. Additionally, employees could spend more time for their personal life such as family, self-training, healthcare, social relationships, and entertainment.
This amendment may cause difficulties to enterprises in the short term, however, it would help to foster long-term business strategies as well as contribute to the wellbeing of employees.
Mac Van Tien - Labour science expert
The general trend of the world is to balance work and life while minimising work overload.
However, the question about how many hours should be reduced depends on each stage of socio-economic development, and each business in particular. Reducing working hours does not mean reducing labour productivity. However, re-creating appropriate labour will increase labour productivity.
For example, in Sweden, thanks to reduced working hours, labour productivity has increased by 20-25 per cent, because workers are given enough time to rest. Moreover, the weekend time helps employees renew their energy and create new ideas for work.
In addition, businesses currently also use modern technology and machinery to assist in the process of production. Therefore, we are not as dependent on human labour as before. In Vietnam, many businesses have also applied the working time of 44 hours per week, so this change is considered to be consistent with the current socio-economic conditions of our country, in line with the general trend of the world, towards a balanced and sustainable development economy.
The problem is that the organisation of labour of enterprises must be scientific.
VIR