Kind acts during pandemic can be abused by fraudsters
More than ever, caution is needed when helping those in need during the epidemic through social platforms as fraudulent acts have increased.
"I just filled in my information without thinking of actually getting some help."
A week ago, Hoang Thi Muoi, 43, clicked on the label "Help the needy people around you" while using her Zalo. That night, many people texted her. Within 1 or 2 days, Muoi and a group of 11 workers received supplies for 7–10 days.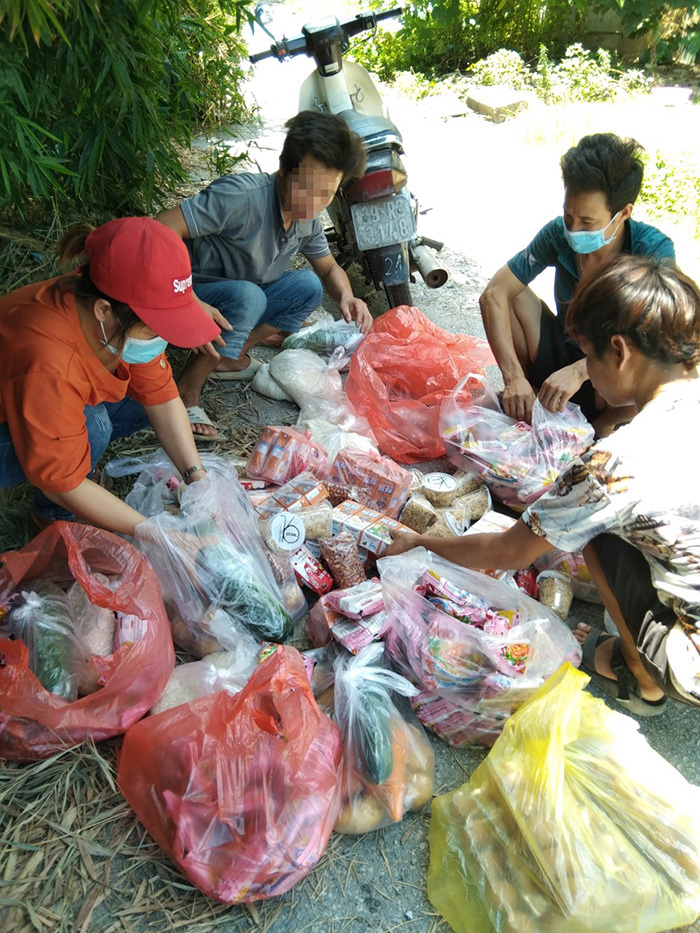 A group of workers receives food support from Mrs. Muoi.
Mrs. Muoi, from Yen Bai, works as a construction assistant and a cook in Hanoi to support her children back in her hometown. Currently, Muoi and other 10 workers are stuck at a construction site in Nam Tu Liem district. They all have turned jobless and are unable to move elsewhere since the latest social distancing directive.
"Everyone felt beyond grateful upon receiving the supplies. We now have enough rice to eat until September 5, enough vegetables and meat until the end of August. In addition to dry food such as rice, salt, fish sauce, eggs, peanuts, milk..., we were also given 5-6kg of meat and lent a fridge to preserve it."
Also, via Zalo, the volunteer group of Ms. Hoang Thi Nu (Nam Tu Liem, Hanoi) provided two groups of workers in the area where they live with necessary food, after verifying their information.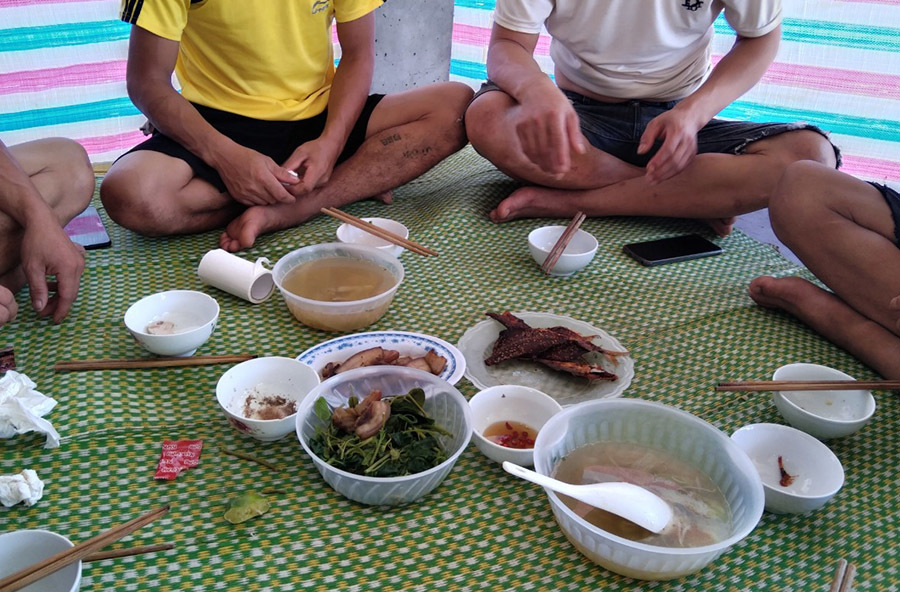 An 'epidemic' meal with meat and fish.
Then, realizing that others are in need of support, Ms.Nu called for donations from households in the apartment complex, her friends and acquaintances. Along with funds from previous donations, her group now has nearly 30 million VND available and has begun to plan the disbursement.
"These people may need repeated support as the food they receive each time can only suffice for a few days. In order to identify the right people who, need help, we contacted the ward to ask for a list of difficult situations."
According to Ms. Nu, among those desperate for help, there were many others who were not serious or not actually in need of aid.
"There were cases whose houses we went to, according to our observation, that were not as desperate as they stated. Some people even responded to my question 'what support do you need?' by saying 'now I just need a love'."
One call for help was shared many times in the past few days: "I am a senior student who cannot return to my hometown or work. Please help me, I need ST25 rice, salmon roe, Kobe beef, Alaska lobster so I can make it."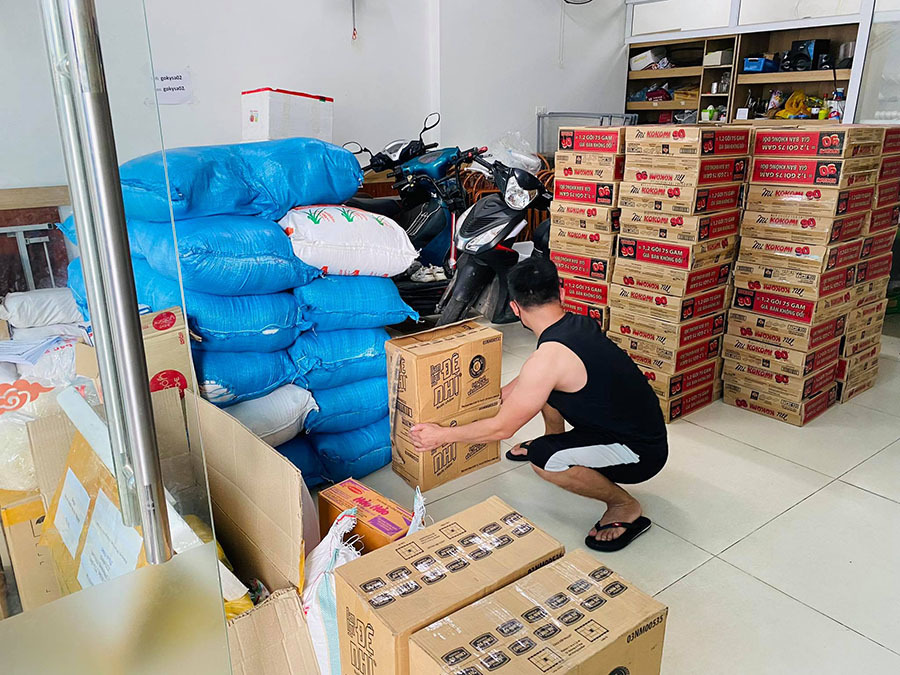 Ms. Nu's group arranges food to support needy people.
Other than jokes, some individuals have availed themselves of the epidemic situation to commit fraud.
Ms. Nguyen Thi Thuy (a construction worker in Hoang Mai, Hanoi, upon posting on Facebook that she needed help, received a quick response from a man asking for her bank account number so that he could transfer 2 million to the group of 20 workers she was living with. This is an old trick that still works with the gullible.
"He said money would be transferred through Western Union. A message from a personal phone number was sent to me stating that 2 million was transferred and I needed to go to the attached link to complete the procedure before receiving the money. The message was sent from a personal phone number but I didn't notice it at the time. When I got to the step of the authentication code, I didn't see him answer so I accessed his personal page and there was an accusation of him defrauding. I texted him 'Are you swindling me?' and the message was blocked. Luckily, I haven't lost any money."
A warning on the online group helping the needy during the epidemic "If they truly are benefactors, philanthropists who want to help, they will just ask for your address and come in person, or for your account number and then transfer money to you without any further requirements of code and link access, which are signs of fraud that you really need to be heedful of."
Nguyen Thao

Many applications connect people in need with benefactors which has helped spread kindness and sharing during the pandemic.