Japanese, Thai retailers compete in $200 billion retail market
After the lockdown this year, shopping malls began to be busy again in the 'new normal' situation caused by the COVID-19 pandemic.
At many shopping centers, people can be seen wearing protective masks, queuing for temperature checks and washing hands with antiseptic. Child care rooms and automatic mobile phone charging points are frequently disinfected.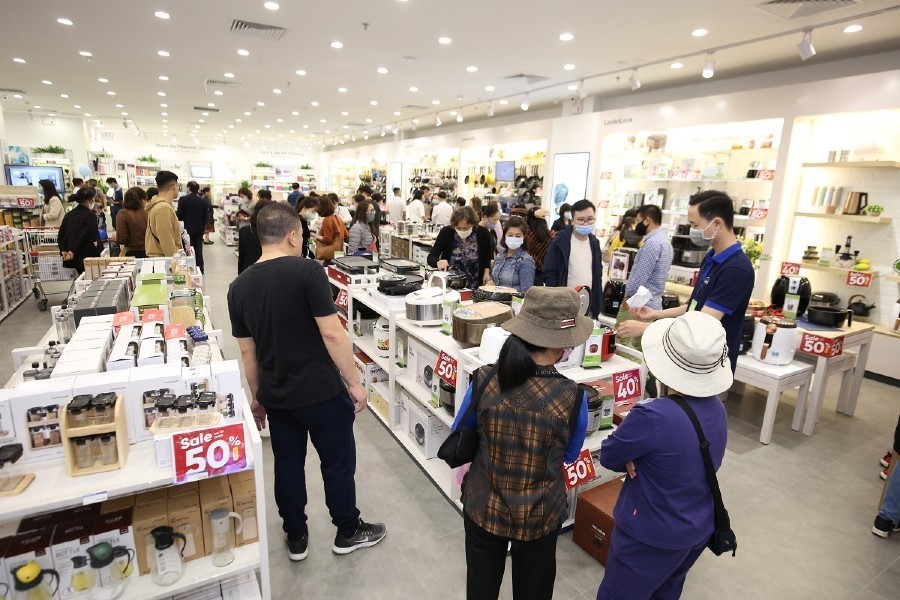 These measures have helped lure customers back to shopping centers in Vietnam, one of the rare markets in the region and the world which has seen a positive growth rate amid Covid-19.
With the steady growth rate of over 10 percent per annum in recent years, the Vietnamese retail market is among the most attractive markets in the eyes of foreign investors.
According to the General Statistics Office (GSO), the total retail revenue in Vietnam reached $161 billion in 2019, an increase of $18.9 billion over 2018.
Vietnam, which is one of a few regional countries which have positive GDP growth rates in 2020, is expected to maintain stable economic development and the highest growth rate in Southeast Asia.
The Asian Development Bank (ADB) predicted that Vietnam's GDP would grow by 1.8 percent in 2020 and bounce back with a 6.3 percent growth rate in 2021.
The growing middle class is helping the growth of retail. If the current high growth rate of recent years can be maintained, the Vietnamese retail market will have value of $200 billion in the next two years.
Shopping centers expand
A representative of a shopping mall said 80 percent of clients of the chain had recovered by October 2020, while a few centers had reported 90 percent recovery.
The confidence about the market has been restored as big retailers have opened new stores.

The growing middle class is helping the growth of retail. If the current high growth rate of recent years can be maintained, the Vietnamese retail market will have value of $200 billion in the next two years.
Japanese retailer Muji in November opened its largest Southeast Asian store in Vietnam, covering an area of 2,000 square meters, in HCM City. The store displays more than 5,000 products, including healthcare and beauty products.
Muji Vietnam's CEO Tetsuya Nagaiwa said that Muji would open more shops in Hanoi in the near future.
Japanese retailer Aeon, which has succeeded with retail points in Hanoi, HCM City and Binh Duong, is expanding its chain by opening a sixth shopping mall in Hai Phong.
Central Retail, the retailer from Thailand, plans to expand its business activities in 55 out of 63 cities and provinces in Vietnam. In the near future, it plans to open six GO!Mall and four Big C supermarkets in big shopping malls.
Meanwhile, Vincom Retail, a Vietnamese chain, has opened the 56,000 square meter Vincom Mega Mall Ocean Park. The chain has 1.6 million square meters of retail premises, with 80 shopping centers in 43 cities and provinces nationwide.
Analysts have predicted that large-scale retail will dominate the market by 2030, especially destination shopping malls.
The attractiveness of the Vietnamese retail market can be seen by the presence of many foreign brands which have been opening new stores since their arrival.
According to CBRE, the revenue of fast fashion brands, namely Zara and H&M, has increased sharply over the last two years in Vietnam.
Meanwhile, the Japanese retailer Uniqlo opened two stores at Vincom Center Metropolis and Aeon Mall Long Bien just one year after opening a store at Vincom Pham Ngoc Thach in Hanoi. Together with three stores in HCM City, where it opened its first store, the Japanese brand now has six stores in Vietnam.
Two luxury brands, Louis Vuitton and Christian Dior, have officially joined the Hanoi market. Prada, Hermès, Gucci, Patek Philippe, Hublot, Christian Louboutin, Mont Blanc, Cartier, Hugo Boss, Bottega, Kenzo and Valentino are also present.
Stiff competition
The opportunities in the Vietnamese market are great, but analysts say the market competition is stiff.
Deloitte Vietnam said that with different retail models, the market is witnessing a battle for market share among big players, both Vietnamese and foreign, who have begun implementing strategies for rapid expansion.
Many retailers have had to leave the market. Parkson, a subsidiary of The Lion Group from Malaysia, has announced the closure of its stores in Vietnam.
Experts also warn that offline shopping malls now have to compete with online e-commerce. 
Duy Anh

While Covid-19 has caused financial hardship for many, it has not hurt the wealthy, who are still buying luxury items but not at the same level as they did before the pandemic.

With a market size of more than $60 billion and double-digit growth each year, Vietnam's retail industry continues to heat up the race between domestic and foreign investors.