Investors in land, securities see high profits as prices rise
Realtors and securities investors have been pocketing big money in recent months.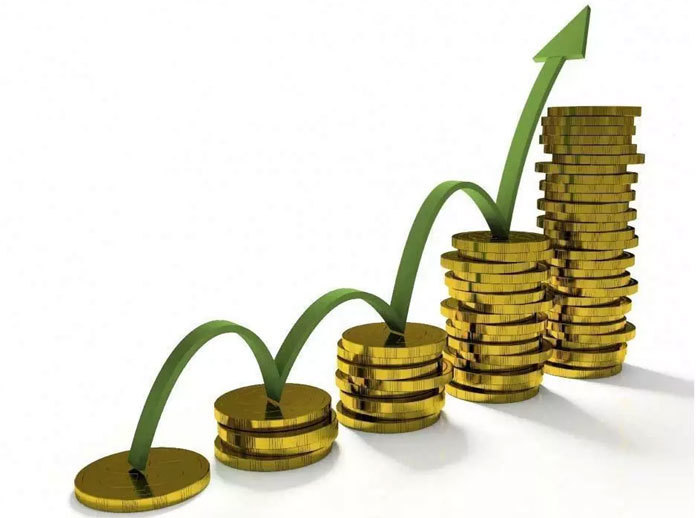 In early 2020, Pham Thanh Bien, who works in Bac Thang Long Industrial Zone (IZ) in Hanoi, sought to buy land in Hai Boi commune of Dong Anh district. The landlord had set the price of VND25 million per square meter, which Bien rejected. At that moment, apartments at Kien Hung project in Ha Dong district were priced at VND16 million per square meter.
In January 2021, when he returned to meet the landlord, the land plot was still available, but the price had surged to VND50 million per square meter. The price of Kien Hung apartments moved up to VND19 million.
Bien then made a decision to buy an apartment as he thought the prices would rise further.
The land price hike in Hanoi broke out after the news about the Red River subdivision planning. A real estate broker in Dong Anh district said there were transactions in which the prices of the same land plots increased by VND5 million per square meter within days.
According to the Vietnam Association of Realtors, the land price has increased by 10 percent in the last month on average. In some areas, the prices have doubled or tripled in the last 1-2 months.
The land fever is not only seen in Hanoi, but in many other cities and provinces as well because of information about infrastructure project development.
The land prices increase when the stock market is hot. Real estate stocks are the most hunted, acting as the 'pillar' of VN Index.
Together with industrial zone stocks which have been on the rise over the last two years, real estate stocks are also rising quietly. Some of them have reached the historic peak area.
PDR shares of Phat Dat Real Estate Development JSC, for example, reached a new peak of VND68,000 per share on April 13. The price of the shares has been increasing for the last nine months and is now at the highest level since it began listing.
DIG of the DIC Corporation and the shares belonging to Becamex family, including TDC and IJC, have also been increasing for a long time.
IJC, which has seen big benefits from the real estate wave, was traded at over VND27,000 per share on April 13.

Major realtors are all quietly accumulating land in their long-term development plans for the next decade. The six real estate firms with large land banks reportedly own 27,673 hectares of land for project development, an increase of 15 percent over 2019.
Analysts say that the price increases of real estate shares have close relations with the land bank realtors have. The companies with large land banks have long-term advantages amid the land scarcity. The business results of the firms in 2020 were highly satisfactory because of bright prospects in the long term.
'Kings of land'
BHS Group President Nguyen Tho Tuyen believes that the land price will keep rising. When the supply drops, foreign investors will flock to the market with deals worth up to billions of dollars in Hanoi and HCM City. Meanwhile, the number of F0 investors is believed to be much higher than the 30 percent announced by some analysis firms.
According to JLL, the firms with large clean-land banks will have better advantages. The projects with good legal status will be pricier than others.
Vinhomes' land bank (HOSE, VHM) reached 16,200 hectares as of the end of 2020. The land bank of the enterprise is believed to be the largest in the market. Of the 16,200 hectares, 60 percent is ready for concentrated development in Hanoi and HCM City.
The other firms which have large land funds include Novaland, Hung Thinh Land, LDG Investment, Nam Long and Phat Dat.
Becamex IJC (HOSE, IJC), with 215 hectares in Binh Duong alone, and C.E.O (HNX, CEO), with hundreds of hectares of clean land, especially in Phu Quoc and Van Don, and DIC Corp (HOSE, DIG) with large land area in the south are also very rich in land.
Of real estate stocks, CEO of C.E.O Group is one of a few shares which still have not seen a price hike, which is attributed to Covid-19. However, with the large clean-land bank of hundreds of hectares in hot areas such as Ha Nam, Phu Quoc and Van Don, price increases are expected.
Major realtors are all quietly accumulating land in their long-term development plans for the next decade. The six real estate firms with large land banks reportedly own 27,673 hectares of land for project development, an increase of 15 percent over 2019.
Vinaconex is planning an additional 5,000 hectares of land for 2021-2025. Khang Dien has increased capital for its two subsidiaries in a plan to expand the land bank in district 2 in HCM City. Meanwhile, Novaland continues to seek land in provinces, and Vinhomes is considering developing new projects in a number of cities and provinces.
BVSC and VNDirect Securities both predict that the real estate M&A market will be bustling in 2021. 
Do Thanh

Many commercial banks now pay trillions of dong worth of dividends to shareholders and have completed restructuring after a decade of difficulties. As a result, their share prices are expected to rise.

Real estate speculators have been exploiting urban expansion plans to push up prices beyond the real value, according to the Ministry of Construction (MOC).