Investment in charging stations needed for electric car industry
Experts believe that electrified vehicles will be a trend in the world's automobile industry, including Vietnam.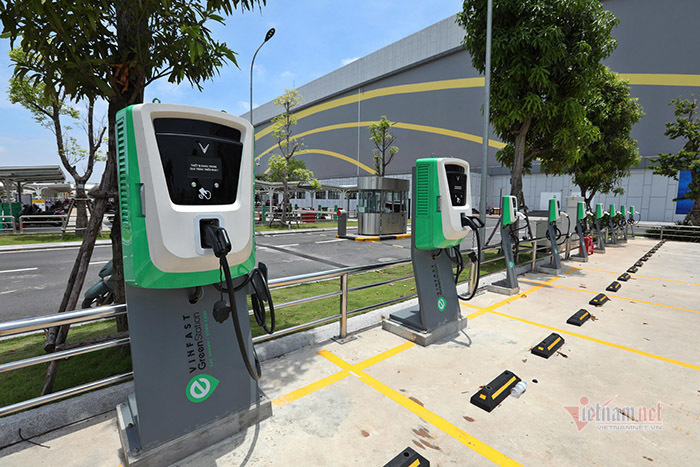 But they warn that there are still many obstacles, including high prices, the lack of fast charging station networks, and the longer time needed to charge electricity compared to fuel.
Most Vietnamese are still reluctant to use electric cars, partially because of the narrow coverage of charging stations.
In Vietnam, VinFast is the only automobile manufacturer developing charging stations. It plans to develop 2,000 charging stations with 40,000 chargers in 2021.
According to a representative of VinFast, there would be many types of charging posts, including 11kW AC car charger, 30kW and 60kW DC rapid car charger, 250kW super-fast DC car charger and 1.2kW AC motorcycle charger.
Analysts say that the prerequisite for electric cars is the development of infrastructure such as charging stations. This needs to be 'one step ahead' to clear the way for electric cars.
To develop charging networks, planning, regulations on safety, and electricity supply sources must be considered.
Vo Quang Lam, Deputy General Director of the Electricity of Vietnam (EVN), said the development of electricity charging stations, especially rapid charging ones, will significantly increase additional charges on the national grid.
Lam said that noting that the minimum capacity of each charging post is 11KW, with 40,000 charging posts, the additional charge would increase by 440MW, or more than 1,000MW if counting high-capacity fast chargers.
"With the additional charge of 440MW, it would 'eat up' the electricity output of two electricity generation units of the Hoa Binh Hydropower Plant (each unit has the capacity of 240MW). If the additional charge is 1,000MW, it would be equal to the capacity of the Lai Chau Hydropower Plant," he said, adding that the figure would be even higher if the charging network develops in the future.
Lam said it's necessary to implement solutions straight away, such as researching and building additional charge models, with consideration of additional charge for electric vehicles, and propose regulations on requirements for charging station connections, clusters of charging stations, and optimal connection points for fast charging stations.
He also proposed building a legal framework to prepare infrastructure for integrating charging stations.
Investment encouragement policy
Khuat Viet Hung, Vice Chair of the National Traffic Safety Committee, said the development of charging stations involves the responsibility of many ministries and branches, including the Ministries of Transport (MOT), Industry and Trade (MOIT), Construction (MOC), Finance MOF, local authorities, as well as realtors.
Hung said it would be better to offer incentives in land and credit allocation to investors. Preferences should be given not only to electric cars but to all green products.
Truong Ba Tuan, Deputy Director of the Tax Policy Department, stressed that the convenience of the charging station network will play an important role in the development of electric cars.
"If we have a connected charging station network, we will be able to encourage the use of electric cars in the country. There should be reasonable policies to encourage the investments in charging stations, and policies to encourage electric car manufacturing," Tuan said.
The official said incentives are based on a principle in the Investment Law – business fields and localities that need investment encouragement.
For example, enterprises investing in the projects included in the list of business fields subject to investment encouragement will be exempted from import tax on fixed assets.
Nguyen Minh Dong, a respected automobile expert, thinks that the network of charging stations needs to be designed and built like filling stations. Where there is a filling station, there should be a charging station as well.
"We can encourage investors to build charging stations by offering lower VAT, land tax and corporate income tax," he said. 
Tran Thuy

Electric cars are an irreversible trend in the auto industry and are expected to grow strongly. To take advantage of this, the Vietnam Automobile Manufacturing Association (VAMA) has outlined plans to develop the local electric car industry.

Vietnam will have 1 million electrified vehicles by 2028 and 4.5 million electric cars by 2050 if it takes full advantage of the current golden opportunity.