International flights welcome foreign travelers back
A number of chartered flights carrying foreign travelers with vaccine passports are coming to Vietnam this week under closed tourism programs. Five localities have prepared to serve international arrivals.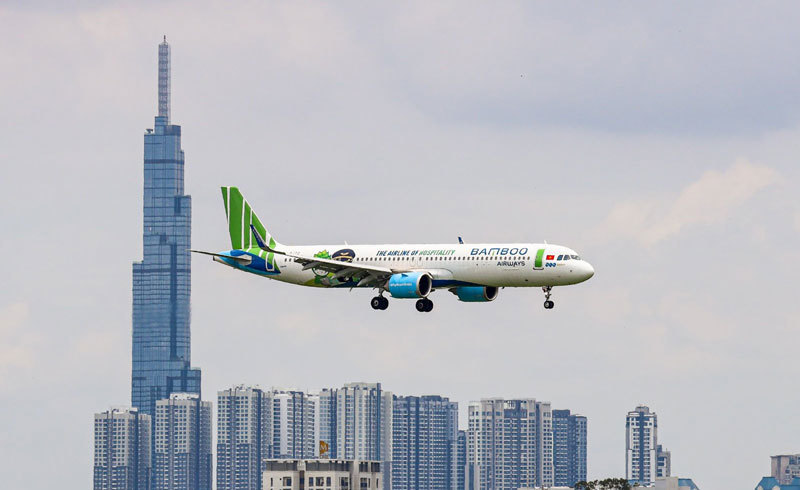 Le Van Nghia, Director of Nhat Minh Tourism JSC, said on November 12 that his firm received a chartered flight carrying 222 South Korean travelers departing from Incheon Airport to Khanh Hoa province. The travelers were taken to accommodation facilities safely.
It also received 207 travelers from Japan on another flight.
Foreign travelers have to be fully vaccinated and a negative COVID-19 test, book package tours, and have travel insurance.
A number of flights carrying international travelers will land at airports at Phu Quoc, Da Nang and Nha Trang this week.
Vo Huy Cuong, Deputy Head of the Civil Aviation Authority of Vietnam (CAAV), said that Vietnam Airlines on November 17 will have one flight carrying South Korean passengers to Quang Nam, who will stay at Hoiana Resort. There will be two flights on Vietjet Air on November 20, including one carrying 250 passengers from Tokyo to Nha Trang, and another carrying South Korean passengers to Phu Quoc.
These will be followed by 24 other flights to Kien Giang, Khanh Hoa and Da Nang, with passengers mostly from South Korea, Japan and Taiwan. They will be an important basis for agencies to reestablish international air routes.
Nguyen Minh Tam from Vietnam Airlines said the national flag air carrier has worked with key markets on the reopening of flights from now to the end of January 2022.
Vietnam Airlines is expected to provide 15-20 chartered flights to serve international passengers and if the situation is favorable, the number of flights will increase in the time to come.
As for the Russian market, Nghia said unlike Japanese and Taiwanese, Russians won't have to quarantine after returning from tours. Nhat Minh plans to cooperate with S7 Airlines to organize four flights a week to carry passengers to Cam Ranh, commencing in December.
The travel firm is also cooperating with another carrier to receive 20 flights a week to Da Nang and 20 flights to Nha Trang. It is awaiting a license from CAAV for the flights.
Because of the pandemic, Vietnam's key markets have changed. Before the pandemic, China was the largest market. But China is still restricting outbound trips.
Vietnam can now receive European travelers on longer-term trips who typically visit Thailand, Singapore and Malaysia before coming to Vietnam; and cruise travelers who stay in Vietnam for one night only. Vietnam should apply a 1-month visa waiver for foreign travelers to ASEAN member countries as it had previously done.
VNAT (Vietnam National Administration of Tourism) General Director Nguyen Trung Khanh agreed with the view, saying that when designing the reopening program, the agency should focus on target markets with a high safety level in pandemic prevention and control, such as Northeast Asia, Europe, the Middle East and Australia.
However, Vietnam should not refuse travelers from other countries who can satisfy medical and entry/exit requirements, such as Israelis, who have received booster shots, and have high demand for travel to Vietnam.
Ready to receive travelers
The five localities allowed to receive foreign travelers have prepared for the pilot program.
Bui Quoc Thai, Director of Kien Giang Tourism Department, affirmed that the province is ready to receive foreign travelers with vaccine passports to Phu Quoc Island.
An inter-ministerial taskforce headed by Deputy Minister of Culture, Sports and Tourism Doan Van Viet has been established to run the pilot program. The leaders of the ministry and VNAT have inspected the preparatory work in Phu Quoc.
The island will receive the first group of foreign travelers after two years of interruption. The 250 travelers will stay at 13 accommodation facilities. They will have activities in nine areas, including pedestrian night streets, cable car, VinWonders, Safari zoo, golf course, pearl shopping, visiting May Rut Island and fishing.
In Quang Nam, according to Deputy Director of the Department of Culture, Sports and Tourism Le Ngoc Tuong, in the first phase, the province will receive foreign travelers at Hoiana Tourism Complex, Vinpearl Nam Hoi An, and TUI BLUE Nam Hoi An resort. Travelers will visit Hoi An ancient town and MySon relics.
The province is also targeting tourists from South Korea, China and Taiwan. 
Ngoc Ha

A series of famtrips have been organized by travel firms in cooperation with local authorities as a part of a plan to 'break the ice' in the tourism market.

The Government has agreed on a pilot plan to receive foreign travelers in three phases proposed by the Ministry of Culture, Sports and Tourism (MCST).