Individuals found making false statements, hindering fight against Covid-19
An official in Hai Duong, a female teacher in Hai Phong, and other individuals have evaded medical declarations or given false information, violating the regulations on Covid-19 prevention and control.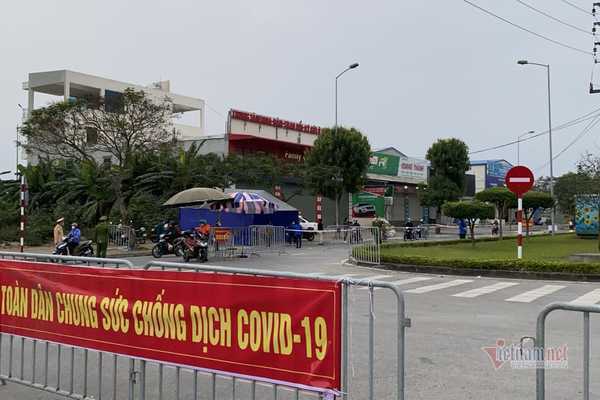 New Covid-19 infection cases have been found in Hai Duong
On February 22, the Hai Duong Police commenced criminal proceedings in a case where the defendant is charged of spreading dangerous infectious disease to humans.
The defendant is Nguyen Thi Th, born in 1969, residing in Hai Tan Ward of Hai Duong City, a Covid-19 patient. From February 1 to February 15, Th, who was then suspected of having Covid-19, did not make medical declarations and observed the epidemic prevention measures.
Her behavior resulted in the spread of the disease to her husband, child and home help. The residing area where Th and these people are living has been put into quarantine. These are complicated infection cases which have caused difficulties in the fight against the pandemic and economic losses.
In another case, Hai Phong City Mayor has requested appropriate agencies to impose the heaviest administrative fine on Hoang Thi Th, 55, a teacher at Tran Nguyen Han High School for her dishonest declaration. The teacher has also received the highest discipline level from the local education department and the Le Chan district authorities.
If she tests positive for Covid-19, the female teacher will also face prosecution by the Hai Phong Police.
Th visited Hai Duong province, the current epicenter, to celebrate Tet holiday, but after returning to Hai Phong, she reported that she had gone to Hanoi. After discovering her false statement, appropriate agencies forced her to the concentrated quarantine area and pay for expenses during the quarantine time.
On February 21, chair of Quy Hop district People's Committee Nguyen Dinh Tung said the Dong Hop commune authorities have prepared documents to propose an administrative fine of VND15 million on N.T.H, 23 for her behavior of deliberately reporting wrong information about the A-group infectious disease.
H is a factory worker in Cam Giang district of Hai Duong province. When returning to Dong Hop commune to celebrate Tet, she said she was from Hung Yen province in an attempt to avoid quarantine. During Tet days, she met a lot of people without necessary prevention measures.
On February 18, when the Hai Duong Police sent a list of localities that have citizens returning from Hai Duong, the woman had to admit her dishonest declaration.
On February 17, Pham Van Q, an official in Hai Duong province, was fined VND15 million for his behavior of evading health declaration. Q, born in 1980, residing in Ecorivers urban area of Hai Tan ward of Hai Duong City, who met with Ph, an F1 (close contact) in Hai Duong City. Ph later became F0, patient infected with the virus.
Though Q realized that he has relation with a Covid-19 patient, he did not report his case to spend quarantine at home under the supervision of medical units.
A group of five men on February 20 were fined VND125 million by the Van Don district People's Committee in Quang Ninh because they did not observe regulations on medical examination, supervision and treatment when entering and going out of epidemic-hit areas.
The men are Bui Vinh H, 19, and Nguyen Duy C, 47, in Cam Pha; Nguyen Ba T, 55; Tran Van H, 51; and Nguyen Ba D, 52 in Hoang Mai County Town of Nghe An province.
On February 19, Nguyen Duy C carried 3 Nghe An's men in his car. Only C met the requirements to enter the district, while the other three were refused.
The men then decided to go to a space under the bridge to escape the eyes of the checkpoint. However, they were discovered.
Prior to that, Dam Van H, born in 1977 in Thach Khoi ward of Hai Duong City, who was spending concentrated quarantine in Hai Duong province, escaped the quarantine ward and was fined VND20 million.

N.T.T, a woman born in 1988 in Tan Quang commune of Bac Giang province, was found going out and streamlining on Facebook. She was fined VND5 million.
Pham Ngoc Th and his girlfriend Pham Thi Ngoc M in Hai Duong City had to pay a fine of VND4 million after a kiss in the park on Thanh Nien street of Hai Tan ward in the context of the lockdown in the locality. They did not wear face masks and went out of their houses, though they did not have necessary things and violated the regulation on keeping necessary distance.
Also in Hai Duong City, Le Thanh H, born in 1978, was fined o'VND15 million for selling sugarcane juice in Bach Dang Park. Meanwhile, the local authorities had released the decision on prohibiting the selling of goods in public places to prevent the virus from spreading.
Many localities have ordered closure of karaoke shops, cafes and discotheques, but the decision has been ignored by many shop owners. 
B. Ngoc
This morning, the Ministry of Health announced 2 more cases of Covid-19 in Hai Duong, the country's Covid-19 epicenter, bringing the total number of patients in the country to 2,403.  

Locally-transmitted cases have been found in seven cities and provinces.