How to rescue Vietnamese air carriers
During the fourth Covid-19 outbreak, the Civil Aviation Administration of Vietnam asked domestic airlines to limit the number of flights from provinces and cities implementing social distancing under Directive 16.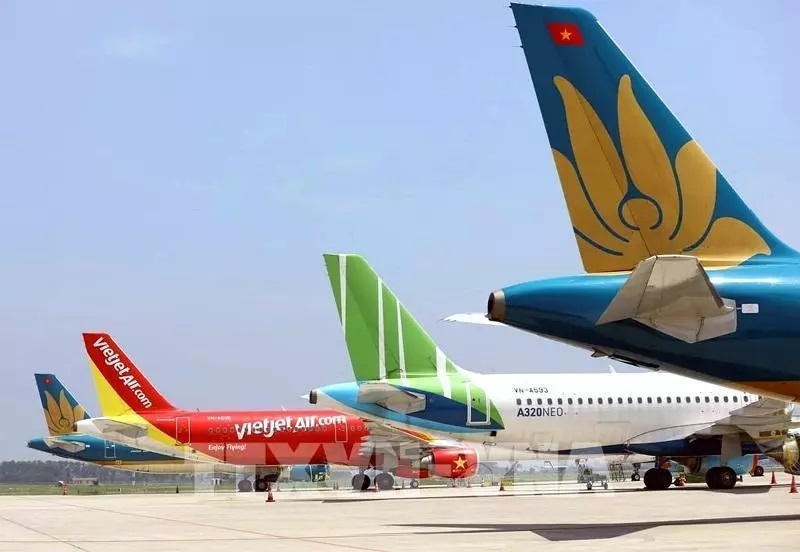 Almost 100% of flights have stopped.
During the fourth Covid-19 outbreak, the Civil Aviation Administration of Vietnam asked domestic airlines including Vietnam Airlines, Vietjet Air, Tre Viet, Pacific Airlines and Vietravel Airlines to limit the number of flights from provinces and cities implementing social distancing under Directive 16 of the Prime Minister.
Airlines are required to stop selling tickets on domestic routes and refund money to passengers who have purchased tickets on domestic flights issued after July 21, 2021 until further notice.
This means that almost 100% of flights have stopped, except for flights on anti-epidemic missions or with requests from agencies and localities, or cargo flights.
This is the second time that Vietnamese airlines have lost nearly 100% of demand. In the past year, they lost nearly all international flights while the number of domestic flights was cut often due to the impact of the Covid-19 pandemic.
Almost 100% of flights have ceased
The financial report for the second quarter of 2021 released by Vietnam Airlines (HVN) shows that the airline has suffered a loss for six consecutive quarters. Particularly, its pre-tax loss in the first half of 2021 is estimated at VND 8,450 billion. Revenue decreased by 44% and losses increased by 64% over the same period in 2020. For the first time, its equity is minus VND2,750 billion, at risk of being forced to delist. In addition, Vietnam Airlines owes VND 34,462 billion, of which short-term loans account for more than 40%.
For Vietjet Air, in the first six months of this year, the airline made a gross profit, but that was thanks to sale of assets, sale of treasury shares and financial business. In fact, Vietjet Air also suffered a big loss in its main business - air transport.
Bamboo Airways is similar. Many of its plans, such as launching an IPO in the second or third quarter, increasing the number of aircraft to at least 40, and expanding the network to 70-80 to increase 30% of domestic market share are all at risk because of the epidemic.
Mr. Vo Huy Cuong, Deputy Director of the Civil Aviation Authority of Vietnam, said that the above losses are basic numbers, not all of them. In 2021, the domestic market has been the lifeline to help airlines as well as service providers endure. However, since the fourth wave broke out, many provinces have had to implement social distancing, so most passenger flights have stopped.
"Thus, a fleet of about 200 aircraft must lie on the ground, maintenance costs are very high and airlines still have to maintain the cost of chartering. The damage is extremely large," said Cuong.
Equal support
Dr. Can Van Luc said to "rescue" airlines, about 68 countries around the world have provided support packages, with a total value of 225 billion USD, equivalent to about 0.25% of global GDP, including three important components: 65% are subsidies, concessional loans, capital contribution, or cash injection; 25% are wage subsidies and flight allowances; 10% is tax reduction, with no penalty for late payments.
When the aviation industry suffers from severe losses, it is necessary and urgent for the State to "take a hand" to rescue air carriers with a support package.
In Vietnam, last year, the National Assembly issued Resolution 135 to remove difficulties and support Vietnam Airlines. In addition to the VND 4,000 billion refinancing loan from the State Bank of Vietnam at 0% interest rate, revolving up to three years, Mr. Luc said the VND 8,000 billion package remains unresolved because the State Capital Investment Corporation (SCIC) still faces difficulties.
For other airlines, experts said that fair support is also needed. "I believe that business must be equal among all economic sectors, regardless of private or state. That principle must be reflected in the rescue of the aviation industry," said Dr. Luong Hoai Nam, an aviation and tourism expert.
The support package mentioned is a Resolution for private airlines to borrow at 0% interest rate to increase charter capital, similar to what was provided for Vietnam Airlines. The specific loans are based on the needs of each firm, based on size, market share, and contribution to the budget in the past time and the state budget's ability.
According to Dr. Can Van Luc, if this measure is approved, a maximum loan of VND 4,000 billion for Vietjet Air and Bamboo Airways is needed, including support from the State budget of about VND480 billion, which is not too high. But obstacles in policy need to be removed.
Most recently, the Vietnam Aviation Business Association sent a document to the State Bank of Vietnam to propose an early amendment of Circular 01 and Circular 03 to expand the subjects and debts to be restructured in payment periods instead of loans before June 10, 2020, and to extend the time for debt restructuring for another six months, instead of by December 31, 2021.
Issuing bonds to save themselves
In addition to looking for a support package, another proposal was made that airlines should be interested in issuing bonds. Dr. Can Van Luc said that aviation businesses can help their recovery plan after the pandemic. Moreover, the current bond interest rates are quite attractive.
However, according to the law, enterprises in a state of loss are not allowed to issue stocks and bonds. Deputy Director of the Civil Aviation Authority of Vietnam Vo Huy Cuong suggested that this rule should be removed. This is also the way to remove pressure from thr State on cash support for businesses, especially private enterprises, he said.
In fact, Vietjet Air and Bamboo Airways are also in a state of loss, although in 2020, they reported a profit thanks to other businesses, including domestic transportation. But 2021 is a tough year.
According to Mr. Cuong, if airlines are allowed to issue bonds, the SCIC should be allowed to buy shares in Vietnam Airlines.
Initially, support can be provided by allowing aviation firms to issue bonds, with investment possibly not coming from state banks or state funds. Cuong said that private enterprises are also very active in creating partnerships with banks and potential investors. For example, Bamboo Airways has had a very close cooperation with Sacombank.
Therefore, he "turned on the green light" to airlines: if Vietnam Airlines is a state-owned enterprise and it is supported by the Government, then Vietjet Air and Bamboo Airways may also have to find ways to get support from relevant ministries and sectors, in order to enjoy the same policy treatment, especially the issuance of corporate bonds in unprofitable conditions, even in the state of losses.
Dr. Can Van Luc has proposed that the Ministry of Finance allow severely affected enterprises to transfer losses. This means that losses in 2020 and 2021 can be carried forward from the next two to three years. That is what China has done, thereby greatly reducing the tax burden on pandemic-hit organizations and businesses and providing relatively strong recovery support.
Ha Yen

The Civil Aviation Authority of Vietnam (CAAV) has proposed classifying airports into green, yellow and red zones to prepare to reopen domestic routes.

The Civil Aviation Authority of Viet Nam (CAAV) has asked domestic airlines to continue reducing the frequency of flights from/to cities and provinces currently placed under social distancing.