How are Hanoians living during social distancing days?
Organizing birthday parties online, practicing exercise at home, and ordering food delivery are some of the ways Hanoians are adapting to new circumstances under social distancing.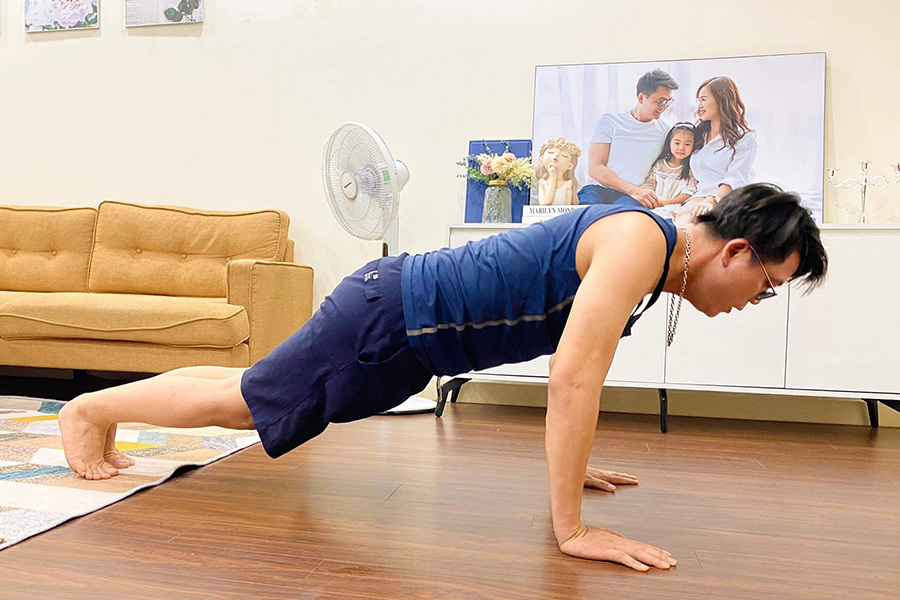 Huy now has to exercise at home.
It was a special day for Pi, his fourth birthday but his father could not attend. Pi and her mother, in Nam Tu Liem district, were six kilometers away from Pi's father, in Cau Giay district. They had not seen each other for 20 days.
Because of his work which requires high security level, Pi's father cannot work from home. He has no other choice than to work and sleep at the office.
As they could not meet each other, all conversations between them were conducted via Facebook and Zalo.
"My little daughter feels a bit sad because her father was not at the party. The only thing we could do is make a video call, so that he could blow out the candles online with her," said Trang, the mother of Pi.
The pandemic has also upset the life of Trang's family. Trang, the owner of a beauty care salon, has closed her shop several times during outbreaks.
"I spend all my time to take care of my daughter and I am no longer busy," she said.
"After breakfast, I think of how to play with my daughter – teaching her to write, draw pictures and practice yoga. We eat together, sleep and play together," she said.
"Though our income has decreased sharply because of the pandemic, I feel happy now. I rarely have free time to play with my kid," she said.
Like Trang, the life of Anh in Nam Tu Liem district has changed a lot since the day Hanoi began implementing the social distancing campaign.
Anh and her husband only have to go to the office once a week, and work from home on the other days.
"Our daughter is with her grandparents in village. We have not met each other for many days," Anh explained.
"We go to traditional market once a week to buy enough food for the whole week. In general, it's easy to buy food as we have a supermarket on the first floor of the apartment bloc," she said.
Anh is a member of the apartment bloc residents' group chat. "There are a lot of products available in the group, from readymade food to consumer goods and fresh food," she said.
They have agreed on a special way of delivery. Sellers hang products on the doors and ring the bell to alert the buyers, so that the buyers go to pick the products up. Sellers and buyers don't meet each other and paymet is made online.
Anh said they can now prepare sophisticated meals, which they could not do in the past as they were too busy.
Huy, her husband, has had to adapt to the new life as he cannot go out to do exercise. Previously, he went jogging around the residential quarter every afternoon, but now he has to exercise at home.
For Tuan and Hoai, a young couple in Ha Dong dustruct, this is the time to learn how to practice thrift.
Before the pandemic broke out, they rarely prepared meals, but usually ordered food online. But now they have no other choice than to prepare food themselves. Hoai goes to the nearby market on weekends to buy food for 10 days. The amount of VND200,000 which she spent on only one meal in the past is now enough for food for 2-3 days.
"We never prepared breakfast before because we got up late. We spent VND1.5 million a month on ordering breakfast. But now we eat food left over from the last dinner for breakfast. It is very economical," Hoai said.
"Our income has decreased significantly because of the pandemic. But as we have begun practicing thrift, we are still okay," she added.
The couple, married seven months ago, said this is the wonderful time for them to spend a 'honeymoon'.
"After working hours, we play music and sing songs to each other," she said, adding that they do everything together. 
Dang Duong

Experts from the Cham Island Maritime Protected Area (MPA) and Hoi An are looking to drive monkeys back to the forest after the animals broke into houses.

The Hanoi People's Committee has amended the regulation on travel permits during social distancing, and now people no longer have to get certification from ward or commune authorities.