Home appliance chains incur big losses amid business suspension
Sales have fallen sharply despite attractive price discounts and inventories have soared as home appliance distributors experience their toughest days ever.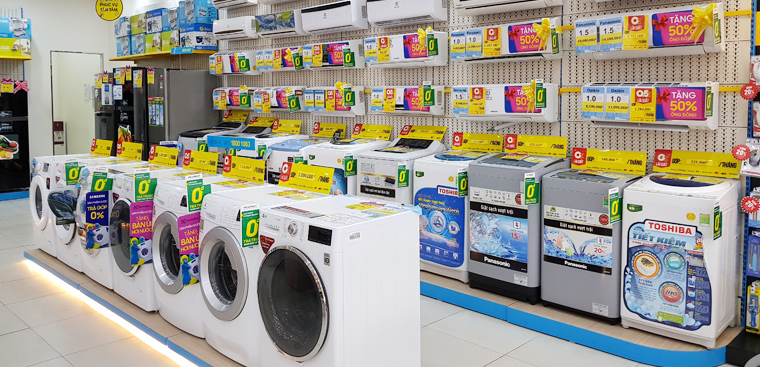 High inventories
Retailers estimate that their home appliance inventories are 30 percent higher than the same period last year, up to millions of products. This is attributed to social distancing imposed in many localities. Stores selling home appliances, which are not listed as essential goods, gave to suspend operations. In other localities, stores are still open, but they have poor patronage.
Retailers have slashed selling prices in an effort to boost sales. 4K, 8K, LED, Qled and Oled TVs, for example, have seen prices decrease from several million to tens of million of dong.
Samsung's Neo Qled QN900, with 85 inch screen and 8K technology, is selling at VND219 million instead of VND264 million. A TV with 75 inch screen has seen a price drop from VND206.8 million to VND170 million, while 65 inch went from VND149 million to VND120 million.
As for LG, its OLed 77 inch TV 4K price decreased from VND149 million to VND107.7 million.
In the lower-end market segment, Samsung LED 65 inch 4K-Ultra HD TV price dropped from VND34 million to VND23.9 million, LED LG 65 inch 4K-Ultra HD from VND29.9 million to VND17.9 million. Sony sells at VND10 milion for an LED 50 inch Full HD, VND12 million for a Led 55 inch 4K-Ultra HD.
The prices of refrigerators and air conditioners have also decreased, but less sharply. 9,000-18,000 BTU air conditioners of Panasonic, LG and Mitsubishi have seen prices fall by VND1.5-2 million.
Sharper price decreases have been reported for LG's Side by Side GR-B247JDS, from VND24.5 million to VND16.6 million, and Instaview Door-in-Door LG GR-X247JS from VND67 million to VND38 million.
Android smartphone models have decreased by over 40 percent in prices. Some products have even seen prices fall by 50 percent from VND35 million to VND18 million. Apple product prices have dropped by 20 percent, and laptops by 10 percent, though many people want to buy laptops to work from home during social distancing.
A report found that TV prices have decreased by 30-50 percent, washing machines by 30 percent, air conditioners 15 percent, refrigerators 10-30 percent, audio appliances 20 percent and cameras 35-41 percent.
Big losses
Duong Quang Duc, marketing director of Pico, a large home appliance distribution chain, said that since people are tightening their purse strings, home appliances have been selling very slowly since May. TVs have seen the sharpest fall.
The situation worsened when Hanoi began imposing social distancing and home appliance stores had to suspend operation. Revenue has dropped dramatically by 70 percent.
Inventories are high in Hanoi, but products cannot be carried to other provinces because home appliances do not qualify for priority transport. People still have demand for laptops, air conditioners and freezers, but delivering the products is difficult.
Many workers have had to take unpaid leave. In some localities, where these stores are still open, the workforce was cut as sales had dropped.
The general director of another home appliance distribution chain in Hanoi said they face low sales, high Inventories, and big losses.
"There are no worries about the expiry dates of home appliances, but the life cycle of many products is short. New models are launched every year. Old generation models will not sell," he said.
"I hope we can break even this year, but this is not realistic. Taking a loss is a more likely scenario as we have to still pay for operation costs," he said, adding that he is considering reducing the workforce. 
Tran Thuy

Today, June 1, is the last day that South Korean conglomerate LG produces smartphones in Vietnam before it focuses on making home appliances only.

Korean tech giant LG Electronics Inc. said on April 20 that it plans to produce home appliances from its smartphone manufacturing line in Vietnam's Hai Phong city as the company earlier decided to fully withdraw from the mobile business.