Hoang Tuy: a warm personality and prominent ability

Professor Hoang Tuy, a prominent Vietnamese mathematician credited for being the father of global optimisation, a branch of applied mathematics that deals with functions, died on Sunday at the age of 91.
Renowned Vietnamese mathematician Hoang Tuy passes away at 92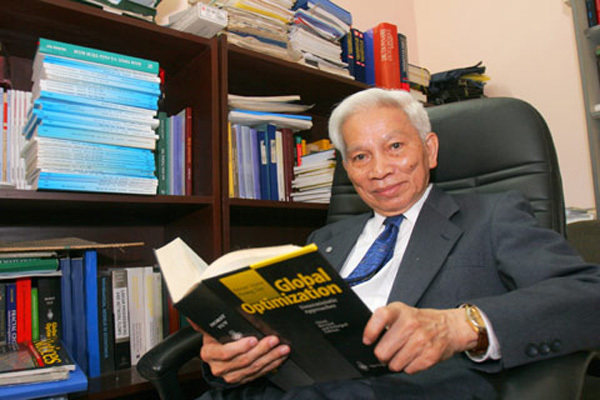 Professor Hoang Tuy is considered a leader in the field of global optimisation with his masterpiece 'Global Optimisation - Deterministic Approaches' published in 1990-1996. — Photo tuyengiao.vn
Serving as the director of the Institute of Mathematics of the Vietnamese Academy of Science and Technology from 1980 to 1989, Professor Tuy is considered a leader in the field of global optimisation with his masterpiece Global Optimisation - Deterministic Approaches published in 1990.
Optimisation theory is a mathematical technique designed to find the best possible outcome given a series of constraints. The theory is considered a cornerstone of modern economics and credited with clearing the muddy waters of everything from long-distance transport to rice growing.
In September 2011, Professor Tuy was named the first ever recipient of the Constantin Carathéodory Prize of the International Society of Global Optimisation for his pioneering work and fundamental contributions to global optimisation.
To many, Professor Tuy was more than just a great Vietnamese mathematician.
"His passion for science, his concerns about the country's education never faded. He has such a broad vision for the country's education sector and his recommendations to improve the sector are always straight-forward and as sharp as they can be," said Professor Ha Huy Khoai, former director of the Viet Nam Institute of Mathematics.
Journey to mathematics
Hoang Tuy was born in 1927 into a poor family in the village of Xuan Dai to the south of Da Nang City.
When he was young, he was good at both literature and mathematics. At the age of 15, he had to miss a school year due to respiratory problems and paralysis. After recovering from the illness, he had to transfer to a private school where he was able to skip two grades and therefore graduated a year early in 1946.
Hoang Tuy taught secondary school in Quang Ngai Province in the Fifth Liberated Zone from 1947 to 1951, during which time he wrote a geometry textbook that was later published by the anti-French resistance press.
When the young Tuy heard that Le Van Thiem, who was the first Vietnamese doctor of mathematics, had returned to Vietnam from Europe to open a university in the north, he decided to go and join his idol.
There was only one way to reach the liberated zones where Thiem was working – on foot through the mountains.
It took Tuy three months to trek north.
He did everything to lighten his load. He took rice and salt for food, he took his maths books with their covers removed and the margin cut. He stopped for two months in the Fourth Zone to give private lessons and earn money to continue the journey.
From 1951-55, Tuy taught at a secondary school and at the same time studied on his own. He met Le Van Thiem during this time.
In 1995, Tuy was well-known for his teaching and was appointed to chair a committee on reform for the secondary school system at the age of 27.
In September 1957, he went to the Soviet Union, where he studied real analysis under the supervision of D. E. Menshov and G. E. Shilov.
After returning to Vietnam from the Soviet Union, Tuy changed his area of research from real analysis, which was too theoretical to be of immediate use in Vietnam, to operations research, a field of applied mathematics.
It was Hoang Tuy who first brought that field of research to Vietnam, and who invented the Vietnamese translation vận trù of "operations research" – using mathematics to solve practical problems.
At the beginning, in 1961-62, he worked on a problem in transportation – reorganising the logistics of trucking so as to reduce the distance that trucks travel empty.
In 1964, he invented a method called "Tuy's cut", which was considered the first step for global optimisation – a brand new mathematical discipline. Since that time Tuy has worked mainly in the field of global optimisation.
In September 2002, the Operation-Research Bulletin, the forum of Asia-Pacific operations mathematicians, published a special issue on Tuy that included articles by several eminent scientists.
Tuy also co-authored Global Optimisation – Deterministic Approaches. The book was first published in 1990 and then revised in 1993 and 1996. It is considered by many as 'the Bible of optimisation'.
Today, most mathematicians in the world acknowledge his contributions, which include Tuy's Cut, Tuy-type algorithms and Tuy's inconsistency condition to name a few.
Education concerns
Tuỵ was always concerned about the state of education in Vietnam.
In 2012, in an interview with AsiaNews, he said: "Education is an urgent matter. Our life increasingly needs an overall reform of education if we do not want our country to remain backward.
Shortcomings in and harm to education have accumulated and reached an extreme level. We can no longer tolerate them. Now a total overhaul of education is the first order of business. Reality requires us to change the current state of education."
Talking about the fact that the quality of moral education in the country was constantly declining, Tuy said it become imperative for society to wake up.
"An enlightened education must begin with a true democratic spirit and determination to build a clean, just and civilised society, and train its leadership in view of this," he said.
There was time when he was so worried that "the country's education has lost its way."
"Education is losing its way when its wrongful underlying philosophy can be seen at all respects, from curriculums to methodology, from the organiSation of exams to the selection and treatment of cadres," he told Tuổi trẻ (Youth) Newspaper.
"Education must promote humanity, foster human dignity and intellectual merits, and improve awareness about the community, rather than to merely provide knowledge, but all such goals are beyond the country's education sector's capacity now," he said.
Professor Taketomo Mitsui from Nagoya University, Japan, who had met and worked with Professor Tuỵ several times, said the latter had a warm personality and prominent ability.
"Each time we met I had the chance to listen to his talks and to discuss many items, which covered academic research, the educational system, the applied mathematics community and so on. Through the discussions I realised that Prof. Tuy is not only an experienced mathematician but also a scientist who can take a global view," he said.
Khoai, former director of the Institute for Mathematics, said Tuy's article on education printed in many newspapers had left a considerable mark.
"We have to listen to him to understand his passion for education reform. People might agree with him or not, but everyone feels touched by his enthusiasm. When he speaks, he speaks his heart out, he's telling people about how he had pondered over the wish for education reform in the country," Khoai said.
VNS