Highly contagious Delta variant lengthens outbreak in Vietnam
The Delta variant of the SARS-CoV-2 virus, with its rapid and strong spread in a very short time, has put huge pressure on the health system.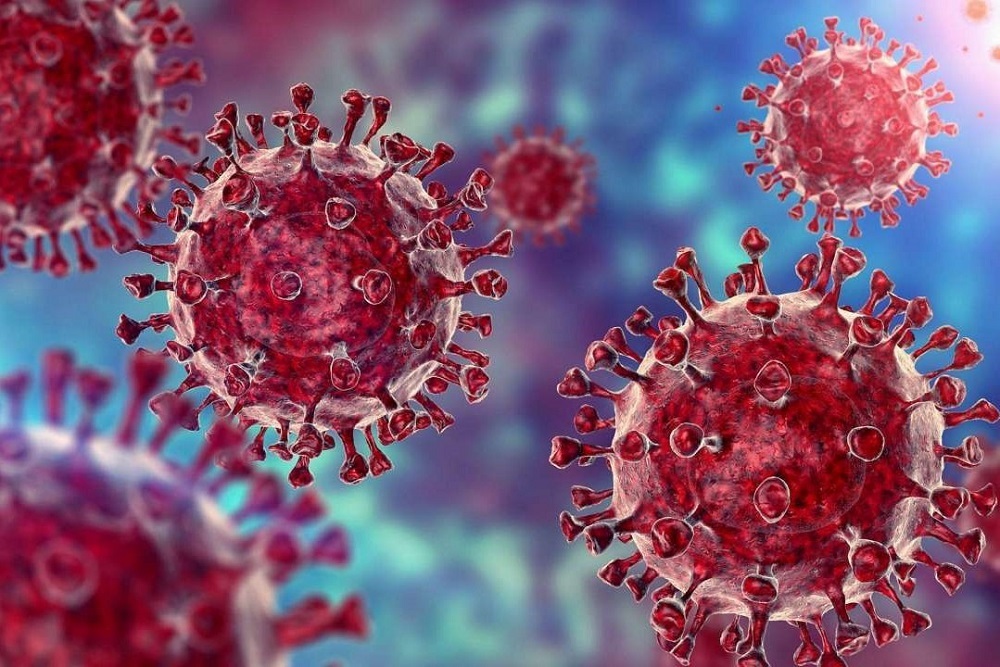 SARS-CoV-2 virus. 
By August 14, Vietnam had recorded a total of 265,464 Covid-19 patients, ranking 80th out of 222 countries and territories. In the fourth wave of epidemic (from April 27 to August 14), the country had an additional 261,463 locally-transmitted cases. The number of Covid-19 related deaths reached 5,437, accounting for 2.05% of the total infections.
According to experts, the Delta strain with a very strong transmission rate is the main reason for the severity of this outbreak.
The Delta strain was first detected in India in December 2020. The World Health Organization (WHO) renamed this variant as Delta to simplify the original scientific name B.1.617.2. To date, this virus strain has appeared in nearly 140 countries around the world.
According to the Vietnamese Ministry of Health, there are seven variants of the SARS-CoV-2 virus in Vietnam. For the fourth outbreak, the country has recorded two strains, Delta and Alpha (B.1.1.7, first discovered in the UK).
The Delta variant has a strong ability to spread, classified by World Health Organization as a "variant of concern", as its transmission capacity is 50% higher than that of the Alpha variant (the Alpha strain's transmission rate was 60%-70% higher than the original strain).
Speaking at an online conference on July 16, Minister of Health Nguyen Thanh Long said this outbreak would last longer than the previous ones, causing a large-scale impact and seriously affecting people's life and the country's economic and social development.
"The current infection cycle is only two days, not 5 days as previously calculated," he said.
On July 30, at a government online conference on Covid-19 epidemic prevention and control, Long once again emphasized: "The Delta mutation has a fast and strong spread, overloading the health system. All countries have warned that we cannot be subjective with the Delta strain that is disrupting and overturning all anti-epidemic achievements."
Dr. Tran Dac Phu, former Director of the Department of Preventive Medicine of the Ministry of Health, Senior Advisor of the Center for Response to Public Health Events, says that in Vietnam the Delta variant has spread very quickly in quarantine areas as well as in hospitals and communities. Within a few days, many F1 cases (contacts of infected people) became F0, and many F2 (contacts of F1) also became F0 (infected cases).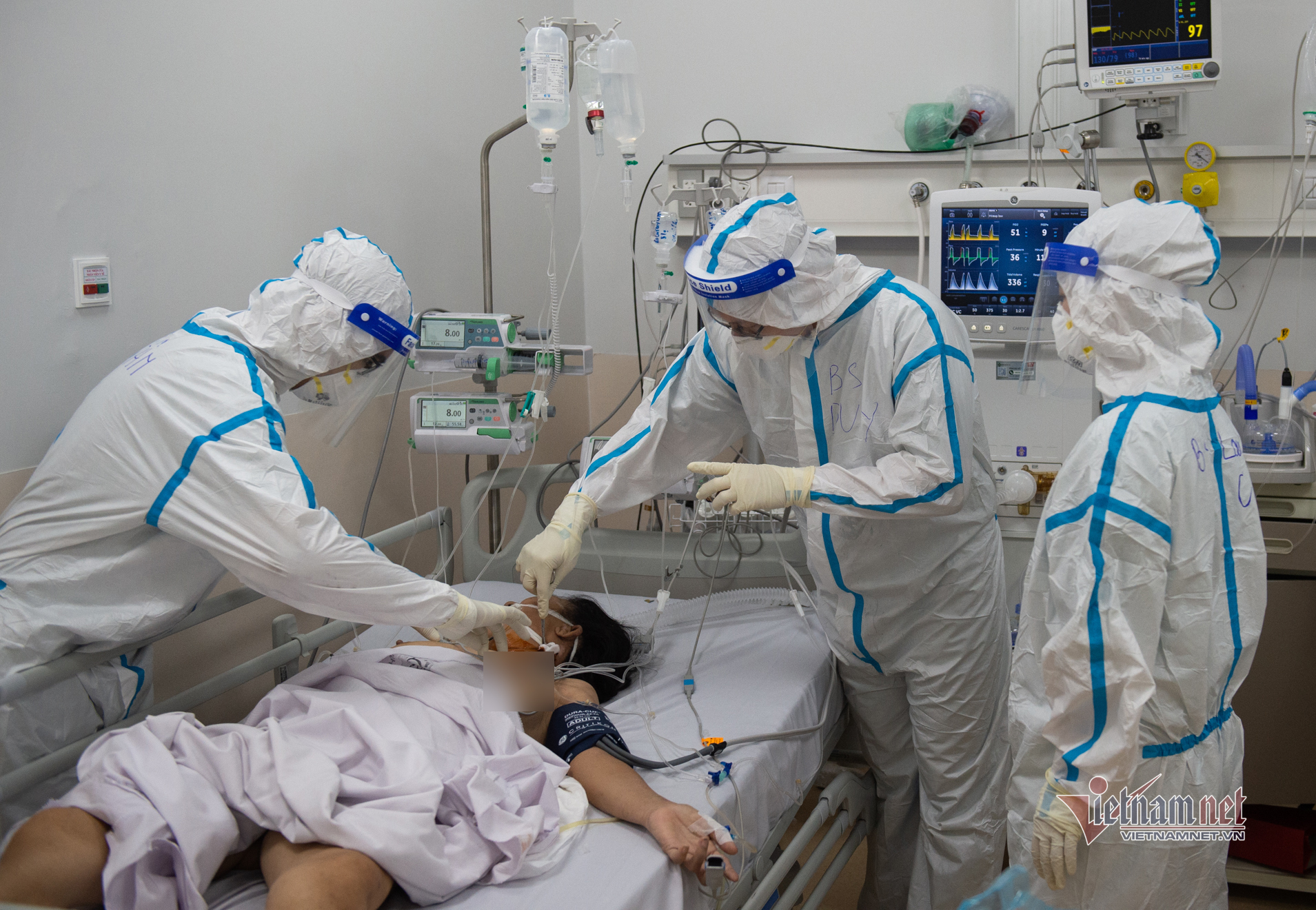 Treating a severe Covid-19 patient in Ho Chi Minh City.
The virus spreads strongly in closed environments such as indoors, crowded areas, factories, and restaurants. Phu emphasized, due to the rapid spread of Delta strain, one can get the virus if having contact with a virus carrier at a distance of less than 2m in a short time.
Dr. Kidong Park, WHO's Chief Representative in Vietnam, said on August 7 that the Delta variant has a higher transmissibility and increases risk of hospitalization. "This is our concern. This variant has appeared in 135 countries, including Vietnam, becoming the major variant in many countries," he said.
According to the WHO representative, the vaccine is still very effective in preventing severe symptoms caused by the Delta strain, but the effectiveness in preventing symptomatic infection seems to be reduced.
The clinical statistical evidence indicates that the new variant Delta causes earlier symptoms and the time for becoming severely ill is also faster than other variants, says Pham Van Phuc, Deputy Head of Intensive Care Unit, National Hospital for Tropical Diseases.
A study of Australian experts shows that the Delta strain seems to put young, healthy people at risk of cardiovascular complications and increases mortality in this group.
In the US, according to data from the Association of Pediatric Hospitals and the American Academy of Pediatrics (AAP), the Delta variant increases the number of hospitalized children, causing more severe symptoms in children. Many children suffered from severe respiratory failure and pneumonia and had to undergo intensive lung intervention, even intubation in special treatment units.
Dr. Kidong Park said: "No matter which variant, current protective measures are effective." He recommended that people continue to take 5K measures, wear masks regularly, stay in a well-ventilated place, wash hands frequently, clean the respiratory tract, and follow the rule of covering the mouth while having cough, avoid crowded places and complete medical declaration forms.
These measures are very important, even if you are vaccinated, especially in areas where there are cases of community transmission.
According to Dr. Park, if you have a chance, get any vaccine available. "Vaccines help protect you and those around you. It will also reduce the risk of the Delta virus spreading in the community and causing new variants," he said.
Quynh Anh

In order to make a contribution to the country's fight against Covid-19, VietNamNet has launched the "Joining forces with VietNamNet to stamp out the pandemic" program.