HCM City enterprises maintain production during pandemic
Flexibility in building a production model from "3 on-site" to "2.5 on the spot" will create conditions for businesses in HCM City to maintain operations during the epidemic.
In June, 2021, the head of Human Resources Department, Tran Thanh Son, of Song Ngoc Garment Co., Ltd. in Tan Binh District came to the office well-prepared for upcoming debates with other departments.
The program "Assuming there is F0 (Covid-19 patient) in the company" proposed by Son won support from only 30% of the company's employees, arguing that their families disagreed with it.
Under this program, if one of the company's employees is detected to be an F0, all employees will work and live at the office and factory during the quarantine time.
The program sets out detailed scenarios and plans at different levels. Accordingly, the company will buy tents for workers, seek sources of food and goods in advance, prepare other necessary conditions for workers, etc.
It took Son some time to persuade others. Finally, from June 22, the company officially implemented the model of "working and being quarantined on the spot". More than 200 workers were arranged to work and rest on the spot while 50 office employees could go home. But they had to work in a completely separate building to avoid direct contact with workers.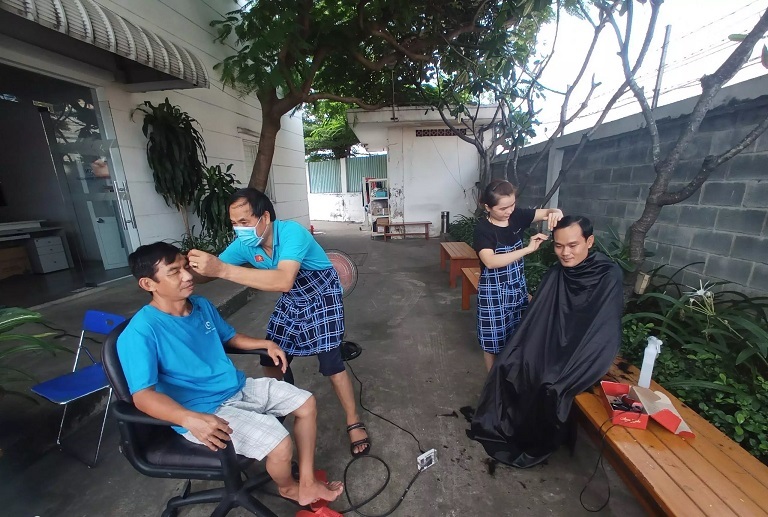 Workers cut hair for each other during the "work - eat - rest" period at Song Ngoc Garment Co., Ltd.
Before implementing this model, all workers and office employees were tested for Covid-19 three times. Once the test results were negative, they began working and staying at the factory. After more than a month, Song Ngoc Company has been operating steadily.
Pham Thanh Truc, Deputy Head of the Management Board of Ho Chi Minh City Export Processing Zones and Industrial Parks, said that after the city asked businesses to meet regulations on "3 on the spot", "1 road, 2 destinations", 618 companies registered to implement the model "working and being quarantined at the same time". By July 21, 414 businesses met the regulations to maintain operation under this model.
The problem of "3 on the spot"
Not all businesses in the city have sufficient human and material conditions to meet the "3 on-site" requirements required by the Ho Chi Minh City authorities to maintain operations. Those that fail to meet the requirements have had to close.
"We will temporarily close our business because we cannot meet the requirements of the city," Director Nguyen Ngoc Luan of Global Trade Link Co., Ltd, told officials of Nhi Binh commune, Hoc Mon district on July 14. A few minutes later, the power breaker in its factory cut off the power, and the main gate was locked from the outside.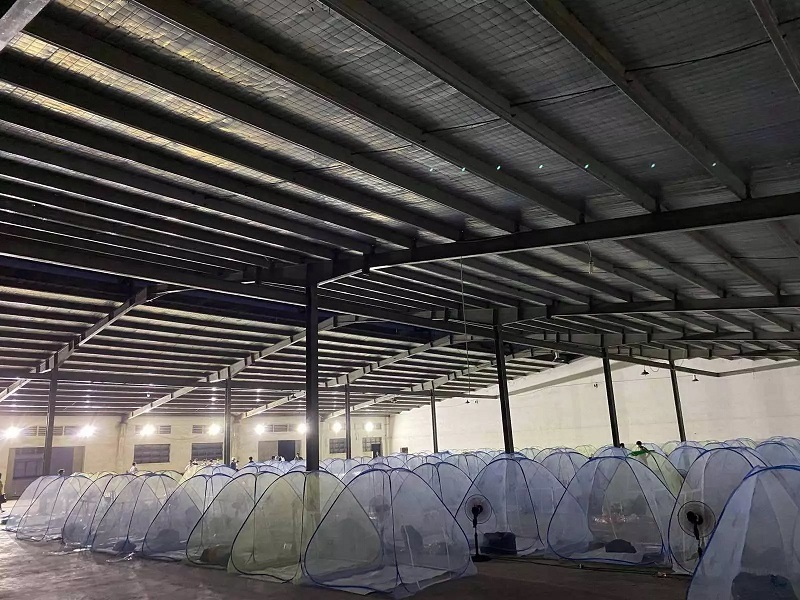 Tents for workers who work and stay at the factory.
Luan said that the city's requirements were a surprise, so his company was unable to prepare materials, equipment, tents, and food sources for 50-60 people for about two weeks.
"We are a small and medium-sized firm. How can we have enough potential to find and build a separate dormitory and a kitchen for the workers?" Luan said.
In order to best implement the "dual goal" of both preventing diseases and promoting economic development, in which the goal of ensuring people's health is the top priority, Ho Chi Minh City only allows businesses to continue production activities from July 15 if they can organize their workers to work, eat and rest on the spot (3 on the spot) or arrange dormitories, hotels or accommodations for their workers and transport them from the dormitory to the factory and vice versa in a closed circle.
New solution: "2.5 on the spot"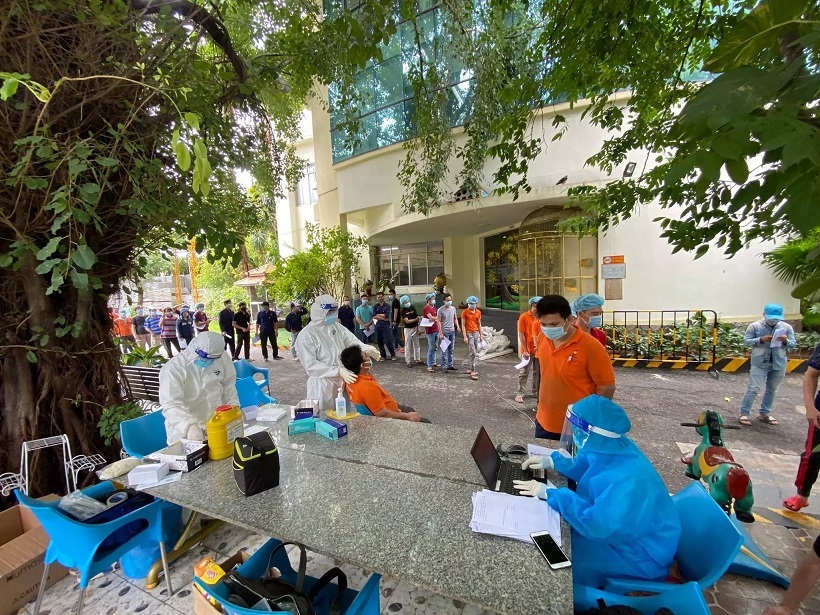 Workers are tested for Covid-19.
The Ho Chi Minh City Business Association (HUBA) said that many businesses can arrange on-site accommodation and on-site production, but it is difficult to arrange on-site dining conditions.
HUBA proposed that the city allow businesses to cooperate with restaurants and hotels to provide regular meals for workers, in case businesses are unable to organize on-site kitchens. This model will help ease the burden on businesses.
Director of Diep Anh Industrial Catering Production Co., Ltd Lai Thi Thu Huyen affirmed that it is difficult for businesses to organize a kitchen by themselves. That's why there are units specializing in industrial catering.
The 2.5 on the spot model can be implemented as long as the food is transported to the gate and then someone comes out to receive it to avoid human-to-human contact and the party providing meals is in compliance with epidemic prevention and control regulations.
Quang Dinh

Many HCM City companies that had to close down after some workers were found to be infected with COVID-19 have got approval to reopen after their on-site lodging facilities for workers and epidemic prevention plans were verified.