Hanoi takes action to expand 'green zones'
Hanoi is determined to separate F0 cases from the community, thoroughly trace F1 (F0 contacts), localize and scale down 'red zones', and protect and expand 'green zones', gradually stopping the Covid-19 outbreak.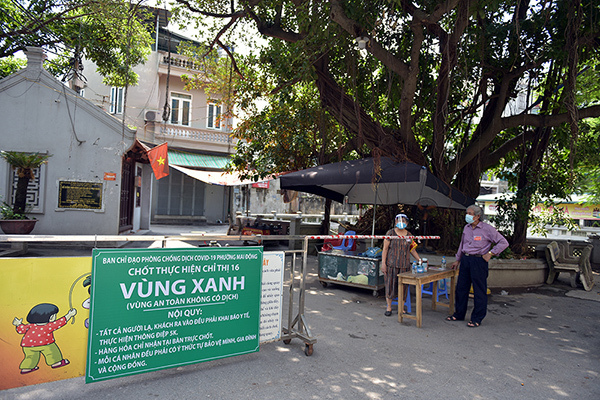 Hanoi is determined to separate F0 cases from the community
The Government's Resolution 86 on urgent measures to fight Covid-19 stipulates that within 14 days of social distancing, green zones must be identified and protected, and detailed roadmaps developed to turn 'yellow zones' into 'green zones', and to turn 'orange zones' into 'yellow zones' and narrow 'red zones'.
The policy is in an effort to return the city to normal.
In an Official Dispatch No 18 from the Hanoi Mayor, the city is divided into three zones – green, orange and yellow. Concrete tasks and solutions are specified for each zone.
In 'green zones', or areas with no infections, Hanoi asks every citizen to strictly follow the measures to prevent the pandemic and only go out when necessary. People have been asked to set up 'self-governing areas' and checkpoints to protect green zones.
A number of 'green zones' have been set up and expanded in all 30 districts of Hanoi, creating 'fortresses' in the fight against Covid-19.
Some districts have established hundreds of checkpoints to protect green zones, including 400 in Hoang Mai, nearly 200 in Hoan Kiem, 145 in Ung hoa and 219 in Thanh Tri.
The 'green zones' are supervised by residential quarters and sub-quarters. They are managed under the model of 'three layers' and 'four on-the-site' which aim to prevent disease from penetrating the zones and prevent cross-infections in localities.
For the 'orange zones', or the areas with risks, including factories, production facilities, agencies, markets, supermarkets, hospitals and clinics, Hanoi has told local authorities to examine and approve anti-pandemic plans of working units. The units can only operate if they satisfy anti-pandemic requirements.
Every officer, worker and invidiual has been told to follow regulations on making medical declarations with QR Codes when they go to work or shop.
As for 'red zones', or isolated zones, local authorities set isolation or medical quarantine measures within a reasonable area. The authorities have the right to make decisions on applying stricter measures to ensure that the virus cannot spread in the zones.
People in red zones must strictly observe the measures as directed by the local authorities.
Hanoi strives to control the outbreak by August 25.
From August 9 to August 17, Hanoi is organizing the largest ever testing campaign. 1.3 million samples will be taken for RT-PCR tests, and 2 million samples for rapid tests.
People are divided into several groups, depending on the risk levels.
Red groups are communes and wards with high and very high risks. Subjects are classified based on epidemiological factors, the people who move a lot, or high-contact places such as supply chains, markets, forces participating in epidemic prevention and control, workers, and security guards at buildings.
Orange groups are factories, enterprises, production facilities, agencies, supermarkets, markets, hospitals and clinics.
Green groups are subjects in zones without Covid-19 who travel less than others.
The principle is giving priority to testing high-risk areas, isolating 'red groups' and 'orange groups' containing 'red groups', cases with SARS-CoV-2 symptoms, and those who travel a lot and have contact many people.
While prioritizing testing of red and orange groups, the testing of households in 'green zones' will also be carried out quickly to protect and expand green zones.
The city wants to stop new clusters, protect green zones and step by step repel the outbreak.
Hanoi Party Committee Secretary Dinh Tien Dung affirmed that social distancing is the best solution now. He has asked agencies to build plans and ensure people's normal life if the outbreak gets worse.
Regarding quarantine zones, the city will tighten control and have solutions on transporting and providing essential goods, food and foodstuff to every house.
The urgent task is to strictly abide by the principle of "people isolate from other people", "family isolate from family", and "people stay where they are". 
Huong Quynh

From August 9 to 17, Hanoi will provide 1.3 million tests using the RT-PCR technique, and 2 million rapid tests in an aim to screen and isolate Covid-19 pathogens from the community as quickly as possible.

Hanoi's leaders said the municipal authorities will adjust the examination of travelling papers to be sure that only those who need to go out are in circulation.