Hanoi's anti-epidemic path
Hanoi's people and businesses will continue to live under social distancing because that is the "best way to live" with the virus when the vaccination rate is low to effectively contain the disease.
When Hanoi started a mass Covid-19 testing campaign with up to 3.3 million samples, it was said that the campaign was quite expensive and could increase the risk of infection, repeating the footsteps of Ho Chi Minh City, and that it would be unable to screen all infection cases in the community.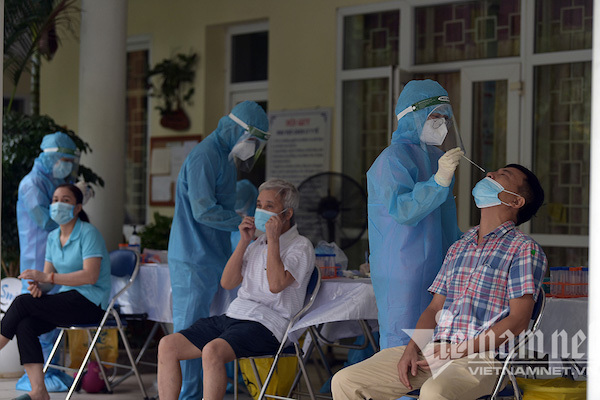 Take samples for Covid-19 testing in Thanh Xuan Bac ward, Thanh Xuan district, Hanoi. Photo: Pham Hai
In some aspects, the observations show the vulnerabilities that the testing campaign can fall into. However, the widespread testing campaign is necessary and irreversible.
Worthy campaign
The development of covid-19 in Hanoi at present is different from that in Ho Chi Minh City two months ago. Hanoi is recording an average of 60-80 new cases per day, with many cases in the community and unknown sources of infection. To date, the capital city has had nearly 2,000 positive cases, most of them in the community.
In this situation, Hanoi's Party Secretary Dinh Tien Dung said: "Without more drastic measures, Hanoi will continue to be at risk of epidemic outbreaks. The organization of large-scale testing is to actively find and thoroughly isolate F0 cases, to prevent the epidemic from spreading."
After collecting more than 200,000 samples in high-risk areas, only 17 samples were positive for SARS-CoV-2, a very small percentage.
Someone may question that the cost of extensive testing is huge but only a several infection cases are detected, so is it worthy?
Yes, it is worthy, and the small positive rate detected is encouraging in the sense that the epidemic in the capital city is still under control. We cannot be subjective with the Delta variant that is toppling the whole world. Hanoians and local businesses have been under social distancing for nearly a month. People's livelihoods and business activities have been seriously affected.
Hanoi's Party Secretary Dung explained: "At this time, social distancing is the most important measure to quell outbreaks, protect people's health and safety."
Hanoi has applied social distancing under Directives 15 and 16 very early and the whole city has strictly obeyed these measures to protect themselves while waiting for vaccines.
According to the Covid-19 Immunization Portal, the Ministry of Health said that it allocated 2,944,710 vaccine doses to Hanoi, and the city administered 1,829,641 doses. Thus, the supply of vaccines to the capital city is quite abundant because only about 19 million doses of vaccines had arrived in Vietnam as of August 10.
However, the reality is far different.
According to Deputy Director of the Hanoi Department of Health Vu Cao Cuong, the city received 1,635,500 vaccine doses and by August 11, and Hanoi administered more than 1 million doses, with over 12% of the population vaccinated.
This is the first time the volume of vaccines for Hanoi was officially announced, and the number is far different from the Ministry of Health's data of 2,944,710 doses. The figure falls short of the population of more than 8 million people of the capital city, not to mention millions of migrants.
The best way to live with the virus when vaccine coverage is low
Without vaccines, what can Hanoi do?
Hanoi has to quickly implement large-scale testing to find F0 cases. This is very necessary.
Hanoi has established 55 command posts at all levels, which are on duty 24/7, to direct and handle urgent situations in epidemic prevention and control.
The city has also set up 23 checkpoints at gateways and 3,129 checkpoints at alleys, hamlets, wards and communes to control and ensure the implementation of social distancing. As many as 4,559 community Covid-19 groups, with 29,385 teams (each team has 3-4 members) participate in epidemic prevention and control at the grassroots level.
And there are many other works with the aim of best preparing for the wave that is on the horizon.
Prof. Ben Marais, Deputy Director of the Marie Bashir Institute for Infectious and Biosafety Research, University of Sydney, said at a recent webinar "The way out of Covid-19: Lessons from Australia and Vietnam" that it would rather impose lockdown and social distancing early to bring the number of infection cases to zero, and then reopen later.
"The best way to live with the virus, when vaccine coverage is low, is to live without any infection cases," he said.
Prof. Marais said that Australia used to pursue a policy of "containment" of Covid-19, which means "tolerating" infections in the community to some extent, so as not to have great socio-economic impacts. But after the past 18 months and especially the expansion of the Delta variant, Australia has realized that this policy is not optimal in terms of costs.
That is why the number of infection cases in Australia at present is much smaller than in previous outbreaks, about 200 cases/day (less than half of the number in June last year), but most Australians are under social distancing.
Perhaps Hanoi is approaching it from that angle, trying to "separate F0 cases" from the community.
Hanoi's people and businesses will continue to live under social distancing because that is the "best way to live" with the virus when the vaccination rate is low to effectively contain the disease.
Working with the capital last week, State President Nguyen Xuan Phuc said that Hanoi had made a very timely decision on social distancing to avoid the risk of a health and socio-economic crisis.
"The guidance of the Party Central Committee and the Politburo is to prioritize and quickly turn the capital into a safe and solid area from which to connect and provide aid to other localities," the President said.
That is a compliment not only for Hanoi leaders, but also for local people and businesses. But Hanoi also needs vaccines as it cannot impose social distancing forever.
Tu Giang

Organizing birthday parties online, practicing exercise at home, and ordering food delivery are some of the ways Hanoians are adapting to new circumstances under social distancing.

On average, Hanoi detected one F0 case out of 10,000 people in the first three days of the capital city's large-scale covid-19 testing campaign. 

From August 9 to 17, Hanoi will provide 1.3 million tests using the RT-PCR technique, and 2 million rapid tests in an aim to screen and isolate Covid-19 pathogens from the community as quickly as possible.