Hanoi mulls policy over home quarantine of patients
The economy comprises many interwoven chains, and one province applying extreme measures can create a deadlock in the entire region and the country.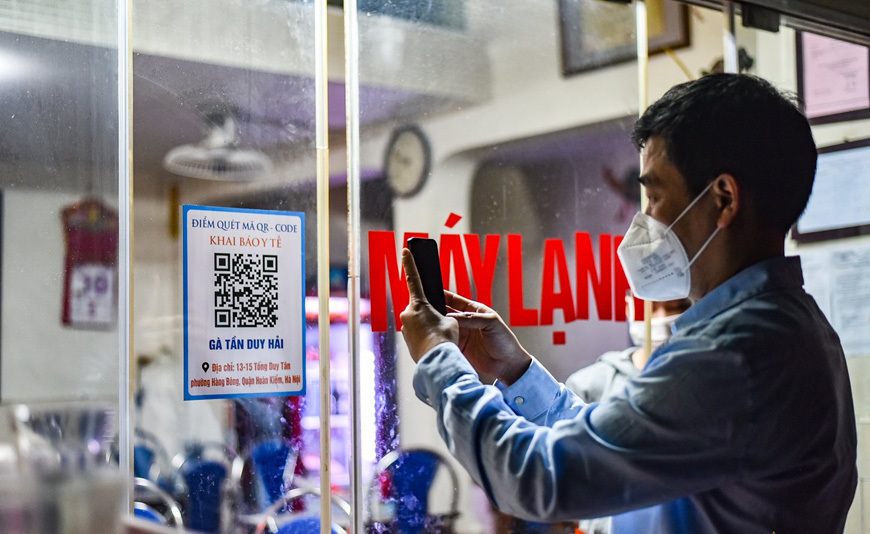 Once Hanoi obtains high vaccination coverage, anti-pandemic measures applied by Hanoi need to be "adaptive and safe"
Facing the public's strong opposition about Hanoi's home quarantine policy applied to the close contacts of patients, Director of the Hanoi Healthcare Department Tran Thi Nhi Ha has denied that close contacts have to get agreement from neighbors to have home quarantine.
Under the policy, mildly ill patients will be brought to local medical units for treatment. Fully vaccinated people or discovered Covid cases from HCM City, Binh Duong, Long An and Dong Nai have to have home quarantine for seven days during which they must be tested twice, while unvaccinated people have to have a 14-day quarantine, and close contacts need to obtain neighbors' agreement to stay at home during quarantine.
The policy isn't in line with the city's leaders plan on allowing Covid patients to have home quarantine on a trial basis and treating asymptomatic and mild patients at local medical units.
And the policy is clearly not commensurate with the Government's Resolution 128.
Nguyen Huy Nga, former Director of the Preventive Medicine Department, believes that Hanoi should take more daring steps.
"Hanoi should remove concentrated quarantine and isolation on a large scale in entire residential quarters and apartment buildings. Only small-scale isolation should be applied," Nga said.
Painful experiences
Epidemiologists' comments about Hanoi recall the traumatic experiences about concentrated quarantine in HCM City.
HCM City Party Committee Secretary Nguyen Van Nen described the situation at a review meeting in early October: "There was no treatment drug at that time. The city gathered strength to build field hospitals to gather positive cases. However, we didn't know what to do after gathering them."
HCM City decided to leave 43,000 out of 60,000 Covid patients at home for quarantine. This was the correct decision with a scientific basis.
Production and business activities in HCM City, during the four months of lockdown, were maintained at a 'minimum level', according to National Assembly Deputy Nguyen Thien Nhan.
In that period, only 2,000 businesses, or 0.7 percent of total businesses in the city, maintained full operation.
"This means that 99 percent of businesses did not operate and 99 percent of workers had their income drop or they lost income for more than 3 months," Nhan said.

The economy comprises many interwoven chains, and one province applying extreme measures can create a deadlock in the entire region and the country.
As a result, HCM City's growth rate is expected to be at minus five percent this year.
Don't' be extremist
Each locality sets its own rules to cope with the pandemic. In late August, Can Tho asked that all goods carrying vehicles from other cities and provinces register in advance and gather goods at grounds outside the city.
As a result, thousands of vehicles had to stay at the transshipment points and follow procedures, which caused serious congestion.
Minister of Transport Nguyen Van The then voiced his disagreement with Can Tho's policy and asked local authorities to stop the policy immediately. He stressed that the policy did not follow the Deputy Prime Minister Le Van Thanh's instructions in Document No 1015 dated July 25, which said the vehicles with Ministry of Transport's QR Code must not be stopped at any checkpoint.
"You have caused frustration as the goods of the entire Mekong Delta cannot go through Can Tho Bridge, goods owners have to wait for tens of hours, which cost businesses too much money," The said at on online meeting with Ministries of Transport (MOT), Agriculture and Rural Development (MARD), Industry and Trade (MOIT) and cities and provinces on August 25.
After that, Can Tho and other localities adjusted their policies.
Hanoi needs 'firm stuff'
On July 24, the city began imposing lockdown in accordance with Directive 16, when the first National Assembly session was taking place. The number of Covid patients reported daily was the same as HCM City two months before. But the capital city still received more than 10 flights from HCM City every day and hundreds of thousands of bus trips. The activities only stopped on August 7.
Epidemiologists then said if Hanoi did not close its door immediately, an outbreak would occur. But, despite the lockdown, the number of cases in the community in July and August soared. Many wards and neighborhoods were isolated.
But fortunately, Hanoi was not extreme and did not call for 'three on-the-site' and 'one route, two destinations' business models. The municipal authorities let businesses to take responsibility for their anti-pandemic measures.
The industrial production index in October still increased by 10 percent over September and 5.6 percent over the same period last year. The city's budget collection in the first 10 months of the year reached VND217 trillion, an increase of 8.7 percent over the same period last year.
However, the capital city had to pay a heavy price for lockdown: the GDP in the third quarter of the year was minus 7 percent.
Once Hanoi obtains high vaccination coverage, anti-pandemic measures applied by Hanoi need to be "adaptive and safe" as per the Government's instructions so as to ensure a smooth business environment throughout the country. 
Tu Giang

According to the Ministry of Health's report, Vietnam has put the epidemic under its control nationwide.

Vietnam reported a total of 9,889 new COVID-19 infections and 76 COVID-related deaths on Sunday.