Hanoi Mayor orders closer inspection of high-risk zones
"All the people in isolated areas must be considered F1 cases (contacts of infected people) and they must be tested. Those who refuse testing must be taken away to concentrated quarantine," said Hanoi Mayor Chu Ngoc Anh.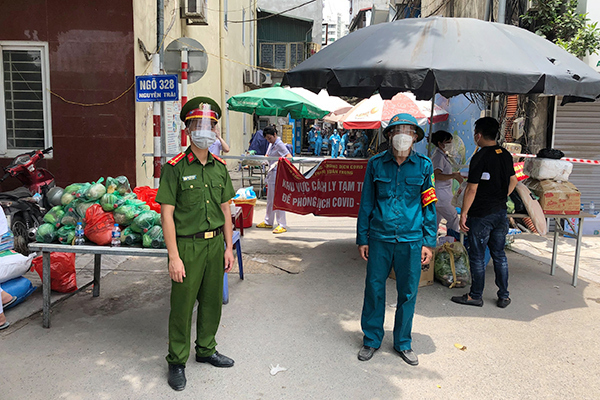 Hanoi is applying its third social distancing campaign expected to last until 6 am on September 6.
The city has had two large-scale testing campaigns recently with more than 1.1 million samples taken in 30 districts and towns, from which 83 positive cases have been found.
The positive cases were mostly in some inner and suburban districts. The cases were found in narrow areas with heavy traffic such as traditional markets, supermarkets, and old residential quarters. There were also infections in isolated areas with high population density.
The loose management in some isolated areas has facilitated cross-infections and infections from isolated areas into the community.
Just within three days, on August 23-25, Hanoi reported 73 Covid-19 cases in Thanh Xuan Trung Ward in Thanh Xuan District. On August 25 alone, 52 cases were discovered.
This area is now considered the hotbed of the capital city. Most of the patients live on Alley No 328 and 330 of Nguyen Trai Street, with relations to markets and supermarkets in the ward.
Anh, who came to the site to inspect social distancing at Alley 328 Nguyen Trai Street, found some people traveling within the isolated area.
He pointed out that this is a "hole" in red zones. He has asked for three-layer checkpoints to ensure strict social distancing of houses from houses and people from people in quarantine zones.
He has also asked the healthcare sector and police to deal with local problems, carry out epidemiological works, and separate the core Covid areas in isolation zones.
There must be separate areas in the "reddest" areas of the red zones and there must be a checkpoint in the core areas to lock down the core areas of the hotbeds.
Regarding testing, Anh said that the Covid wave broke out because testing did not correctly go to the red zones and red clusters. The district needs to take testing samples based on epidemiological tracing and F0 and F1 movement.
As for the hotbed in Thanh Xuan District, Khong Minh Tuan, Deputy Director of CDC Hanoi, said the cluster of new cases has spread.
The area where the cluster of infections were found is the old collective quarters with small alleys and areas, with many interaction opportunities.
The cluster of infections in the district is believed to have similarities with one in Van Chuong and Van Mieu Wards in Dong Da District.
According to Tuan, the infection source could be vegetable sellers who regularly were present at Nga Tu So Night Market. CDC (the Center for Disease Control and Prevention) Hanoi therefore has suggested taking testing samples of all the petty traders at the market to screen for risks.
Hanoi will also take samples in areas neighboring the hotbeds and the old collective residential quarters.
As the Covid-19 outbreak is still developing in a complicated way, Tuan believes that it's necessary to strengthen preventive measures, especially testing in the community.
"I have to stress that there are still high risks in the community. There are areas with no epidemiological factors which are not subject to large-scale testing sampling, but they turn out to be the hotbeds. Thanh Xuan Trung area is an example," Tuan said.
"If people are cooperative and provide information regularly, it will be easier to discover clusters of infections. However, people are now reluctant to make reports because they are afraid they will be fined when traveling during social distancing," Tuan said.
At a working session, experts said Hanoi should carry out testing with focus on high-risk areas to separate positive cases from the community.
It would be better to focus on high-risk subjects, including shippers and transport service providers, people who work for food catering companies, and sellers at markets and supermarkets.
Hanoi Party Committee Secretary Dinh Tien Dung, on an inspection tour to the district, repeatedly emphasized that strict social distancing must be applied.
He asked to arrange checkpoints in each alley and corner, and emphasized the importance of dissemination of Information so that people can supervise each other. 
Huong Quynh

A number of industry trade groups have called on the Government and HCM City to issue travel permits to employees of their member companies to enable them to carry out some urgent tasks amid the city's social distancing.

A recent report from Viet Dragon Securities Corporation (VDSC) said that the social distancing order in Vietnam will negatively affect the supply of processed seafood in the last six months of the year due to reduced operating capacity at factories.