Hanoi isolation and vaccination strategy helped curb spread of Covid-19
Hanoi's strategy of quickly isolating areas where positive cases were found and carrying out testing campaigns at "lightening speed" helped prevent the spread of the virus.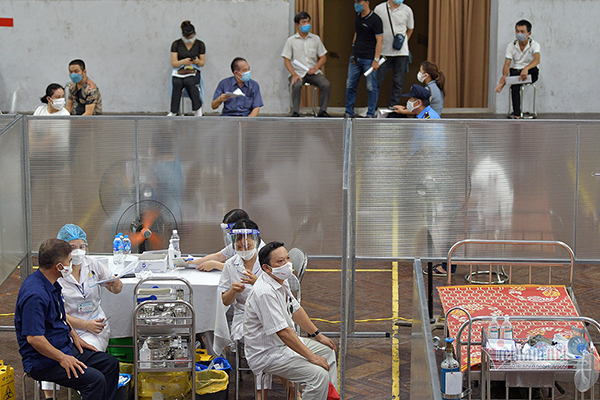 In July, Hanoi imposed social distancing under Prime Minister Directive 16 amid the complicated developments of the fourth outbreak.
It closed service establishments, except traditional markets, supermarkets and medical units, and suspended passenger road and waterway transport.
Hanoi has been consistently preventing, discovering, isolating, and giving intensive treatment.
Isolation
On February 4, 2021, Hanoi discovered Patient 1956 at Sky City apartment building in Dong Da district and immediately isolated the building. The workers there and those who entered the building were asked to make medical declarations. Those who live in the building were told to stay in their homes.
On February 4, all residents of B Block of the apartment building were sampled for SARS-CoV-2 testing.
The sampling and testing were carried out with the '4-6' formula, which means that after discovering positive cases, the sampling must be fulfilled within four hours and transferred to Hanoi CDC (Centers for Disease Control and Prevention) for testing and have results within six hours.
The testing results were given on February 5 evening with 934 negative tests. Based on the results, the Dong Da district People's Committee decided to remove the blockade outside the 88 Lang Ha apartment building, while only the 10th and 21st floors of the building were put under quarantine for 14 days.
This method helped ease the pressure on 934 residents who tested negative.
Experts pointed out that isolation, if necessary, needs to be implemented on the smallest possible scale to optimize resource allocation and take care of people.
In late July, Chuong Duong Ward found new positive cases. Hoan Kiem District authorities decided to implement medical quarantine on a part of Chuong Duong Ward from July 31 to August 14 to trace and investigate related cases.
This helped district authorities easily mobilize resources to supply food and medical workers. The families under medical quarantine were not allowed to go out. The district authorities then joined forces with retailers to provide food to all families.
A food supply team with 80 vaccinated members visited every house to help them buy essential goods if necessary.

Hanoi Party Committee Vice Secretary Nguyen Van Phong said that Hanoi will continue to isolate, quick test, trace at 'lightening speed', quarantine close contacts, and bring positive cases to medical units.
Hanoi has been strictly following requirements but has been flexible in applying anti-pandemic prevention measures. This helped reduce the number of daily positive cases throughout the four social distancing campaigns.
As of 2pm of September 21, there were 43 isolation points with 21,900 people, which means an increase in the number of green (low risk) zones and decrease in red and orange zones compared with September 6.
Vaccination, testing
Hanoi decided that by September 15, all people in areas classified with high and very high risks would be sampled for testing three times once every 2-3 days. For other areas, this was once every 5-7 days.
To implement the task, medical units not only took samples and vaccinated during the day, but at night as well.
In late July, Hanoi began the largest Covid-19 vaccination campaign in the history of the capital city, according to the Hanoi Department of Health. The campaign is expected to last for more than nine months, from July 2021 to April 2022.
By September 18, the city had given 6,432,921 shots. Of these, 5,671,487 people had received the first shot, or 94.2 percent of people aged 18 and above. This is 68.33 percent of the entire city population.
And 786,095 people received the second shot, or 12 percent of people aged 18 and above, or 9.2 percent of the city population.
Regarding testing, from September 8-15, 4,197,528 samples were taken, fulfilling 84 percent of the plan. Twenty one positive cases were discovered during the campaign.
From September 16 to September 19, 90,977 samples were taken and 47 positive cases were discovered.
Experts say that Hanoi districts took the initiative in applying measures to prevent the pandemic. Some districts have become green zones, but they have still prepared mobile medical units, mobilized private clinics and used all possible human resources.
New normal
Hanoi believes that it has controlled the outbreak after the last 60 days of social distancing. However, it understands that it must not be complacent about its achievements. Hanoi cannot be safe if the whole country remains unsafe.
Tran Dac Phu, former Director of the Preventive Medicine Department, now senior advisor to the Vietnam Public Health Emergency Operations Centre (PHEOC), said Hanoi needs to continue supervising risky areas to discover positive cases as soon as possible, and trace and isolate hotbeds.
He stressed that Hanoi has to maintain control after loosening travel restrictions and avoiding congestion to supply chains.
Hanoi Party Committee Vice Secretary Nguyen Van Phong said that Hanoi will continue to isolate, quick test, trace at 'lightening speed', quarantine close contacts, and bring positive cases to medical units. 
Huong Quynh

Hanoi needs to find solutions to prevent the coronavirus from spreading and causing overloading of the healthcare system.

Hanoi will loosen social distancing restrictions step by step after September 21 but still ensure the pandemic prevention and control protocols, said Duong Duc Tuan, vice chairman of the municipal People's Committee.