Hanoi authorities maintain consistent strategy in fighting pandemic
"My motto is deploying necessary measures drastically – narrow localization, quick tracing and large-scale testing," Hanoi Party Committee Secretary Dinh Tien Dung said.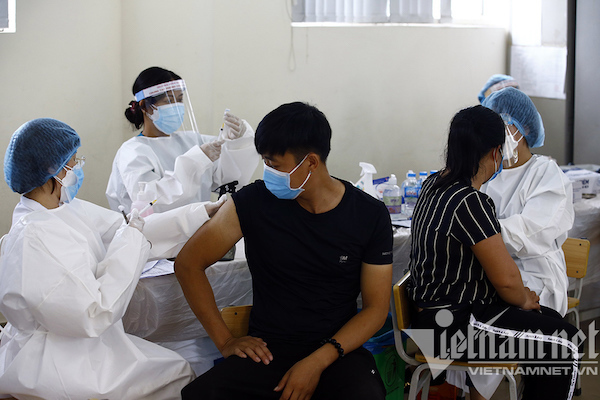 On August 24, Dung received a report on positive cases discovered in Van Chuong and Van Mieu Wards in Dong Da District. He immediately came to the site.
When he arrived, the whole area was sealed off with checkpoints and fences set up on all streets where policemen, army officers and vigilantes were on duty.
Dung and some officials quietly walked into alleys and residential quarters to check. When he came back, he was told that hundreds of policemen and army officers were mobilized to support local forces to guard at the checkpoints.
At that moment, Hanoi discovered tens of infection cases in the community, while clusters of infections increased and threatened to spread, even though the city began applying the measures as stipulated in Prime Minister Directive 16 on July 24. This, plus the serious situation in HCM City, worried Hanoians.
After hearing the report, Dung said: "There should be only some watchmen on duty and let people manage themselves, while most of the regular force should leave, except some officers to supervise the situation. What will we do if there are five such hotspots and hundreds of officers are gathered for each spot?"
Following the instruction, the regular force left, while the district authorities took the responsibility of isolating two wards of Van Mieu and Van Chuong with 20,000 residents. The district has 367,000 people.
"My motto for isolation is applying measures drastically. First, the isolation must be as narrow as possible. Second, the tracing must be as quickly as possible. Third, testing must be as large as possible. The method proves to be effective," Dung said.
The instruction by the Hanoi Party Committee Secretary in Van Chuong and Van Mieu Wards shows consistency in the viewpoint on fighting the pandemic throughout the fourth wave which broke out in late April.
The appearance of the Delta variant, which is highly contagious, caused a clusters of infections with unclear transmission sources. There were clusters of infections in populous areas, and clusters related to traditional markets, offices and supply chains.
From April 27 to September 15, Hanoi reported 4,116 cases, including 1,310 community transmitted cases, 1,795 in quarantine and 749 in isolated areas.
Isolating red areas
Director of the Hanoi Department of Health Tran Thi Nhi Ha said as instructed by Dung, the department decided that clusters of infections needed to be handled quickly, and isolation areas needed to be narrowed and strictly controlled to prevent hotbeds from spreading.
"All that effort aimed to avoid putting pressure on people's lives and livelihoods," Ha said.
According to Ha, Hanoi classified localities to every commune and ward in accordance with risk levels and narrowed the localities into 'red points' to isolate. For example, Khuong Trung was a red isolation area, where people had to stay at home and service establishments were not allowed to open.
Isolation areas were put under strict epidemiological supervision. Samples were taken every 2-3 days.
Step by step, the red areas narrowed thanks to large-scale testing. Meanwhile, other areas in Thanh Xuan district experienced normal daily activities.
This method of fighting against the pandemic has been applied consistently in all districts. Meanwhile, the city still carries out thorough tracing in the city.
In a recent report to Prime Minister, Hanoi said it has carried out the vaccination and testing campaigns at 'lightning speed'.

"My motto for isolation is applying measures drastically. First, the isolation must be as narrow as possible. Second, the tracing must be as quickly as possible. Third, testing must be as large as possible. The method proves to be effective,"
Hanoi Party Committee Secretary Dinh Tien Dung
After one week of implementation, the city has 31 areas with high and very high risks. As many as 27 of 30 districts and towns are green or low risk zones; and only 3 are low risk or high risk districts.
The number of clusters of infections fell to nine recently. The clusters have been controlled well and are getting smaller.
"Hanoi is among the group of localities with risks as classified by the Ministry of Health (MOH). But the pandemic is under control," Ha said.
Small flames stamped out immediately won't flare up
Prime Minister Pham Minh Chinh, at a working session with Hanoi's leaders on July 19, asked the municipal authorities to put the fight against the pandemic a top priority.
"Number 1 priority is not letting the situation in the capital city get worse. We are determined to protect the people's safety and security and set the goal of protecting and taking care of people's health as the first and foremost task," he said.
At another meeting, he disagreed with the decision on isolating one commune and ward though positive cases were found only on one street. The entire district was isolated though cases were found in only one commune.
The capital city has not followed this way. If Hanoi hurried to isolate large areas, it would have been easy for management agencies to control the situation, but enterprises would have faced difficulties and people's livelihoods would have been threatened.
Hanoi also doesn't force enterprises to apply 'three on-the-site' production mode in an extreme way. Therefore, 5,500 enterprises and production workshops in 88 industrial zones and clusters of industrial production workshops did not suffer production disruption. When discovering infections, enterprises have to take responsibility to screen the staff, while maintaining operations. 
Tu Giang - Lan Anh

Hanoi's strategy of quickly isolating areas where positive cases were found and carrying out testing campaigns at "lightening speed" helped prevent the spread of the virus.  

Dr Tran Dac Phu, former Head of the Preventive Medicine Department, advised Hanoi not to be hasty in granting green cards so that achievements of pandemic prevention can be maintained.