Hanoi after nearly two months of social distancing
The number of Covid-19 cases is gradually decreasing, medical capacity has improved, the "green zone" has expanded, and the "red zone" has gradually narrowed. 
This is the foundation for Hanoi to relax a number of service activities after September 15 and September 21.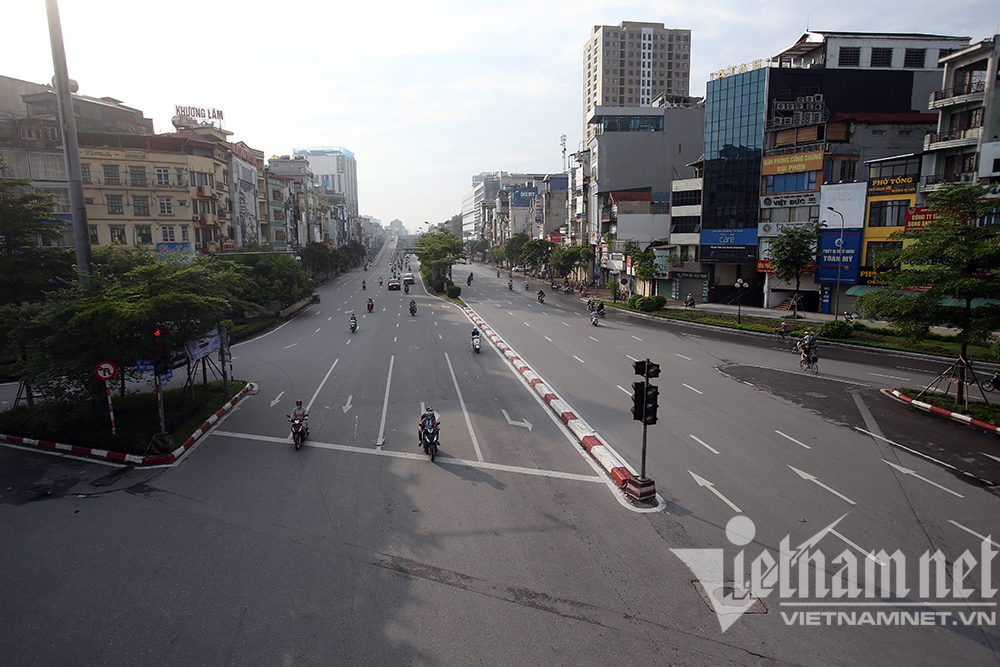 Truong Chinh Street on the days of social distancing. Photo: Pham Hai
In the face of complicated epidemic developments in the capital city and localities across the country, with the fast-spreading Delta virus strain, on July 23, the Hanoi People's Committee issued Directive No. 17 on social distancing for 15 days from 6:00 am on July 24.

During the time of social distancing, Hanoi asked service establishments to suspend operation except for those providing essential goods such as food, medicines and medical equipment...
Up to now, the city has passed three rounds of social distancing, totaling about 50 days. From September 6, the city has been divided into three regions with different levels of epidemic prevention and control, including extended social distancing in Region 1.
The extension of social distancing measures is a mandatory situation to protect the health and safety of people's lives, when the risk of disease spread is high and the amount of vaccines allocated is not enough to create herd immunity.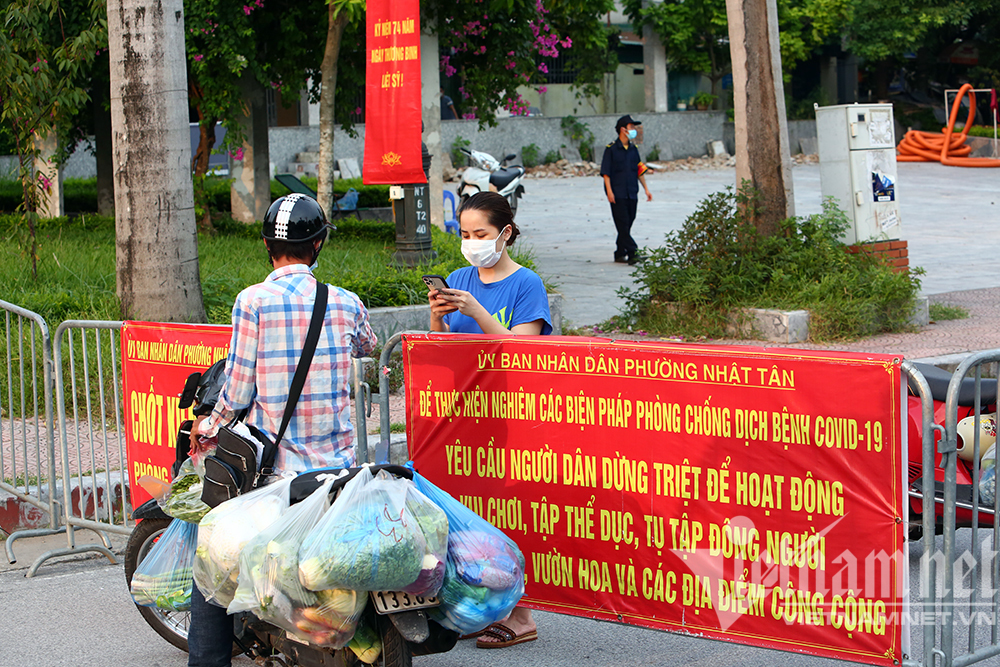 When Hanoi is under social distancing, online shopping is a good choice. Photo: Pham Hai
The number of new cases in Hanoi has tended to decrease so far. In phase 1 of social distancing, the number of cases in the community accounted for about 50%. It was about 30% for phase 2 and first half of phase 3, and only 8.7% since the second half of phase 3. In recent days, most of the cases were recorded in isolation and blockaded areas.
To improve healthcare capacity, Hanoi has closely coordinated with central hospitals, mobilized the participation of private hospitals, and improved the capacity of all medical facilities in the city.
Hanoi has also prepared for a scenario with up to 40,000 Covid-19 patients.
The city has activated a system to cope with the situation if the city has up to 10,000 Covid-19 patients. The city has prepared 14,600 hospital beds to treat mild cases, 2,000 beds for more severe cases, not to mention 2,500 beds for critically ill patients of central hospitals based in the city.
Hanoi has also repaired and upgraded the oxygen systems of all hospitals in the city to ensure treatment for 40,000 patients.
Regarding the quarantine facility, Hanoi has had 118,000 beds for F1 cases and is preparing over 40,000 beds for F1 at concentrated isolation areas, which are not newly built but are unused apartments, schools, and dormitories...
To date, the city has used less than 9% of the prepared facilities. The city also assigned districts and towns (except 4 inner districts) to build their own concentrated isolation areas, with a capacity of 1,000-5,000 beds each.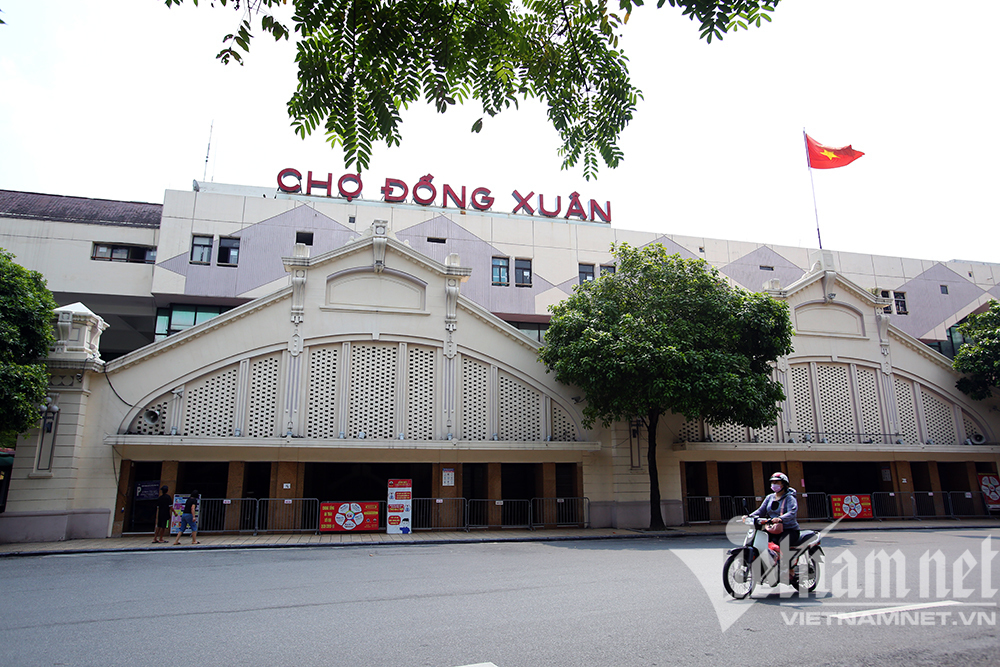 Dong Xuan Market in the days of separation. Photo: Pham Hai
As of 6pm on September 13, Hanoi had 2,351 covid-19 patients who had recovered and 1,070 cases treated at medical facilities.
Regarding Covid-19 testing, as of 6 p.m. on September 13, the city had collected more than 2.7 million test samples, detected 18 positive cases and administered more than 4.7 million vaccine doses, and used more than 4.3 million doses, accounting for 80.6% of the total of more than 5.3 million doses of vaccine allocated.
At this pace, by September 15, Hanoi will strive to achieve the goal of 100% of people aged 18 and over receiving at least 1 dose of Covid-19 vaccine.
Regarding social security, as of 4 p.m. on September 13, support worth over 1,000 billion VND had been given to disadvantaged people in the city.
From July 24 to September 13, the city imposed administrative fines worth 61 billion VND on more than 40,000 cases of violations of epidemic prevention and control regulations.
On September 13, on the basis of the results of epidemic prevention and control, the city decided to relax a number of service activities after September 15 and September 21.
However, Secretary of the Hanoi Party Committee Dinh Tien Dung still emphasized that epidemic prevention and control must continue to be a top priority.
Huong Quynh

Contributing about 45% of the country's GDP, HCM City and Hanoi are considered the two engines pulling the national economy. Both must be healthy and go hand in hand to revive the pandemic-hit economy.