Government of new term to pursue reform, taking action
Former Prime Minister Nguyen Xuan Phuc has left an indelible mark on the socio-economic development of the country. The newly-elected Prime Minister Pham Minh Chinh will continue that strong reform thinking.
With the goal of "building a tectonic, integrated, dynamic Government to serve the people", under the direction of former Prime Minister Nguyen Xuan Phuc, the most impressive success of the Government in the past five years is shown through three important points: building favorable business environment, administrative reform; macroeconomic management; and effectively controlling the Covid-19 pandemic.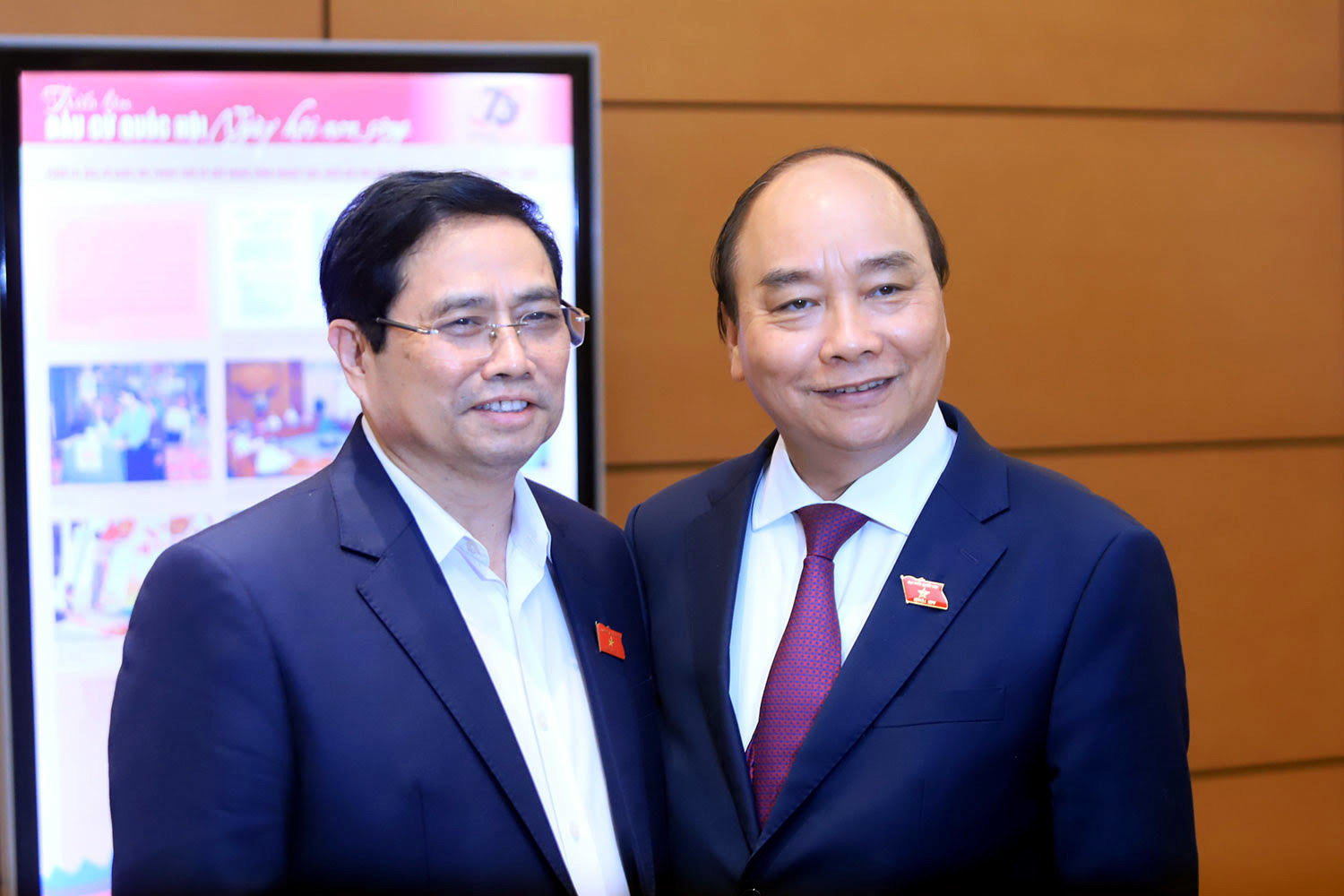 Newly-elected Prime Minister Pham Minh Chinh and his predecesor Nguyen Xuan Phuc, who is now the State President.
As commented by Professor Le Dang Doanh, "the head of the Government of the previous term had a very new approach". It is estimated that in the past term, the government chief made 570 working trips. Indeed, Mr. Nguyen Xuan Phuc was an energetic, hard-working and close-to-the-people Prime Minister. 
He had a very high working intensity, left a strong impression and lessons in approaching reality, and solving real-life problems in a practical way. 
In particular, he has listened to opinions from experts, scientists, public opinion, and the media. 
Personally, I was a retired journalist, but whenever I texted him on some hot issues, he always responded, even at midnight. He texted me very carefully. For example, "I have asked relevant agencies to immediately check the issue you mentioned…". 
Another assertive "captain" 
Mr. Phuc's successor is Mr. Pham Minh Chinh, who used to hold the following positions: Head of the Central Party Committee's Organization Commission, Secretary of the Quang Ninh Provincial Party Committee, and Deputy Minister of Public Security.
Experiencing various positions over the past decade, he has proven himself to be a leader with a vision and one who dares to think and dare to do. In terms of working methods, he is very methodical, strong and also very drastic in supervising and speeding up subordinates to implement assigned tasks with the spirit of "Don't put off until tomorrow what you can do today". 
Once in 2018, during an interview with Mr. Chinh in his living room to write an article about the streamlining of state apparatus, I accidentally heard his phone call. This surprised me very much because when he talked to me, he was very gentle and delicate. 
He asked the person on the phone about the results of a project that he had submitted to officials of the Party Central Committee's Organization Commission for consultation. I did not know how that person answered, but I realized the dissatisfaction of the head of the Central Organizing Committee. He said on the phone: "You are the department leader, but why have you waited for such a long time? If you did not receive feedback from your superiors, you should have called them to ask directly why they did not have feedback. You must change working methods if you want to perform your tasks efficiently and smoothly...". 
That was the working style of Mr. Pham Minh Chinh. 
Quang Ninh's Party Secretary Pham Minh Chinh visits families in Phinh Ho village, Bac Son commune, Mong Cai city in January 2012.
In 2014, I had the chance to talk with Quang Ninh Party Secretary Pham Minh Chinh to listen carefully to his thoughts.
I found him openly handling tasks, especially for the leader of a very complicated border province with 1.2 million people like Quang Ninh, the only province to have both land and sea border with China.
Quang Ninh's border line with China is quite long. According to Mr. Chinh, protecting the border does not mean no exchange, no relationship. In a border province, when the two sides are only separated by a small stream, if in the process of exchanging and doing business, dealing with border-related issues must be flexible to avoid collision in order to maintain solidarity and friendship.
Mr. Chinh saw the limitations that made it difficult for Quang Ninh to get rich even though it is rich in natural resources and has great potential for tourism development.
He proposed to change the growth model of Quang Ninh from "brown to green". Even though coal mining is the province's advantage, Quang Ninh should think of other plans to develop its economy in a sustainable way.
Under Mr. Chinh's leadership, Quang Ninh has been a bright spot for other provinces to learn in streamlining the administrative apparatus and the political system in general.
The most common thing about the former Prime Minister and newly-elected President Nguyen Xuan Phuc, and the newly-elected Prime Minister Pham Minh Chinh, former Head of the Central Party Committee's Organization Commission, is that they all have a strong desire for institutional reform and for taking action, being creative for the prosperous development and longevity of the country. All for the happiness of the people!
Quoc Phong

Prime Minister Pham Minh Chinh's government has inherited many legacies, but also faces many challenges, especially in institutional reform, to realize the aspirations of taking the country to new heights of development.

Mr. Pham Minh Chinh has taken office as the new Prime Minister of Vietnam.