Gourds that weigh 15 kilograms and other unusual phenomena in Vietnam
A special variety which produces gourds weighing up to 15 kilograms has been handed down by generations of Hai Phong families, while an ornamental tree variety in Dong Thap province has leaves with four colors.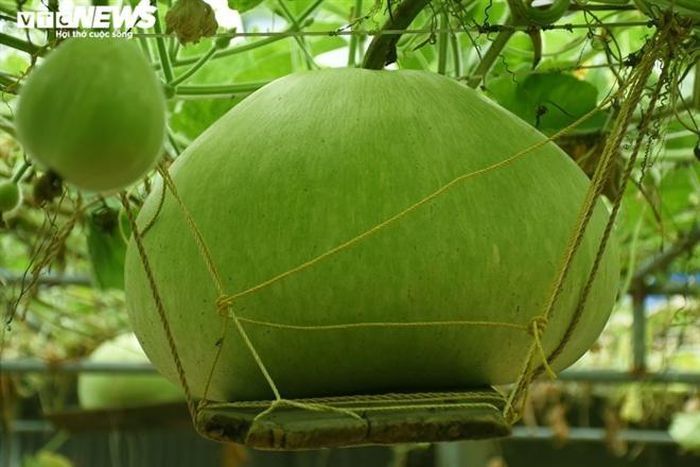 Gourds that weigh 15 kilograms
These are some of the unusual phenomena that can be seen in Vietnam.
Giant gourds
Cat Hai district in Hai Phong City is considered the 'metropolis' of these round giant gourds. The gourd has an original shape, and thick pulp and strong flavor.
People can fry the gourd with garlic and dip it in hot pot broth. However, it is tastiest if cooked with fresh shrimp. Cat Hai people like to make the soup with rau den com (Amaranthus viridis).
According to Doan Quang Chiem, who has one of the largest gourd growing areas in Nghia Lo commune, the round gourd first appeared many years ago. Previously, people grew it to make dippers used in saltwater and fish sauce production. Since saltmaking careers in Cat Hai have fallen into oblivion, the gourd is used to make daily dishes.
4-color ornamental tree
New ornamental plants have appeared in Sa Dec Flower Village. When buds come out, the leaves have a pink color. Later, the leaves turn white and then have a marble color. Finally, the leaves turn green. The flowers are white.
If the trees are grown in sunny places, they will have more beautiful colors.
Two-year old trees are sold for VND1 million. The trees shaped like pine trees are sold for VND15 million per pair. Larger trees have higher prices. Old-style trees are worth up to VND100 million.
Since the trees are odd looking, easy to grow, and believed to bring good luck, they sell very well despite the high prices.
The tree is believed to be sourced from Thailand. It attracts few pests. As the branches are flexible, they are easily bent to create bonsai style trees.
Tuna eye specialty in Phu Yen
Tuna eye is considered an "exclusive" dish of Phu Yen province. In 2014, this dish was voted by the Association of Records as one the 10 most famous seafood specialties of Vietnam.
With its high nutritional value, the ocean tuna is used to create a large variety of seafood dishes. Tuna meat is for export, while tuna eyes are used to make stewed tuna with Chinese medicinal herbs.
However, some people may be afraid of the dish, because tuna eyes are large. They may be as big as a small bowl or even larger . Many people dare not eat the eyes, but after they try, they get 'addicted'.
Fish gather for food at people's homes

With its high nutritional value, the ocean tuna is used to create a large variety of seafood dishes. Tuna meat is for export, while tuna eyes are used to make stewed tuna with Chinese medicinal herbs.
An odd thing has occurred in Dong Thap province: thousands of wild fish have flocked to local people's river wharves or fish ponds to 'seek accommodations'.
Recently, thousands of pangasius fish flocked to the river wharf owned by Nguyen Thi Nhan and her family in Doc Binh Kieu commune in Thap Muoi district of Dong Thap Province.
The total number of fish that Nhan is keeping and feeding is up to 2,000. Each of the fish weighs 1-3 kilograms. Not only catfish but other kinds of fish also come in the morning or afternoon for food.
With the presence of the fish, Nhan's home has become noisier with visitors. People come to see the fish and bring food to them.
According to Nhan, the fish are very friendly. People can touch them and feed them, and the fish do not bite.
Nhan calls the fish her 'children'. When she is away, she tells the fish to stay near the house and not to go far, or they may be caught by people.
U Minh bee sauce
U Minh area if well known for its cajuput forests and famous for its bee honey. Bee nests, including honey, beeswax and bee pupae (young bees) are some of the products.
Bee honey is used as medicine and precious gifts for friends, while beeswax is used in medicine and cosmetics production, while young bees are used to make special dishes to treat guests.
The most special dish is bee sauce. Tran Thi Van, the owner of Hai Ngo bee  sauce workshop in U Minh Town, said that as she did not want to throw young bees away, she tried to make bee sauce. The bee sauce turned out to be very delicious, so she decided to sell this kind of sauce, forming the U Minh bee sauce brand.
Man in Da Nang has collected 10,000 old banknotes
Tran Van Nam, born in 1992, has collected ancient banknotes since his childhood. After obtaining a master's degree in Japan, he returned to Vietnam, skipping a job opportunity as a university lecturer to pursue his passion of collecting old banknotes.
His collection now includes 10,000 Vietnam's banknotes and banknotes of other countries. 
Bao Anh

Sixty-year-old Nguyen Thi Tam has been making fish sauce for nearly half a century and has developed her own brand - Tam Tuoi - within the line of fish sauce made by the Cua Khe cooperative.

The second and third months of the lunar year are the time for gourmet cooks to order banh trung kien, or ant's egg cakes, a Cao Bang specialty.