Four-day campaign suceeds in stopping vegetable price chaos in HCM City
A campaign deployed within four days helped rescue the vegetable distribution network in HCM City and stop price fluctuations during social distancing.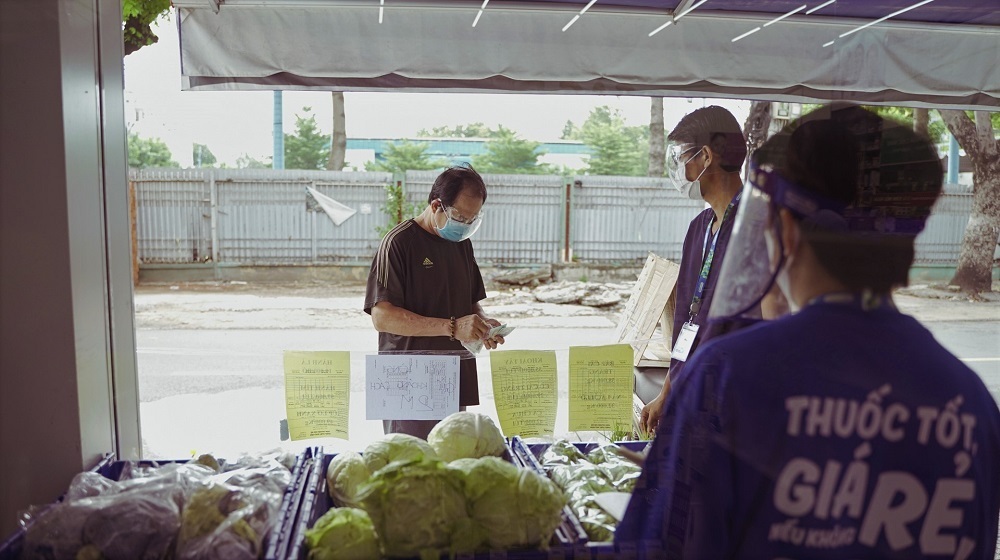 At 6.30 am on July 13, 2021, Mekong Capital CEO Nguyen Thi Minh Giang received a call from the HCM City Director of Industry and Trade Bui Ta Hoang Vu. They discussed solutions to rescue the market.
"The local industry and trade department wanted businesses to join forces to establish distribution channels of vegetables and fruits to consumers and ease congestion at supermarkets," Vu said, adding that the problem needed to be solved within four days.
At 10 am, businesses had an online meeting with the leaders of the city's industry and trade department. The meeting kicked off a campaign to support the distribution of vegetables and fruits which were in oversupply at supermarkets. The selling prices had to be no higher than the prices set by Saigon Co-op, the largest retail chain in the south.
All the CEOs of 18 enterprises showed their support and agreed to join the rescue campaign. The situation was serious at that moment, because the scarcity of food in the market had pushed prices of farm produce up. VietNamNet at the time reported that the prices of vegetables had skyrocketed, while the prices of eggs increased by twofold.
The problem for enterprises at that time was that they were selling vegetables and fruits for the first time, and they had to build their systems from the very beginning, from transporting to storing to bringing products to consumers. The enterprises specializing distributing diapers, dairy products and drugs were the newcomers and 'amateurs' in the vegetable market.
According to Giang, at first, people had to work until 2-3 am, while information was exchanged through Viber chat groups. It usually takes 3-4 weeks to establish a new supply chain, but some enterprises did it within three days.
The local industry and trade department then helped connect enterprises with appropriate agencies for QR Codes and 'green passage' to transport products easily, and exchange information with local authorities to allow shops to distribute vegetables and fruits.
"Let's solve problems as we are doing," the director of the industry and trade department told the members who joined the campaign.
Happy households
Pham Thi Thanh, a housewife in Binh Thanh District in HCM City, said she goes to the drugstore near her house to buy vegetables. Thanh said her worry about the food supply was lifted after the industry and trade department's vegetable and fruit distribution campaign kicked off.
Many other Saigonese were surprised that just four days after the first meeting, on July 17, they saw distribution chains, including Nhat Tin Logistics, Guardian, Con Cung, Pharmacy and Vinship, selling vegetables and fruits at their shops throughout the city. Vegetables and fruits later were available on Tiki, Lazada and Shopee – the best known e-commerce marketplaces.
Giang said just one week after the campaign was launched, the prices began falling. As people found there were many distribution channels and the supply was plentiful, she felt more secure. In that month, about 100 tons of vegetables were consumed a day and there were more than 1,000 sales points set up a day on peak days.
On July 20, or after 10 days of congestion, more vegetables and meat were put into circulation, which helped prices drop by 10-30 percent. The empty shelves at supermarkets and the long queues of consumers were no longer seen.
Analysts say the campaign would not have succeeded if the industry and trade department, or enterprises, had 'acted single handedly'. There had to be three parties involved in the rescue campaign – suppliers that provide products; enterprises willing to advance money to buy products and accept to incur losses; and industry and trade department to settles problems of the supply chain.
In fact, each enterprise has specific advantages and has targeted groups of clients. A representative of Tiki said that amid the pandemic, the top priority is providing essential goods in a timely manner. In order to do this, the contribution of many e-commerce sites is needed.
Chris Blank, President and CEO of Pharmacity, a drug supply chain, said the campaign needed the close cooperation of many different companies and agencies, including ones that had never partnered with enterprises before. The impressive feature was the cooperation and contribution that helped to quickly provide essential food to people.
Vu said the biggest success of the campaign was the active and responsible contribution of enterprises in the city. They created a network of distribution, helping to increase the number of sale points, and stabilized the market prices.
"This was really an unbelievable campaign. The enterprises did not meet each other face to face, but they only worked online or exchanged information via phones," Giang said. "When the city recovers from illness, we will surely meet each other." 
Quang Dinh

There is a food supply shortage in HCM City, despite the high production capacity in the Mekong Delta.
The image of taxi motorbike drivers buying food and delivering to families has become common in HCMC, as people must restrict travel during social distancing.