Foreign ownership holdups show urgent need for clarity

Despite restrictions on foreign ownership of housing in Vietnam having been lifted, concerns have been raised about the slow pace of available projects being released and a lack of updates on the number of units sold.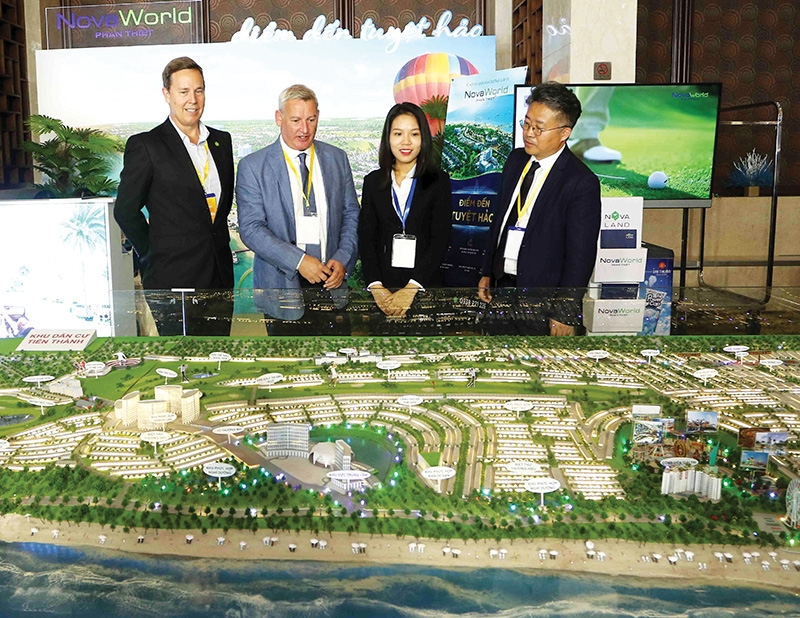 Foreign buyers are awaiting further progress and clarity regarding their rights to purchase various types of property in Vietnam 
According to a document unveiled at the Vietnam Business Forum (VBF)last week in Hanoi, Fred Burke, head of the VBF's Investment and Trade Working Group, commented that the snail-paced enactment of available projects and shortages in updates on the number of units sold are preventing foreigners from buying property in Vietnam.
"Although rules have already been issued that allow limited sales of certain types of condominiums and villas to foreign buyers, these rules have not been carried out in a timely manner, and as a result, there is confusion and risk in the market," said Burke.
The biggest problem right now is the implementation of the restrictions on foreign ownership of housing in Vietnam, which has affected foreign buyers' right to own housing in the country for over two years.
The Law on Housing 2014, which allows foreigners to own houses in Vietnam, took effect in 2015, when Decree No. 99/2015/ND-CP was enacted, specifying mechanisms for implementing these rights, came into force that December.
Decree 99 requires the Ministry of Public Security and the Ministry of National Defence to identify the areas that are subject to national security and defence, and inform the municipal and provincial people's committees. The committees must then use those ministerial guidelines to instruct the local departments of construction to identify commercial housing projects where foreign individuals and organisations are not allowed to own houses.
In the right direction
However more than four years from the day that foreigners were given the right to purchase property in Vietnam, Hanoi, Ho Chi Minh City, and the central city of Danang are some of the few cities nationwide which have issued lists of projects which can be bought by foreign buyers.
According to the document, there are good signs that the government is keen to move things forward. The final work of identifying commercial housing projects where foreign individuals and organisations are not allowed to own houses, and publishing the information online will now be done by the municipal and provincial departments of construction.
However, it appears that not much progress has been made on that side, Burke said. "This long delay is really worrying foreign individuals and organisations who are interested in buying houses in Vietnam. We hope that they will work more actively and closely with other relevant authorities to resolve these issues in accordance with instructions. This is the final step to finally effect foreigners' right to buy houses in Vietnam, which was supposed to take place more than two years ago."
Troy Griffiths, deputy managing director of Savills Vietnam, said that the restrictions on projects sold to overseas buyers was reasonable.
"From the government's point of view, this is absolutely the right decision. However, the problem lies in the implementation of these restrictions. It has been such a slow process that it has had a negative impact on the attitude of potential buyers and the liquidation of the whole market," Griffiths told VIR.
There are also issues regarding the technical limitations on ownership registration.
Foreign ownership of condominiums in a residential building is limited at 30 per cent, but the Ministry of Construction and its local departments have not yet introduced a system for registering and tracking the number of foreign-owned apartments in a given project.
In most cities and provinces, there seems to be no system for changing the ownership category from local to foreign once a property has been sold to a local buyer. This kind of risk only increases the cost of capital that is needed for building up Vietnam's housing stock.
Interested non-nationals will be crossing their fingers that the issues can be sorted out soon so the market can start to operate optimally.
It has been suggested that the municipal and provincial departments of construction should work more proactively with their people's committees to resolve the issues by publishing the lists of projects where foreigners are not allowed to own houses. This will help the housing market develop more transparently and healthily.
Luxury sought by foreign buyers
A recent report from real estate services firm CBRE Vietnam showed that Ho Chi Minh City is now the biggest home of luxury residences, the most popular properties among overseas buyers.
In many luxury projects the number of units bought by foreign individuals has reached the ceiling of 30 per cent. Although the supply of exclusive apartments improved in the last two years, with new projects in District 1 and Thu Thiem area in District 2, this sector accounted for only 3 per cent of total supply.
In 2019 only two new projects were launched, compared to five in the previous year. In the past, this segment was led by local developers due to their competitive advantage in securing prime real estate. However, in recent years joint ventures with a foreign partner have had a bigger presence, with strong funding and proven track records in developing upmarket products.
High-end residential properties, which are mainly located in the "golden sites" of Ho Chi Minh City, are still very attractive to a niche market.
The recent sales rates of new projects in this sector are all above 70 per cent, especially in the Thu Thiem area which achieved an absorption rate of nearly 100 per cent in the short post-launch period.
According to successful transactions closed by CBRE Vietnam in the luxury segment over the past five years, 68 per cent of buyers are local. Meanwhile, international buyers from CBRE Vietnam transactions are mainly from South Korea, Taiwan, Singapore, and China.
Aligning with the condominium market, luxury property selling price has increased significantly in recent years, reaching $6,308 per square metre in the fourth quarter of 2019. This represents a significant increase of 10 per cent on-year.
High-end property developers are putting a lot of effort into product research, trying to incorporate international trends and quality standards such as green building, smart homes, and imported branded materials.
In addition, the branded residence trend, which can increase the uniqueness and long-term value of the product, is being followed closely by luxury developers in Vietnam. Some notable brands that have appeared in the region are Ritz-Carlton, Four Seasons, and Mandarin Oriental.
Prices in Ho Chi Minh City's luxury property sector are catching up with developed markets in the region such as Bangkok, yet the market still holds appeal to investors due to limited supply and its status as one of the leading countries in terms of price growth potential in the area. In addition, Ho Chi Minh City has an inventory of about 700 units, while Hanoi is recorded as having none at all, compared to 30,000 units in Bangkok and 8,300 in Singapore.
Bich Ngoc

Many foreigners are keen to buy high-end apartments in Vietnam but the process is anything but straightforward.

Nguyen Tran Nam, chair of the Vietnam Real Estate Association, said the real estate market shows an increasingly important role in the national economy. However, the majority of real estate firms still have small scale and heavily rely on bank loans.