Foreign groups grasp more aviation control

Buoyed by the upcoming increase in foreign ownership limit, international investors will be offered expanded opportunities to explore the lucrative Vietnamese aviation industry.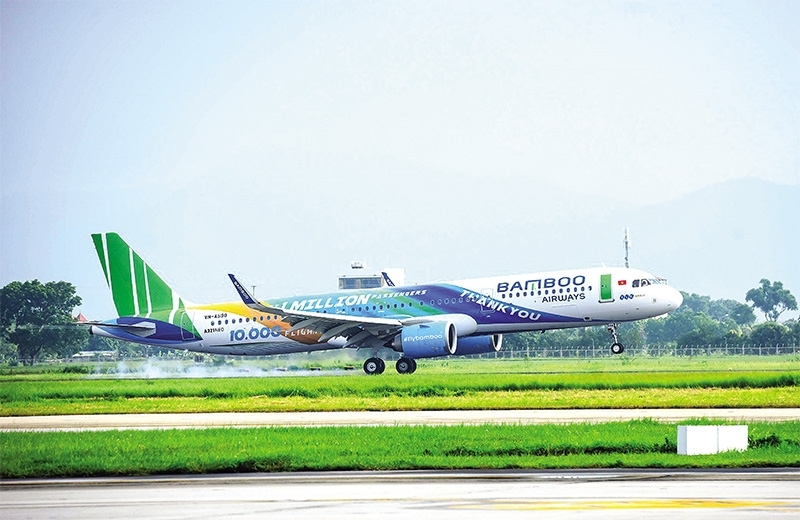 Newer airlines such as Bamboo continue to pop up in Vietnam 
However, concerns have been raised that the amendments will not fully meet the expectations of interested parties, preventing aviation in the country from truly thriving.
The government has agreed to raise the foreign ownership limit (FOL) in Vietnamese air carriage enterprises to 34 per cent from the current 30 per cent from the start of next year, according to Decree No.89/2019/ND-CP promulgated on November 15, amending some regulations of 2016's Decree No.92/2016/ND-CP, covering the conditional business lines in the aviation sector, and Decree No.30/2013/ND-CP from 2013 on the air carriage business and common aviation activities.
Decree 89 will take effect on January 1, 2020.
Industry insiders say that the changes are expected to facilitate upcoming state stake divestments of listed airlines, including national flag carrier Vietnam Airlines (VNA), Vietjet, Jetstar Pacific, and Bamboo Airways, while opening room for international investors to buy a sizable chunk of shares.
Together with the FOL lift, the new decree also removes the condition of requiring the Minister of Transport's approval of stake transfer and capital contribution to a foreign partner in air carriage companies.
Potential beneficiaries
Vaibhav Saxena, lawyer at Vietnam International Law Firm added that the FOL lift will increase attractiveness into the local aviation market thanks to its growth potential. It creates favourable conditions not only for enterprises to set up airlines but also for investing in airports. "Foreign investors will certainly be interested in well-established airlines. Air travel is booming and features more affordability. Thus, it certainly has the potential for continued development and can be a lucrative investment," Saxena told VIR.
Ho Chi Minh City Securities Corporation said that the change will benefit existing airlines as it allows them to increase capital to expand operations. Vietjet is expected to be the first air carrier to reach the new FOL of 34 per cent as billionaire owner Nguyen Thi Phuong Thao seeks a strategic partner moving into 2020.
VNA is another beneficiary. Having total assets of VND82.4 trillion ($3.58 billion), and chartered capital of nearly VND14.2 trillion ($617.4 million), it began the listing of 1.4 billion shares on the Ho Chi Minh City Stock Exchange in May. Under the 2019-2020 divestment plan, VNA will have to divest 35.19 per cent of state stakes in order to reduce state holding to 51 per cent from the current 86.19 per cent.
Pham Ngoc Minh, chairman of the board of management at VNA, revealed that the divestment plan has been completed and is being submitted to the authorised agency for approval, expecting to find capable investors to meet its development demands.
Japan's largest airline ANA Holdings – the current strategic overseas partner of VNA – will be the first to approach the opportunity to increase its holding in the national flag carrier from its current 8.8 per cent. Elsewhere, low-cost airline Jetstar Pacific may see Qantas Airways of Australia raise its 30 per cent to the new 34 per cent rate when the new decree enters into force.
Newcomer Bamboo Airways, which is operated by property giant FLC, is planning to list on the stock exchange to conduct its initial public offering, aiming to raise its capital to over VND6 trillion ($261 million).
With these moves, the FOL lift will be a springboard for multinational corporations to penetrate into the burgeoning market. Back in 2016, VNA's stake sale and that of the Airports Corporation of Vietnam were the hottest in the aviation industry, as many multinationals lined up to take part in auctions. As a result, the Hanoi-based airline gained a valuable partner when ANA Holdings bought nearly 8.8 per cent stake for VND2.38 trillion ($103.5 million).
Not quite enough
In spite of the positive changes, doubts over whether they are enough to increase attractiveness of the aviation sector, and the possibilities of international ventures to state stake acquisitions have been raised.
Lawyer Saxena said that the FOL improvement is a positive sign from the government and sends a clear message that Vietnam is determined to further open up to be a better competitive economy, though the state still wants to maintain its control. "The 34 per cent is an optimistic shift, but needs further upscaling. The aviation market is open in a number of countries and in few it is largely privatised."
At present, the FOL in Thai airlines is limited to 49 per cent, while in both Indonesia and Malaysia, local investors must own more than 50 per cent. In the Philippines, the FOL is less than 40 per cent.
Echoing Saxena's view, other senior lawyers, including Nguyen Huy Quang, managing partner of NHQuang&Associates, said, "International ventures are interested in the Vietnamese aviation sector, which boasts two-digit growth. However, the majority are still concerned with the state holding. Indeed, the latest FOL lift is not enough."
According to lawyers, in order to boost attractiveness, further consideration is required by the government to match private industry's increasing demands. It is also necessary to ask international ventures to invest good sums, and giant projects must get government support by way of the build-operate-transfer model. Moreover, the government has its own valid constraints from a national economy safeguarding perspective and is limiting government guarantee including foreign exchange convertibility aspects.
The other concern is Decree 89 amends four articles, focusing on the conditions for air carriage businesses and airport businesses – the two most attractive to domestic and foreign financiers, while the aviation sector still contains many regulatory and bureaucratic hurdles for potential new backers. For example, there are still 120 types of permits and over 25 types of approvals provided for in the various regulations related to the airline industry.
With the FOL in an air carriage enterprise reaching 34 per cent, the amendment cements the condition that the largest shareholder will be required to be a Vietnamese company or individual. If the Vietnamese company or entity has foreign investment capital, that capital cannot exceed 49 per cent of the company's capital. VIR
Bich Thuy

The national flag carrier Vietnam Airlines said on November 28 that it is opening two new routes from Vietnam to China's Shenzhen to meet rising air travel demand.

The booming aviation sector in Việt Nam needs investment from the private sector to ensure that it has adequate airport infrastructure for continued...