Focus turns to stamping out hotbeds, greening the economy
The acceleration of vaccinations will help restore production and business activities, and expand green production zones and a green workforce for the economy.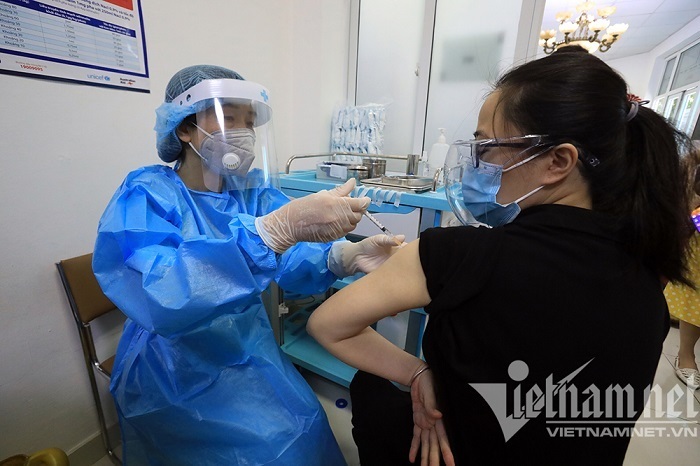 The acceleration of vaccinations will help restore production and business activities
Reopening the economy
"HCM City was in lockdown for more than 100 days, since May 31. But the city cannot continue the lockdown forever. People and businesses have become worn out, and the city's budget has become exhausted. The city cannot expect more support from the central government," said Vu Thanh Tu Anh from Fulbright University Vietnam.
The expert stressed that it would be a mistake if the city continues to impose a lockdown when the city has been vaccinated on a large scale.
"I once advocated a lockdown strengthening on July 9 and didn't agree with the lockdown loosening on August 15, because pandemic developments at that time were complicated and the vaccination rate was still low which did not protect the group of people with high risks," Anh said.
"In such conditions, we had to 'play for time', while waiting for vaccines," he explained. "But now, when the vaccination coverage has expanded, it will be a blunder to continue closing the doors."
According to the National Vaccination Portal, Vietnam has given more than 35 million doses, including 28,745, 680 first injections and 6,930,160 second shots.
The vaccination rate in Vietnam has increased significantly compared with August, though it is still lower than other regional countries.
The increased number of vaccinated people and recovered Covid patients is the foundation for the proposals on reopening some business fields.
Foreign invested enterprise associations, in a recent petition to the Government, also emphasized the decisive role of vaccinations. They hope that medical workers, elderly people, people with underlying health conditions, shippers, food and essential medical product sellers, and workers in IZs, at ports and logistics chain, especially in HCM City and southern provinces, will be given priority for vaccination.
They stressed that vaccination is the best solution for the safe reopening and recovery of the economy.
Do Thai Vuong, Deputy Chair of Unilever Vietnam, said vaccinating workers is a long term solution to stabilize production amid the spread of the Delta variant. The Government has made every effort to vaccinate workers in southern industrial zones (IZs) and wholesale markets. In the time to come, it should give priority to key IZs in the north, petty merchants and retailers.
Green zones for production, travel
As workers have been vaccinated, the HCM City Export Processing and Industrial Zones Authority (Hepza) has proposed a 'green production zone' plan.

A production zone would be recognized as 'green' if 100 percent of workers at production lines have at least the first shot and at least 30 percent have second shots; and workers are residing in 'green areas' of the city. Also, production locations of the green zones must be separate from other production units.
In case Covid patients are discovered in 'green production zone', it's necessary to trace contacts and separate them from the zone, and carry out disinfection and PCR testing for all workers in the zone.
For patients who cannot meet the requirements for home quarantine, they will be brought into specific areas of IZs and export processing zones (EPZs) for treatment and supervision. Close contacts of Covid patients will still be allowed to continue working. Enterprises will be allowed to supplement workers in green production zones if workers can meet the requirements.
The idea was mentioned by Deputy Prime Minister Le Van Thanh at a recent meeting. He stressed that it would be better not to apply rigid regulations, closing factories with thousands of workers whenever infections are found there.
If the patient only has relations witj some close contacts, the close contacts will be isolated, while the production workshops can continue operation.
Regarding safe travel, Luong Hoai Nam, a member of the Tourism Advisory Board (TAB) mentioned the vaccine passport trend globally. Phu Quoc will be the first destination in Vietnam to run a pilot program on receiving foreign travelers with vaccine passports.
He stressed that it's necessary to use vaccine passports now to revive and develop the domestic tourism market, because it's unclear when the pandemic will end.
With an increasingly high vaccination rate, Nam said that a Vietnamese vaccine passport is needed for the reopening of the domestic aviation market and domestic tourism, while preparing for the reopening of the international market.
Some experts have suggested allowing fully vaccinated people and recovered Covid patients to participate in inter-provincial transportation activities. This would ensure uninterrupted goods supply and help save transport and logistics enterprises. 
H. Nam

Businesses in HCM City have called for support policies to help them revive operations after disruption caused by the COVID-19 pandemic.

Vietnam is in a favorable condition to take advantage of free trade agreements (FTA) that the country is a part of, as well as growing global demand in the late-year shopping season.