First osteopetrosis surgery in Vietnam successful after 3.5-hour operation
An operation lasting 3.5 hours that replaced the hip of a patient suffering from "marble bone" in late October was the first surgery of its kind in Vietnam and the 30th in the world.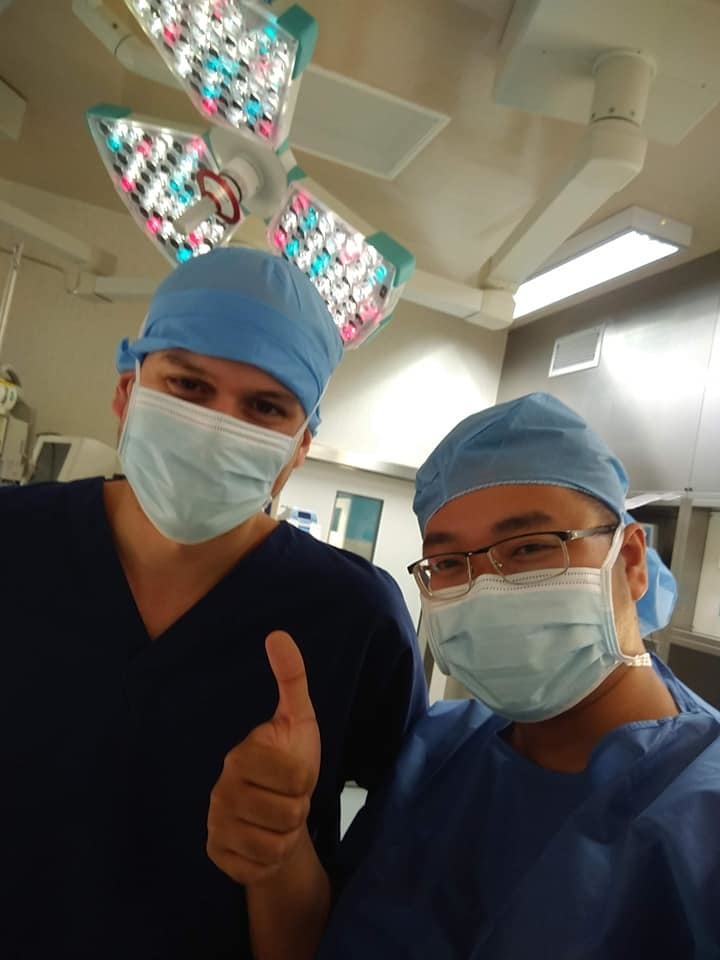 Nguyen Dinh Hieu, Deputy Head of the Department for Sports Medicine and Orthopaedics (right)
"This was a war of nerves and brains for both surgeons and the patient," said Nguyen Dinh Hieu, Deputy Head of the Department for Sports Medicine and Orthopaedics, of E Hospital in Hanoi.
In general, hip replacement surgery lasts 45-60 minutes. But this surgery lasted 3.5 hours conducted by a team of four surgeons and many nurses.
Marble bone is a rarely seen disease, which is caused by genetic mutation. There are two severe forms of the disease, which may cause death before a patient turns one year or 10 years old. The third form is milder, but it causes inconveniences to patients.
Hieu explained bone formation and bone destruction exist at the same time. The imbalance of the two processes causes abnormalities. In the case of osteopetrosis, bone destruction cannot be implemented, which leads to an increase in bone density and calcium deposits in bone. As a result, bone cannot develop and becomes brittle and easy to break.
"This disease, as opposed to osteoporosis and Osteogenesis Imperfecta, or OI, is characterized by overly dense bones," he said.
The patient who had the operation was Do Hong H, 24, from VinhPhuc. Because of the disease, H had broken her bones five times in the last 24 years.
H's two elder sisters also suffer from the disease. Their problem was identified in 2002 at the National Hospital of Pediatrics and they were the first Vietnamese patients diagnosed with osteopetrosis. Three of them have broken bones many times.
H is 1.49 meters tall and the hip joints on both sides did not develop. She suffered pain in that area. Her right leg gradually became shorter than the left one. She limped all the time which affected her spine.
In August, surgeons at E Hospital, after many consultations, decided to carry out a hip replacement surgery for H.
"When H was informed that she could have surgery, I felt like I could see a light in my life," Hieu recalled.
H was hospitalized three weeks before the surgery. She had health examination and imaging diagnosis. Two weeks before the surgery, she was put in traction. As she suffered limb shortness for over 20 years, soft tissues contracted. If she had undergone surgery without the traction, she might have become paralyzed. After two weeks of traction, the difference in limb length was shortened to one centimeter.
Hieu said he and his co-workers were under stress the days before the surgery. To date, there have been only 16 articles about the surgeries to replace hip joint in osteopetrosis patients, carried out in China, Japan and France. If the operation succeeded, it would be the 30th successful operation in the world.
According to Hieu, surgery of this kind has many possible complications. The first one is fracture during and after surgery because the bone is brittle. This has happened with 70 percent of the 30 previous surgeries. Another complication is nerve paralysis.
If the femoral canal was solid, it would be impossible to put equipment into the canal to carry out operations.
At 9 am on October 26, the patient was anesthetized. The surgery was full of difficulty as anticipated by Hieu and his co-workers. It was completed at 12.30, after 3.5 hours.
"Only when receiving the patient from the recovery room and seeing that her leg could move and was not paralyzed did we feel reassured. Though we prepared many scenarios, we could only sigh with relief at the last minute," Hieu said.
The patient's condition improved two weeks later. At this time, the patient is still experiencing pain because of the long incision, the bone destruction and fracture. When the situation becomes stable, doctors will assess the improvement after the surgery. 
Ngoc Trang

Using the same ECMO (extracorporeal membrane oxygenation) machine for two patients was a daring decision by doctors at Hospital 175 which brought wonderful results: both the patients were saved.

According to a report on mental health by the Lancet Commission, mental disorders are on the rise in every country in the world and will cost the global economy $16 trillion by 2030.