Farmers make modest profits and merchants pocket big money, so who's to blame?
Experts have pointed out that the distribution of benefits in the livestock production chain has become unreasonable. Farmers who make products only earn a modest profit, while most of the money goes to merchants' pockets.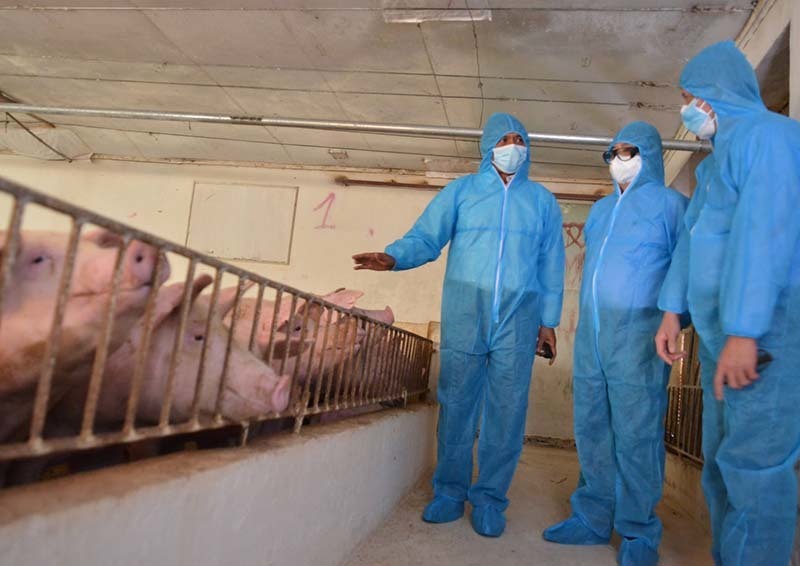 Pork prices have increased again after many days of falling. Nguyen Cong Bac, the owner of a farm with tens of thousands of pigs in Son La province, said he now can break even.
However, he incurred a big loss of VND10 billion and had 2.5 million unsold breeders when the pork prices fell in August and bottomed out in October. With the prices, the money from the sale of pigs was not high enough to pay for bran.
Le Phuong Hai, the owner of a farm with hundreds of thousands of chicken in Dong Nai province, said though chicken prices have increased, he still has to sell at below production costs. He incurs a loss of VND1,000-2,000 for every chicken sold. Meanwhile, sales have been going slowly as many slaughterhouses have not resumed operation and merchants are buying chicken in small quantities.
The chicken price once dropped to a low of VND7,000 per kilogram and then moved up slightly to VND9,000 per kilogram. With that price, he incurred a loss of VND20,000 per kilogram. So, he has suffered a loss of VND8 billion when selling big flocks of chickens.
However, the farmer is happy that he could sell the chicken. "If they could not have been sold, they would have trampled each other to death. And I would have lost everything," he said.
Meanwhile, Le Thanh Phuong, Director of Emivest Vietnam, said the live-weight pork price is VND20,000 lower than the production cost, while the chicken price is VND10,000 per kilogram lower. Chicken eggs are also selling at a loss of VND600 per egg.
"Every day, we provide VND100,000 chickens, 2,000 pigs and 1 million eggs to the market. The fact that all products are selling at a loss means big losses for the enterprise," he said.
He said farmers and enterprises are facing problems, including an animal feed price increase of 30 percent. Labor costs, biosafety investment and epidemic prevention costs have also increased. Meanwhile, selling prices cannot be raised because of weak demand.
Nguyen Van Trong, Deputy Head of the Department of Animal Breeding under the Ministry of Agriculture and Rural Development (MARD), said in the first nine months of the year, the pork price once climbed to VND75,000 per kilogram, but it dropped dramatically to VND30,000-35,000 per kilogram.
While the live-weight pork price fell sharply and farmers had to sell pigs at a loss, the retail prices at traditional markets in Hanoi and HCM City remain very high, at VND110,000-120,000 per kilogram.
Trong said the problem lies in distribution.
At markets in rural areas, pork prices are between VND80,000 and VND90,000, which are believed to be reasonable as they ensure benefits for producers, distributors and consumers.

Experts have pointed out that the distribution of benefits in the livestock production chain has become unreasonable. Farmers who make products only earn a modest profit, while most of the money goes to merchants' pockets.
Trong also confirmed that chicken prices in July and August were VND15,000-20,000 per kilogram in northern provinces, and VND6,000-10,000 per kilogram in the south, which meant big losses for farmers.
Profits need to be distributed another way
Confirming that farmers now have to sell pigs and chickens at a loss, while consumers still have to pay higher prices for meat, La Van Kinh, Deputy Chair of the Animal Feed Association, commented that the profit distribution of the livestock production chain is unreasonable.
Kinh thinks that if the Ministry of Industry and Trade (MOIT) could implement price management well, the consumption volume would be higher and the prices would increase.
He said that farmers are in the most disadvantageous position and are the most vulnerable links of the livestock chain. The input costs of farmers are determined by animal feed companies, while the output is determined by buyers. In other words, farmers don't have a voice in the livestock production chain.
Therefore, Kinh has called on state management agencies to make interventions to ensure reasonable benefits for those in the production chain.
In Taiwan, for example, the animal feed price is put under the control of management agencies. If animal feed companies want to raise prices, they have to ask for permission from agencies and prove that the increases are reasonable.
Explaining the gap between farmers' selling prices and retail prices, Trong said this was because of the difficulties in transport which pushed transport cost up.
Nguyen Tri Cong, Chair of the Dong Nai Livestock Association, said not only MARD, but MOIT should get involved in price management to activate more distribution channels.
In the immediate time, for poultry, Cong suggested allocating output based on demand for export and domestic consumption. As for pigs, he suggested that MARD strictly control the existing herd of sows (about 2.93 million sows) to calculate the meat output. 
Tam An

With the current low prices, farmers will take a loss of VND2 million when selling a pig. If the prices keep decreasing, farmers will give up farming, resulting in pork shortage for Tet (lunar New Year) sale season.

Despite disruptions from the COVID-19 pandemic, higher feed costs and lower meat prices, livestock companies in Vietnam still recorded positive...