Farmers incur big losses as export channels to China get stuck due to Covid crisis
Vegetable and fruit prices have plummeted recently because they cannot be exported to China. In fruit centers, farmers are incurring big losses despite bountiful crops.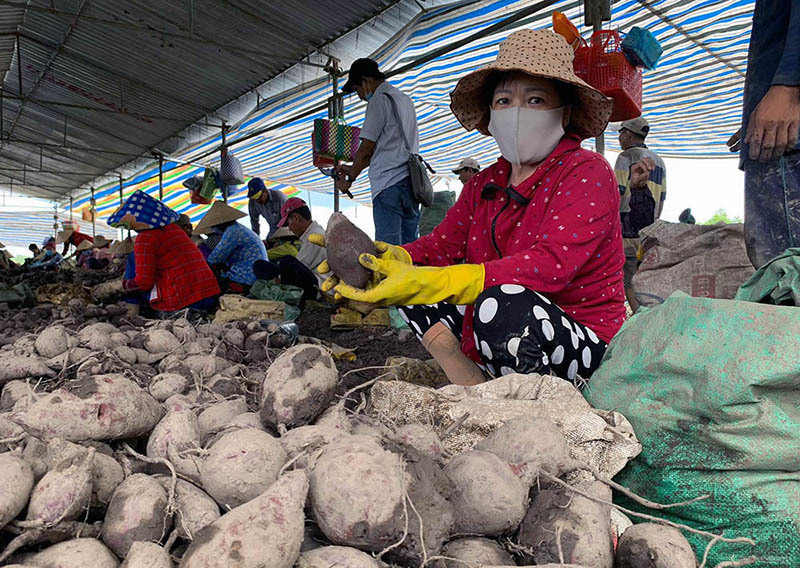 Vietnam is in high fruit harvesting season with the output expected to reach hundreds of thousands of tons. But, exports to China have got stuck because of Covid-19.
Prices have decreased dramatically.
At purple sweet potato centers in Vinh Long and Dong Thap, the price has dropped by 20 times since late April to VND500-600 per kilogram.
Le Van Tan, who grows sweet potatoes on 3 hectares in Chau Thanh district in Dong Thap, said farmers have never witnessed such a tragic crop before as the prices have dropped to the deepest low. Tan estimates that with the cultivation cost of VND15-20 million per hectare, he will incur a loss of VND500 million this year.
The biggest problem is that if sweet potatoes cannot be sold, all the products will have to be thrown away as they will rot.
In the dragon fruit metropolis of Binh Thuan, merchants have not turned up to collect the fruit.
The director of a dragon fruit export company said that demand from China has become weaker, which has led to a sharp price fall to VND2,000-3,000.
"The output of dragonfruit grown with artificial lighting is not high, but the production cost is high. Binh Thuan farmers have incurred big losses at this price," he said.
Jackfruit prices in Tien Giang, Dong Nai and Dak Lak have also dropped. The sharpest price decrease is seen in Tien Giang, where high-quality jackfruit is sold at VND5,000-10,000 per kilogram only.
In Central Highlands, avocado is sold at just VND5,000 per kilogram, red flesh dragon fruit at VND1,500 per kilogram, while mango is VND3,000-5,000.
Bien Tan Tai, Deputy Director of Binh Thuan Industry and Trade Department, said the provincial authorities will call on businesses, cooperatives and exporters to buy dragon fruit to store in cold warehouses.
The province has asked for help to organize an online conference between Binh Thuan enterprises and Indian enterprises to promote the sale of Binh Thuan dragon fruit.
As for Dong Thap, with an estimated sweet potatoes of 8,494 tons still on the fields, the province has called on enterprises to join forces to buy farm produce.
Nguyen Van Tap, chair of Binh Tan District in Vinh Long province, said the district has called institutions and individuals to 'rescue' sweet potatoes.
"We have agreed that sweet potatoes will be collected at VND5,000 per kilogram. This will help farmers ease difficulties, finish the harvesting early, and prepare for the next crop," he said.

Vegetable and fruit prices have plummeted recently because they cannot be exported to China. In fruit centers, farmers are incurring big losses despite bountiful crops.
Dak Lak agriculture department, after hearing that the avocado price this year was lower than previous years, has assigned local sub-departments to report the exact output and prices before it builds a plan to help farmers.
The Ministry of Agriculture and Rural Development (MARD) has confirmed that the consumption and transport of some kinds of farm produce are facing difficulties because of Covid-19.
The ministry has sent a dispatch to relevant ministries and branches, asking to create favorable conditions for farm produce carrying trucks to travel among localities, and cut toll and storage fees to boost trade. It has also suggested a 'vaccine passport' mechanism for drivers that carry farm produce.
However, the Ministry stressed that these are just temporary solutions. In the long term, it is necessary to establish a two-way information channel. Local departments need to take the initiative in sending information to the ministry 15-20 days before harvesting.
"It'll be too late if we only begin thinking of distribution and call for 'rescue' when rice and fruit ripen," said MARD Minister Le Minh Hoan.
He went on to say that it's necessary to set up a digital transformation system. The ministry will build a database with updated information which allows distributors to get information about cultivation and harvesting plans so as to prepare storage houses and transport facilities. 
T. An

For years, farmers had to rely on the wholesale distribution method and could not sell products directly to consumers. But that has changed in recent years.

Hai Duong's first farm produce, including cabbage and chicken eggs, are being sold on voso.vn, an e-commerce website, while an online stall distributing Hai Duong's produce has been set up.