Farm produce exports: specialties reach new markets
Despite Covid-19, Vietnam's farm produce exports still achieved impressive results, especially litchis.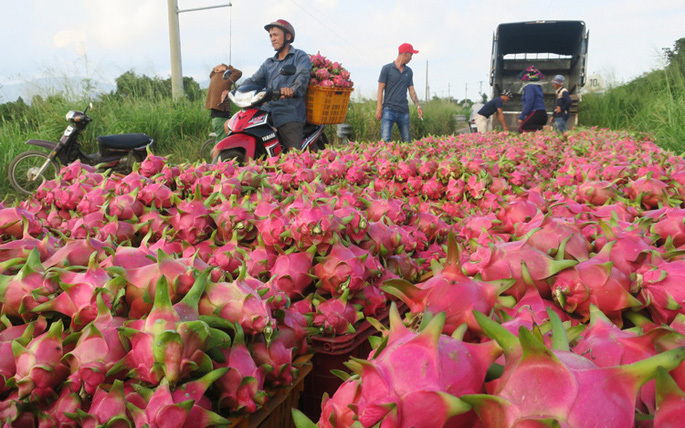 The H1 report of the agriculture ministry showed that despite the complicated developments of the Covid-19 pandemic which have adversely affected socio-economic life, caused global supply disruptions and directly affected production and export, Vietnam's farm produce exports still exceeded the plan.
In H1, Vietnam's exported $24.23 billion worth of farm produce, an increase of 28.2 percent over the same period 2020. Of this, the export of major produce brought turnover of $10.4 billion, up by 13.3 percent, seafood exports $4.05 billion, forestry products $8.7 billion, up by 61.5 percent.
China, the US, Japan and South Korea were the major biggest consumers of Vietnam's farm produce.
The US has become the biggest client of Vietnam, consuming $6.7 billion worth of products, up by 60 percent, or 27.9 percent of Vietnam's farm produce export value, followed by China, consuming $.475 billion, up by 32.1 percent, or 19.6 percent of total export value.
The Ministry of Agriculture and Rural Development (MARD) said Vietnam's farm produce exports increased thanks to the efforts to open new markets such as Peru and Australia, and the proactive research, prediction and exploitation of FTAs. The cooperation with embassies and commercial affairs divisions in key target markets of Japan, South Korea, the US, EU and China to exchange and provide information was also helpful in defining timely solutions.
Relevant agencies created most favorable conditions for Chinese businesses to enter Vietnam, and negotiate with Vietnamese businesses and collect litchis. They also negotiated with other countries to connect and promote fruit and seafood exports to China, Thailand the EU.
Despite Covid-19 and restricted travel, Hai Duong and Bac Giang still smoothly exported litchis to China. Their litchi specialties were welcomed in the choosy markets of Japan, Australia, Singapore and the EU.
In Japan, Vietnam's litchis were displayed at over 300 supermarket shelves at m prices of VND350,000-500,000 per kilogram. The first consignment of litchis to Japan sold out in several hours.
Vietnam's litchis were the topic of discussion at many meetings with Japanese partners this year. The information about litchis is regularly updated on the news websites of the Japanese community in Japan, according to Vu Hong Nam, Japanese Ambassador to Japan, who attended an online conference on Bac Giang's litchis consumption in early June.
Nam then estimated that 1,000 tons of fresh litchis would be exported to Japan this crop.

Despite the complicated developments of the Covid-19 pandemic which have adversely affected socio-economic life, caused global supply disruptions and directly affected production and export, Vietnam's farm produce exports still exceeded the plan.
At a recent auction in Perth City of Australia, one box of fresh litchis was sold at 3,000 AUD, or VND52 million. Vietnam's litchis were also sold at high prices of up to VND500,000 per kilogram, in some other choosy markets in Europe, such as France, Germany and the Netherlands.
Domestic market
MARD reported that products such as litchis, pangasius (catfish), fish farmed in reservoirs and cooperatives' safe aquatic products were put on sale at large supermarket chains such as Big C, Aeon, Hapro and Vinmart.
Farm produce have also been displayed in a new market – e-commerce websites, including Alibaba, Amazon, Sendo, Voso, Shopee and Postmart.
Speaking at a conference on digital transformation in agriculture and rural development on June 18, Chu Quang Hao from Vietnam Post said there have been 'big changes' on voso.vn (Viettel Post) postmart.vn (VnPost)
The number of people entering the trading floor has increased sharply, from several thousands of visitors a day to hundreds of thousands. Since June 1, there have been 4.6 million visits to learn about litchis and 36.000-37,000 orders have been placed each day.
"Litchis sell very well in Tay Ninh. The supply cannot satisfy the demand sometimes," Hao said, adding that about 8,000 tons of litchis will be consumed via e-commerce platforms this year. The figure is just 4-5 percent of total litchi output, but it is unprecedentedly high.
After litchis, Son La's mango and plum have also been brought to e-commerce sites. Localities have been promoting online sale in order to boost sales.
MARD Minister Le Minh Hoan said the story about litchis should prompt enterprises and farmers to think of a new development and farm produce consumption for the time to come.
He went on to say that the biggest lesson from the litchi crop is not how many tons of litchis have been sold, but which model Vietnam should apply to obtain sustainable value in farm produce consumption.
This is a new way of thinking – activating a system of exchanging information, and connecting data about demand and supply to boost distribution.
This will drive farmers and enterprises to a transparent and smart agriculture. Producers will understand the market demand about output, standards and distribution methods. And consumers will know the origin of products, and distributors and retailers know the status of material growing areas at different moments.
"We don't wait for the harvesting time to calculate how we will distribute farm produce. We can do that and draw scenarios on distribution based on predictions and information," he said.
Tam An

The Ministry of Science and Technology has just partnered with the Ministry of Agriculture and Rural Development to launch a program for the implementation of technology in agriculture in the period from 2021-2030.

Vietnam's aquatic product export is expected to hit 8.7-9 billion USD, a year-on-year increase of 5-7 percent compared with last year's figure as demand is rising in many countries thanks to vaccination.