Evaluating first year of CPTPP in action

The landmark Comprehensive and Progressive Agreement for Trans-Pacific Partnership has been in force for more than a year now, influencing the trade activities of member economies.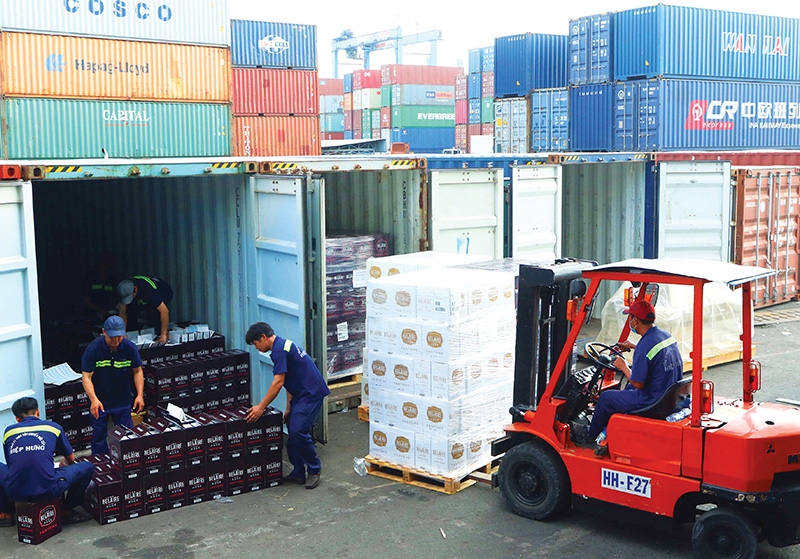 The CPTPP offers vast chances for Vietnamese enterprises to boost exports to member countries of the agreement
Senior economist Nguyen Mai digs into its impacts on the local economy and how benefits can be maximised for the sake of Vietnam's sustainable development in the forthcoming years.  
Unlike the country's engagement with the World Trade Organization and other free trade agreements (FTAs), Vietnam is one of the co-founders of the Comprehensive and Progressive Agreement for Trans-Pacific Partnership (CPTPP), participating in compiling the historic agreement, thus enabling the country to hold the initiative in the negotiation process to protect the national interests in relations with other member countries. As a lower medium-income nation, Vietnam is entitled to benefit from several specific incentives under the CPTPP.
Senior economist Nguyen Mai
When carrying out investment and trade transactions with developed nations joining the CPTPP such as Australia, Canada, Japan, or Singapore, Vietnam will be encountering multiple challenges in goods exchange, foreign direct investment (FDI) attraction, foreign exchange and monetary market, while governance capacity, production management, and market research of local firms remains limited compared to their counterparts in CPTPP member countries.
The deal has set forth high requirements on business transparency and intellectual property rights, as well as featured cohesive and binding mechanisms on dispute settlement. For instance, the requirement on opening up the domestic market to goods and services from CPTPP member countries would put pressure on Vietnamese goods and services on home turf. Without good quality and competitive pricing, the threat that local firms could lose ground to the hands of foreign players in the home market is eminent.
The CPTPP also brings fresh opportunities for local businesses to broaden import and export markets, choosing potential business partners and searching investment opportunities in other member countries by virtue of removing 95 per cent of customs duties in a vast market with around 500 million in population, holding 12.9 per cent of global GDP and 14.9 per cent of global trade transactions.
The agreement mandates high requirements on the regulatory system and state management, requiring stakeholder economies to carry out institutional reforms following international standards, boost competitiveness, simplify procedures, mobilise and ensure the best use of domestic resources, and take advantage of external sources – particularly in customs, e-commerce, government procurement, intellectual property, investment, market access, principles of origin, and non-tariff measures.
A recent survey by renowned HSBC showed that about 63 per cent of local companies believe the CPTPP has a positive impact on their business operations, whereas 46 per cent of 1,150 surveyed businesses based in CPTPP member countries expressed expectations for positive benefits from joining it.
The Vietnam Textile and Apparel Association (Vitas) maintained that with zero per cent tariffs, the deal would help the local textile and apparel industry grab a bigger piece of the pie in several markets currently facing high tariffs such as Canada, New Zealand, and Australia.
The CPTPP comprises of opportunities for local footwear businesses to bolster export to potential markets in Mexico, Canada, and Peru too. With Japan – a major market for Vietnamese-made leather and footwear items and handbags with an average annual growth rate of 20-35 per cent – such growth could be higher than the current level with the CPTPP now making its mark.
Sectors making inroads
The deal enables Vietnam to attract FDI from other member nations, particularly with whom the country has yet to sign FTAs like Canada and Mexico as the agreement aims to boost trade that closely attaches to investment.
With the CPTPP, Vietnam benefits from more opportunities to court investment from other tech-intensive business partners like the United Kingdom, the United States, France, and Germany, to boost its charm in the eyes of international investors. Besides that, it also brings strong prospects for Vietnamese businesses, particularly major economic groups, to push for business opportunities in the markets of other member states.
The Ministry of Industry and Trade statistics showed that Vietnam has registered upbeat growth in export to several CPTPP markets. Along with this, the country counted $3.86 billion from exports to Canada, showing a 28.2 per cent jump, reaping $2.84 billion in export from Mexico, up 26.8 per cent, reaching nearly $1 billion from Chile, up 20.5 per cent, and posting $350 million from Peru, up 40 per cent, compared to 2018.
Vietnam's export surplus to all markets touched $11.2 billion in 2019, in which the export surplus to CPTPP countries approximated $4 billion.
The textile and garment sector is expected to catch rosy export numbers thanks to tax incentives from the CPTPP, yet the reality has not quite gone as forecast yet. Last year, the sector raked in $39 billion in total export value only, down $21 billion against the projected figure.
Vu Duc Giang, chairman of the Vitas, said that the sector's biggest challenge is associated with input materials. "Until present, we still need to import more than half of all material sources. Meanwhile, the planning scheme on developing local material areas is left open," he remarked.
Le Tien Truong, general director of state-run conglomerate Vinatex, acknowledged the reality that textile and apparel exports have yet to fully tap the opportunities from the CPTPP compared to other sectors such as agriculture, which benefits from "easier" principles on origin, as in fact the yarn-forward principle is also the sector's bottleneck.
The Vietnam Leather, Footwear and Handbag Association (Lefaso) also reported that the sector earned $21.5 billion in total export value last year, up 10 per cent on-year and ranking second worldwide. The Lefaso noted that they took initiative for about 70 per cent of materials in the production of average items and 50 per cent of materials in the production of above-average products (about 90 per cent of paper packaging, 80 per cent of shoe soles, 60 per cent of accessories, and 50 per cent of leather).
Locally-made materials are generally good in quality, on par with export standards, and mostly come from foreign-invested enterprises.
The landmark agreement has also laid the groundwork for Vietnam's leather and footwear industry to break into potential markets in America such as Mexico and Canada.
As for FDI attraction, by the end of last year, nine countries who are CPTPP members (except Peru) had pumped into Vietnam about $123 billion in total committed capital, equal nearly 37 per cent of total FDI volume. Disbursed FDI volume reached $20.38 billion last year, up 6.7 per cent on-year, while mergers and acquisitions value touched $15.47 billion, a 56.4 per cent jump compared to similar period in 2018, accounting for 40.7 per cent of total registered capital, reflecting Vietnam's deeper integration into international community.
How to maximise benefits
The first year of implementing the CPTPP showcases the agreement's enormous potential which must be more effectively tapped in the upcoming period, simultaneously pointing out issues that must soon be settled besides the Party and the state's guidance related to regulatory perfection, reform of national administration, and creating a conducive investment and business environment.
The first issue is that businesses must bolster capacity to access the export market through gripping new rules of thumb, getting to know trade and investment laws, and business culture and practices in CPTPP member countries with whom they have not had trade relations in the past.
Aside with state support, businesses themselves must change business mindsets to adapt to new circumstances, and be flexible in approaching opportunities and building up quality human resources – a decisive factor on the journey to foray into this huge potential market.
Second, due regard must be paid to the principles of product origin. To enjoy more benefits under the CPTPP, footwear and textile apparel industries must work out material development planning to replace imports in which the state introduces policies to stimulate investment from private sector and foreign investment to quickly establish industrial parks catered for specific products.
Third, it is important to beef up effective co-operation between businesses and banks in shaping up product supply chains. Businesses need to scale up efforts, besides support from state management agencies in information provision and regulatory issues, and banks through capital provision and support in settlement.
Next are market surveys – the Achilles' heel of both local businesses and state management bodies. It is commonplace that businesses often pay undue regard to human and financial investments for survey of market and their investment and business partners, meanwhile large global groups when doing business with local firms often start with market surveys at both micro and macro levels.
To ensure effective implementation of the CPTPP and other FTAs, the government needs to provide human and financial support for firms, research institutes, and ministries to focus on surveying several major markets.
Lastly, pushing up investment and trade promotion is crucial and must come with an innovative mindset besides using traditional forms such as holding workshops at home and abroad. It is time to focus investment on key markets and key partners, including CPTPP member countries, to create tangible changes in co-operative ties with each specific partner. VIR
Nguyen Mai

Japan, Malaysia, Singapore, Australia, New Zealand and Chile are countries that Viet Nam has bilateral or multilateral FTAs with.

Vietnam has been unable to gain export growth to all CPTPP member countries, according to the Ministry of Industry and Trade.